The GH5 is here. Have you heard?
(tongue firmly in cheek)
It's likely one of the most hyped and anticipated camera releases of… well, of all time. That would be the new Panasonic Lumix GH5.
But does the internet need yet another GH5 review? GH5 comparison? GH5 10-bit test video?
Probably not — there are many of them out there, some not so good, but others quite impressive.
Rather, I'm coming at the GH5 as a lifelong Canon video shooter.
I've shot on them since the "DSLR revolution" brought on by the ground-breaking 5D Mark II. I could never afford one back then mind you. So I started with a Canon Vixia camcorder. When I bought my first Canon DSLR, the seminal Rebel T2i I was bought in hook, line and sinker. The image! 1080p HD video! Interchangeable lens! Wow, wow and wow.
The GH5 is the first mirrorless camera that has me thinking that a switch may be in order.
I shot videos for Stark Insider — interviews, backstage Broadway, events, concerts… anything and anywhere that I could use my new-found love for DSLR imagery. Email me. I'm there.
As many did, I worked up the chain, upgrading whenever Canon released something new: EOS 60D, 70D, and, lastly, in 2016 with the 80D. I was finally able to allocate enough (and save up enough gumption) to go for my first cinema camera, the Canon Cinema EOS C100 II. This is now my "A" camera that I use for all our Stark Insider mini-doc and run-and-gun stuff. I use the 80D as a 2nd camera sometimes. I also use it to look like a tourist (yes, I have the strap on my 80D) and capture innocuous footage in and around the streets of San Francisco and wine country in Northern California.
Some of my work:
SHOT ON CANON DSLR: Wrong's What I Do Best
Canon EOS 60D. Sigma 13-35mm. Canon 18-135mm. Zoom H1s. Zoom H6.
Host Loni Stark. Video by Clinton Stark. Location: San Francisco Art Institute.
SHOT ON CANON EOS CINEMA: Luzia by Cirque du Soleil
Canon Cinema EOS C1o0 II. Canon 18-135. Rokinon 85mm (Baja scenes). Zoom H1s with lavs.
Host Loni Stark. Video by Clinton Stark. Location: Big Top at AT&T Park, San Francisco.
Times, though, they are a changing to be sure:
Mirrorless.
4K.
10-bit.
High frame rates.
IBIS (in-body image stabilization).
These features are hard to ignore. Not to mention, things like:
Waveform monitor.
Focus peaking and stacking.
Dual SD cards.
The GH5 has all of these things (and a lot more). The 80D? It has none of those things.
As I've written before on Stark Insider, 4K to me is not such a big deal. If I were a landscape or wildlife or travel shooter I could see 4K being of stronger interest — the detail and sharp images are essential in those scenarios. But for what I do not so much. Plus, who wants to spend their lives worrying about data management, RAIDs, backup, etc.?
Regardless, the value proposition of GH5 (and, to an extent, mirrorless technology overall) is pretty hard to ignore. This is a camera that should easily last 3-5 years, maybe even longer.
In Photos: Panasonic GH5 Mirrorless Camera and Canon EOS 80D
It gets better too.
Panasonic offers a handy add-on module that mounts on the hot shoe and provides XLR inputs. Excellent! Better still: phantom power is provided by the GH5's internal battery.
Then there's the lens mount.
The GH5 is a micro four thirds camera. That means native Canon EF glass won't work without an adapter. Add something like a Metabones MFT/EF and all of a sudden you're able to use all your Canon lenses, while also gaining a stop, and enjoying crop reduction. If you prefer a compact set-up, stick with native Panasonic/Olympus lenses (or great third party options like Voigtlander and Veydra primes) and the world is your oyster. Me? I also like vintage glass. I could never afford a modern-day Agenieux cinema lens (can anyone, but the largest productions?). I can squeeze a vintage one into my budget. Thanks eBay. I now have an Angenieux 12-120mm Super 16 lens. With a cheap adapter I can use it on MFT mounts, like on the Blackmagic Micro Cinema Camera, or the GH5. Sure, there's no modern tech — no communication with the camera. Everything is manual. But that's also the joy of it. As are all the little imperfections. Call it character, and crank away like a Jean-Luc Godard wannabe: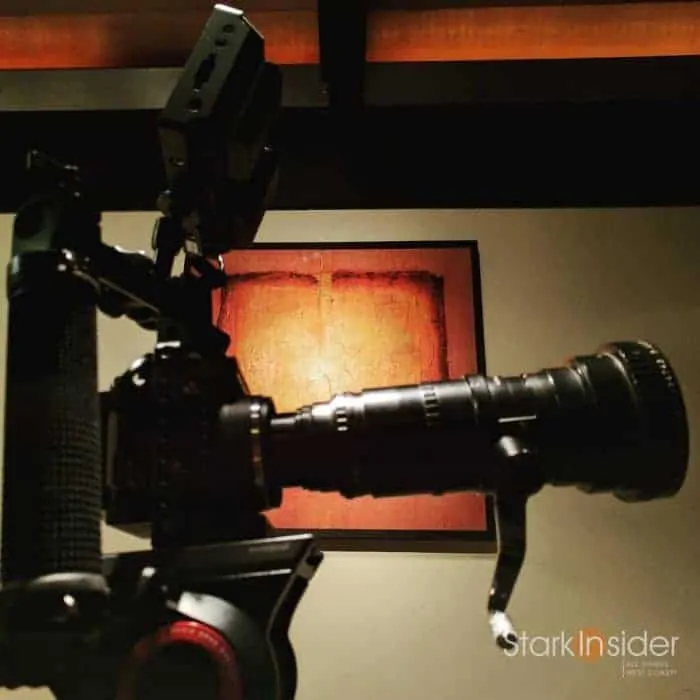 Panasonic GH5 First Impressions: From a Canon DSLR Guy
It's Day zero. I just received the GH5 and some accessories. So I haven't had much time with the camera, and I certainly haven't yet shot a project. That will come though. I have some ideas for a few Stark Insider shorts that we'll shoot with the GH5. Meanwhile, here's just a few thoughts after handling the GH5 on the first day, and taking some test shots around the office and home:
The GH5 is chunkier than most mirrorless cameras: In my books that's just fine. The larger grip and overall build makes it easier to hold and reliably capture handheld footage. Comparison-wise, the GH5 is almost (but not quite) as large as the 80D.
Menus are confusing and overwhelming: I've shot Canon DSLR for about 10 years. I have an Apple Watch, and a poor Pebble smartwatch. I've worked with Canon C100, RED Raven, Sonys and just about everything out there. Still, the GH5 menus had me feeling like I was in kindergarten again. On the upside: the touchscreen, joystick and d-pad are a pleasure to use. Everything is fast. The LCD screen pops, and is razor sharp. I suspect GH4 users will have an easier time of it, but it seems like I'm going to need to spend some time going through all the options, one by one. I guess that's the price of power. The GH5 packs a lot.
I do miss the screen on the 80D top plate: There's no screen on the top plate of the GH5. Instead, Panasonic has (perhaps smartly) opted to put more dedicated buttons there instead (WB, ISO, exposure, Fn1). You will need to look at the LCD to assess your settings. On the 80D I can rapidly glance at the top screen, while still using the LCD to frame and gauge exposure.
Focus peaking, waveform monitor, zebras: Thank you! Canon: are you listening? Panasonic gives videographers and filmmakers what they want and doesn't skimp and (what should be standard) exposure and focus tools. In my early tests they all work well. I like that you can tap the screen and re-position the waveform monitor (and histogram).
Dual SD cards on GH5 are very much welcome: Again, Panasonic is really delivering the goods. Dual SD cards are a godsend. I love having them on the C100 (and most professional doc cameras, like the FS7, have dual storage slots). Piece of mind. I use them to record in parallel so I always have a backup. Let's say we break for lunch. I take one of the SD cards with me, just in case. It's an automatic, on-the-fly backup. The 80D, and just about any mid-range DSLR I can think of doesn't offer dual storage slots.
Rattling strap grommets drive me nuts: What on earth! Why does those two strap handles have to make so much noise? Likely I will remove them. On the 80D, the strap mounts are fixed, and don't make rattling noises.
Auto EVF/Monitor switching is too sensitive: On the GH5 when it detects an object close to the EVF it switches off the monitor and assumes you're moving your eye to the EVF. Often, though, I'm holding the camera against my belly to stabilize, and looking down at the LCD to frame shots. When I move to this position the LCD switches off. Thankfully, there's an easy fix. On the GH5 menu go to -> Wrench (fourth from top) [Setup] -> Screen 2/4 -> "Eye Sensor" -> "LVF/Monitor Switch" -> choose "MON". Now the LCD screen will stay on all the time. If you want to use the EVF, then tap the Fn5/disp button at top right. This is an advantage of the 80D, that both the viewfinder (optical) and screen can be active at the same time.
Video Autofocus: Not even close. Canon's Dual Pixel Autofocus is some kind of magic. Fast. Reliable. Smooth. Outstanding on the 80D. GH5 video autofocus lags, and at times although the tracking icon is working (say, tracking a face, or object) the focusing motor doesn't keep up… at all. Not a big deal for filmmakers. But there are times when having fast autofocus — such as the system found on the 80D — can help a solo operator get previously impossible shots. Just a thought.
Overall, my first impressions are very good. I suspect the GH5 will replace two of my cameras if the footage and upcoming projects turn out as I'm hoping: the Blackmagic Micro Cinema Camera and, yep, the Canon EOS 80D.
Panasonic GH5: Speedbooster, V-log, Atomos Ninja Inferno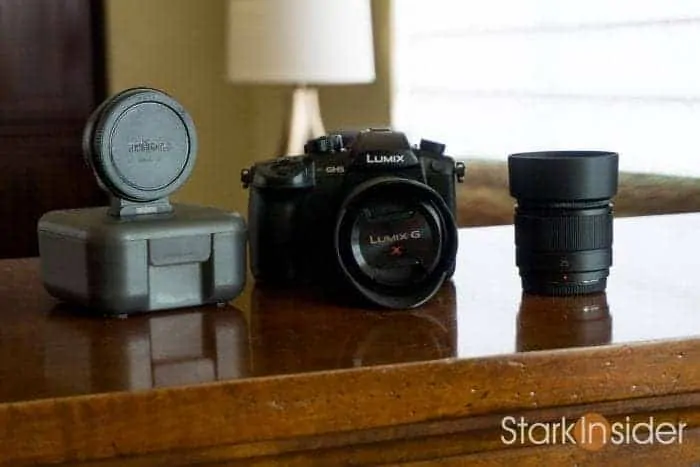 Obviously I need to shoot more with the GH5. I'm in no rush. Projects are coming up. Some will be on the C100, but some will also be well-suited for the GH5.
I've also got the Metabones Speedbooster Ultra, the V-log upgrade (a digital code that comes in a cardboard box!), and the new Atomos Ninja Inferno 7-inch monitor/recorder. Interestingly if I price all these things, the overall cost closely approaches that of the Canon C1oo II. That camera has ND filters, stellar DPAF auto-focus, fabulous ergonomics, built-in XLR audio. Meanwhile the GH5 offers 10-bit quality codec, IBIS, high frame rates, 4K, and a more compact design. Really, it's a matter of choosing the right camera for the project.
Panasonic GH5: Time to switch from Canon DSLR?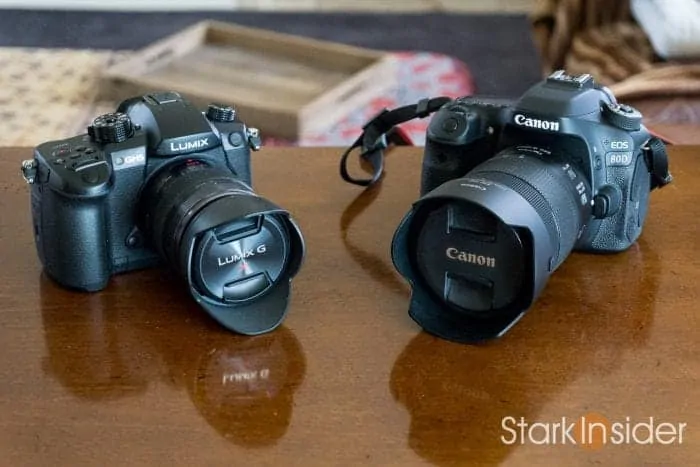 I've been an ardent Canon shooter for the past decade. The GH5 is the first mirrorless camera that has me thinking that a switch may be in order. Based on the stock-outs, number of test videos, and reviews and social media posts I'm seeing about the GH5, I suspect I'm not alone.
Sometimes I wonder: am I the last guy on planet earth still shooting video on a Canon DSLR?
It's astonishing how much Panasonic has packed into this thing. Sure, at $2,000 (USD) it's not cheap. Then again, when you look at what you're getting you quickly realize the GH5 screams "pro". And other pro competitors, such as the Sony Alpha a7 series and Canon 5D full-frame cameras are more expensive. Depending on your perspective, the GH5 offers tremendous value.
Sometimes I wonder: am I the last guy on planet earth still shooting video on a Canon DSLR?
I enjoy writing about camera gear and shooting videos here on Stark Insider. But, ultimately, my favorite thing to do is to write a short script and storyboard and have my ever-willing and supportive spouse get into costume:
A Gift From Me To You
Canon EOS Cinema C100 II. Sigma 18-35mm. Canon 70-200mm. Blackmagic Micro Cinema Camera with Lumix 12-35mm I. 1 willing wife.
More to come.
Happy shooting!
Quick tip: If you've already bought a GH5, and put your order in before March 31, 2017, you can triple (!) the warranty by mailing in this form to Panasonic (pdf).