Now that the widely anticipated Panasonic GH5 mirrorless camera is here everyone wants to know one thing (now that we know the dual IBIS is stellar):
Is the auto-focus any good?
For video that is. Because the GH5 is so packed with video tools (10-bit codec, dual IS, waveform/histogram/peaking, 4K, high frame rate modes, XLR add-on, V-log profile, etc.) it's quickly become the talked about camera among videographers and budget filmmakers.
But, again, what about that auto-focus?
Spoiler alert: it's not very good.
Since I'm not a camera review site, I'm not going to publish video tests or comparisons of this or that. Others do that well and in plenty of painstaking and often painful pixel peeping detail.
What I can say, though, is based on my tests — anecdotal, yes — the GH5 auto-focus is actually pretty bad. Side-by-side the Sony Alpha a6500 is significantly better (even though it overheated on me in Iceland several times, of all places!). As for the Canon EOS 80D, it's in a league all its own thanks to Canon's unique Dual Pixel AF technology. The 80D locks on to subjects remarkably fast and holds and holds and holds.
I'm smitten by the GH5. And I didn't expect that to be the case. At all.
Regardless of the mode (AF-S/AF-C and testing various sensitivity settings) I can't get acceptable or reliable auto-focus performance from the GH5. It's very slow. Even using native MFT lenses like the Lumix 12-35mm. Sometimes you wonder if it's even working — especially when you're not outdoors with bright light and lots of contrast. Note that this is not the case in photo mode. I'm focused on video mode here. If you push the shutter release in video more, the camera focuses in a jiffy. Yet it won't do it on its own. That's odd, and perhaps suggests that a software update could improve the situation. Let's hope.
But… should you use AF for shooting videos?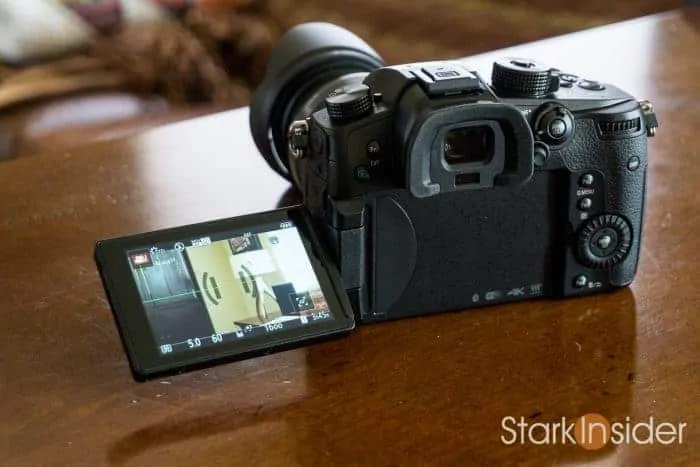 In general, no you should not use AF for shooting videos.
That's because you don't want to accidentally mess up your focus during a shot. In manual mode the operator (you and me) can choose exactly what to keep in focus. A computer may be pretty good at guessing, but it likely won't give you the creative treatment you're looking for when shooting a short film, or movie.
On the other hand, these are just tools. Cameras, lenses, lights, drones, jibs and gimbals. Tools, all of them! For what I do AF does come in handy at times. As a solo operator I like being able to tap the LCD on the 80D and have the camera track a subject across a challenging frame. Since I don't have a dedicated focus puller (someone using a separate monitor and follow focus control to manually adjust focus) I need to rely on as many tools and extra features as I can to get the shot. So it goes.
On that point, I believe using AF or not, has nothing to do with being considered a "professional." That's silly playground (i.e. Facebook) talk. Are GoPros considered professional? How about the iPhone? Or a cheap little crashcam? All of them are used in Hollywood productions on a regular basis. In my mind there's no such thing as a professional camera or a professional feature. Rather, it makes more sense to talk about a skilled operator. A skilled creative. Give an iPhone to Lars von Trier and I can bet genius will ensue. God help us.
So is the Panasonic GH5 still worth it?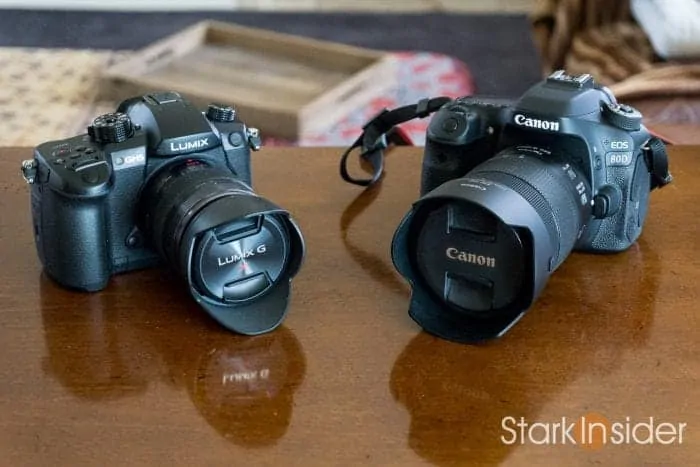 Yes, absolutely. I believe that Panasonic has a winner on its hands with the GH5.
In fact, I'm smitten by the GH5. And I didn't expect that to be the case. At all.
As a long-standing Canon DSLR shooter (Vixia camcorder -> Rebel T2i -> EOS 60D -> 70D -> 80D) I was expecting it would be okay, but, ultimately not replace my 80D. That's not looking to be the case… save for when I want to do a tricky AF maneuver (which is seldom).
Stark Insider First Impressions: Panasonic Lumix GH5

The Good:

Lots of bang for the buck
10-bit codec for richer colors and less banding
Variable frame rates up to 180fps (HD) or 60fps (4K)
Decent battery life (better than a6500, but not as good as 80D)
Highly customizable (15 physical function buttons)
Rack focusing (from object A to object B) works well and is easy to program
Pretty, detailed image with impressive dynamic range and highlights

The Bad:

AF trails competition substantially in video mode
Extra $100 for V-log (chintzy on the part of Panasonic, but I ended up getting it)
Bulkier than the GH5 (I like the larger size, as it makes it easier to handle, but for some it may make the GH5 less appealing as a grab-and-go light travel camera)
Noisy camera strap hooks (okay, I'm being picky here)
Auto EVF sensor is too sensitive (I recommend turning it off so you can cradle the camera DSLR style without having it switch off the LCD)

Buy: Amazon

Verdict by Clinton Stark:

Despite the poor-performing AF, I think the GH5 is a great mirrorless camera. If I had to take 1 camera on a trip for shooting stills and 4K video this would be it. There's so much possibility here. With the MFT mount you can adapt lenses (EF, C mount, etc.) to your heart's content for creative nirvana. 10-bit files give you latitude for processing in post. 4K DCI and UHD, of course, give you lots of detail and a degree of future-proofing.

For basic Vlogs and YouTube videos the GH5 is probably overkill. Get a Canon Rebel or Sony a6300 (or even the superb a6000) and call it a day.

For filmmakers and videographers who shoot landscape, weddings, wildlife, the GH5 should at the very least be on your short list. It's hard to beat.
I suspected the GH5 image would appear overly digital and lack that organic quality that I so appreciate from other cameras like the Canon C100 and RED Raven. But some early 10-bit (and even 8-bit) footage looked quite pretty. The dynamic range and handling of highlights was a particular treat. I shot with the Sigma 18-35mm and Rokinon 85mm and was surprised at how clean and stabilized the footage looked when previewed in Premiere. And the VFR (or high frame rate) modes are handy, and, frankly, astonishing for this price point. Battery life is decent. Ergonomics and handling on point (far outclassing the a6500). And the LCD and EVF are very sharp.
I wouldn't hesitate recommending the GH5 to a videographer or aspiring filmmaker (I'm selling my Blackmagic Micro Cinema Camera as the GH5 comes oh-so-close in image, but without all the BMD quirks). GH5 in a heart beat. There's nothing in its class. The feature list is remarkably complete — hence, the rather jumbled and extensive menus.
Just don't buy the GH5 for its AF. You'll be fine. And I'm guessing will quickly make the GH5 your "go-to" camera of choice.