Update 04.11.2017: Digital Photography Review (dpreview) has published their full review of the GH5: "If you're serious about video, it's hard to go wrong." Final score: 85% and a Gold Star.
Safe to say, it's one of the most hyped, anticipated and talked about camera releases that I can ever recall in covering the scene for the last 10 years or so.
That would be the new Panasonic Lumix GH5.
Though it hasn't reached the States (end of March 2017), the lucky folks over in Europe and parts of Asia have already got their hands on it.
Early word: amazing. Or phenomenal. Or outstanding. Insert your superlative of choice.
Yes, the hyperbole is strong with this one. And coming off the success of its successor, the GH4, expectations were, not surprisingly, high.
The GH5 looks like a game-changer
Along with a never-ending stream of "test" videos (code for cat videos), several reviews from trusted and highly respected sources are beginning to hit the web. Here's a round-up of some of those early Lumix GH5 reviews.
Panasonic Lumix GH5: Reviews
Panasonic Lumix GH5 with Leica 12-60mm lens. Photo courtesy: The Verge.

TechRadar (4.5 out of 5):

"While the last couple of GH-series cameras have felt a little like video cameras masquerading as stills camera, the Panasonic Lumix GH5 is a much more rounded piece of kit. It's certainly one of the best 4K camera solutions out there, if not the best, before you start considering dedicated professional video cameras, and that video capability is backed up by a great set of features for the stills photographer." (full review on TechRadar)

Digital Photography Review First Impressions Review:

"Current GH4 users, as well as anyone looking to get into serious video, will probably want to consider the GH5. In fact, for GH4 users, this isn't just a camera that does everything your current camera can do, plus a bunch of other things. This is a camera that does everything your current camera can do, but better… plus a bunch of other things. Kudos to Panasonic for pushing the market forward." (first impressions review on DPReview)

Cameralabs (Highly Recommended):

Note: fantastic review by Gordon Laing and probably most thorough one out there yet.

"Panasonic's Lumix GH5 is a worthy flagship body, greatly extending the quality and capabilities of the earlier GH4. A more detailed viewfinder, twin SD slots which both support the full speed of UHS-II, effective continuous AF at 9fps, and built-in stabilisation all make it a powerful stills shooter and the improved sensor and image processing delivers the best-looking images from a Lumix body to date … The GH5 is a no-brainer for video pros but also becomes a highly compelling stills camera too – Highly Recommended." (full review on Cameralabs)

"The GH5's only weakness (and it's a fairly minor one) is its middling performance in low light situations. In all other respects – build quality, control layout, autofocus, usability and image quality – it's a fantastic camera, and enthusiasts who prize creative control and flexibility will adore it … It's certainly not cheap, but cutting edge cameras rarely are – and this is most definitely a cutting edge camera." (read full review on Stuff)
Like I said, choose your most amazing adjective of choice. Then say it in the same sentence as "GH5" and you'll have pretty much summed up what Panasonic has done here.
In case you're unaware of the GH5, here's the quick specs below.
Panasonic Lumix GH5: Specs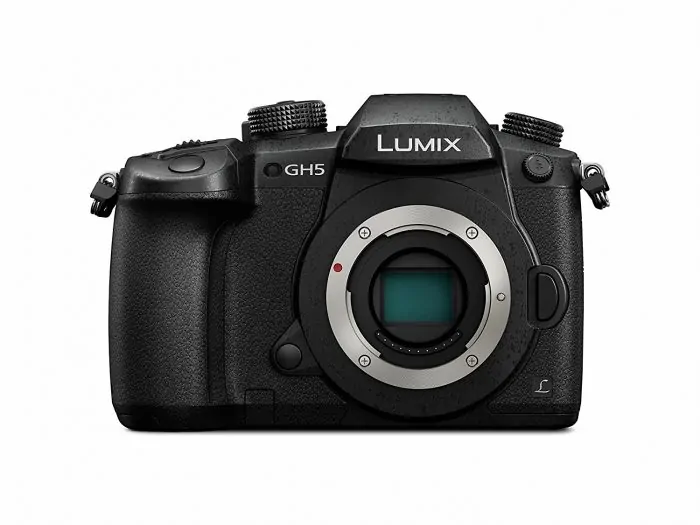 20.3MP Digital Live MOS Sensor
Venus Engine Image Processor
4K Video with No Crop
Internal 4:2:2 10-Bit 4K Video at 24/30p
5-Axis Sensor Stabilization; Dual I.S. 2
0.76x 3.68m-Dot OLED Viewfinder
3.2″ 1.62m-Dot Free-Angle Touchscreen
Advanced DFD AF System; 6K & 4K PHOTO
ISO 25600 and 12 fps Continuous Shooting
Dual UHS-II SD Slots; Wi-Fi & Bluetooth
The body sells for $1,998 (USD), available via Amazon or B&H Photo Video. There are a few well thought out accessories too. The MODEL, for example, provides XLR connectors which should be a bonus for doc style shooters.
10-bit video recording (4:2:2 color space) seems to be the marquee GH5 feature that is garnering the most attention. Simply, for those that don't feed on tech soup every day, that means more colors are captured by the sensor. That in turns (should) mean richer images. The sky is a great example. If you notice a video that has something called "banding" in the sky — the obvious changes in the color blue from lighter to darker — then you're likely seeing a weaker 8-bit recording. With 10-bit the gradient, or changes in the color, should be smoother, and less apparent. In other words, the GH5 should produce a more natural and pleasing look for the viewer.
Panasonic Lumix GH5 vs Canon EOS 80D: Which is the better buy?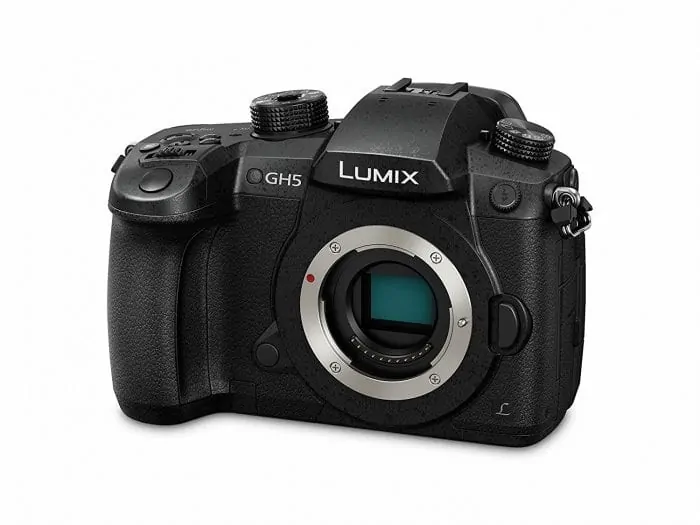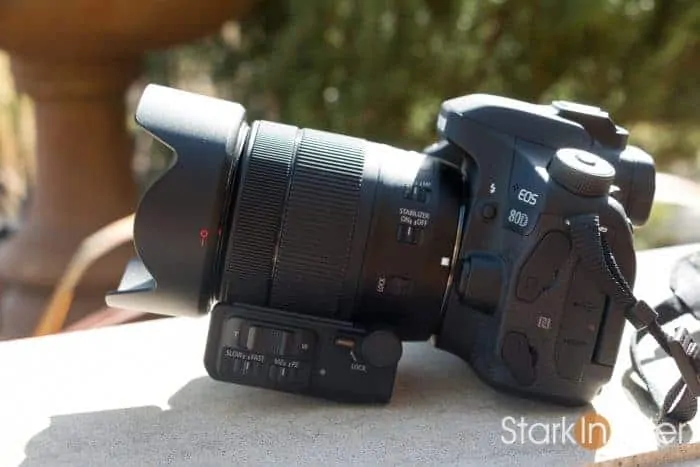 I'm still awaiting my GH5 pre-order (for a video guy, it's pretty much a must-buy). When it arrives later this week I'll be eager to see how it compares to my trusty Canon EOS 80D.
Those who have followed our videography over the years here on Stark Insider and our YouTube channel probably know that I'm a Canon guy. Through and through. It's a generational thing I suppose. My grandfather (TL). Then my father (AE-1). And, so it goes, to me a third generation Stark (Rebel T2i, EOS 60D, 70D, 80D).
I've used Canons to shoot just about everything here in the San Francisco Bay Area: backstage at Cirque du Soleil, interview with actors, directors and musicians, experimental videos, and travel pieces. Amazingly I've never experienced a single failure. And with the 70D and now 80D, Canon has given us incredible auto-focus technology called Dual Pixel Auto Focus (DPAF). Touch a subject on the LCD, and let the camera do the rest — automatically keeping moving objects in focus across the frame.
But… the camera world is moving faster. Perhaps faster than Canon (and Nikon).
Mirrorless technology, available predominantly from the likes of Olympus and Panasonic is coming on strong.
So, finally, after all these years I'm going to give it a go.
I'm more interested in the result — and these cameras are just a means, not and end.
Right off the bat I suspect I'll appreciate that with the GH5, Panasonic has treated us videographers seriously. So, you'll find things that are mysteriously absent on the 80D: histograms, focus peaking, high frame rates (for slow motion), 6K photo mode, and so many other well-conceived features. Based on what I'm hearing so far, I suspect my 80D may soon be on eBay. I'll still use my Canon C100 II (and keep hoping for an updated C100 III or C200 later this year) for most of our run-and-gun and doc work, but for lightweight, discrete work, the GH5 looks like a game-changer.
Shot on Canon EOS 70D:
Wrong's What I Do Best at the San Francisco Art Institute
Video by Clinton Stark. With Loni Stark. Canon EOS 70D. Sigma 18-35mm. Canon 18-135mm kit lens. Zoom H1 with lavaliers, Sennheiser MKE 600.
In the end, these are all just tools.
I won't worship the GH5 or any other camera, be it the RED Scarlet-W or Blackmagic or even my iPhone 7 Plus.
Recently, I took a Sony Alpha a6500 for shoots in Paris and Iceland. I expected it to be a superb performer. It was for stills. But for video it was weak: too much rolling shutter, stabilization yielded lots of jelly, overheating (in Iceland!) and the image was just too video-like for my taste. So I reverted back to the my trusty 80D (and, occasionally, the impressive-for-the-price Blackmagic Micro Cinema Camera).
Again, tools.
I'm more interested in the result — and these cameras are just a means, not and end.
Specs are often over-rated. Just the way a camera feels in your hands, or the ergonomics can alter how well you're able to use it to capture footage. Everything else is more important than the actual camera body: composition, lighting and sound, acting, camera movement. And above all else, the story! We can have beautiful images, but if we don't have compelling story or narrative or something that draws attention then what do we have? Beautiful, lifeless images.
Also, I'm brand agnostic; been a long-standing Canon DSLR shooter, yes, but nothing is forever.
Don't be surprised if you see more Stark Insider content about the GH5 in the coming weeks and months… and years ahead (because the internet needs more GH5 content).
Something tells me Panasonic has created a mirrorless camera that every videographer, semi-pro shooter was every hoping for. I'm looking forward to this next chapter.
Reasearch/Buy cameras mentioned in this article: