Mobile World Congress is on. That of course means new phones, new gadgets and new tech products.
So far LG has announced a bunch of new phones. Huawei has too, and, also has taken the wraps off the eagerly anticipated Huawei Watch 2. Unfortunately, I'm not convinced this news is the sort that will help the Wear cause anytime soon.
Huawei Watch 2 and Watch 2 Classic

Display: 1.2″ 390×390 326ppi AMOLED with Corning Gorilla Glass
Weight: Watch 2 Bluetooth: 40g. Watch 2 LTE: 42g. Watch 2 Classic: 47g.
Storage: 4GB
Memory: 768MB
Processor: Qualcomm Snapdragon Wear 2100
Connectivity: Bluetooth 4.1, GPS, WiFi, LTE, NFC (Android Pay)
Sensors: Accelerometer, gyroscope, barometer, heart rate, ambient light, geomagnetic, capacitance
Battery: 420mAh (rated two days for Watch 2, three days for Watch 2 Classic)
Water resistance: IP68
Colors: Dynamic Orange, Carbon Black, Concrete Grey. Watch 2 Classic: Titanium Grey
OS: Android Wear 2.0 with Google Assistant
Price: TBA
Shipping: April (U.S.)
"Made for Free Spirits"
First, the good news. There are two models. The "sport" model is predictably sporty, and features — like the LG Watch Sport that launched earlier this month — a boatload of sensors, a rugged design and the option for LTE connectivity (not available in the U.S.). Those who prefer a more traditional design will likely gravitate towards the "classic" which features a nice metal design more in line with the original Huawei Watch (still my favorite of the firstgen Wear watches).
On the downside?
Unfortunately, quite a bit.
Ars Technica came away underwhelmed after a hands-on with the new Huawei watches in Barcelona calling them "ugly" and the screen "washed out". Their early verdict: "feels like a last-gen smartwatch". Yes, this is an early impression. Who knows? Maybe the final production units will turn out better. Still, it's not exactly promising stuff, especially for a launch at a high profile event like MWC.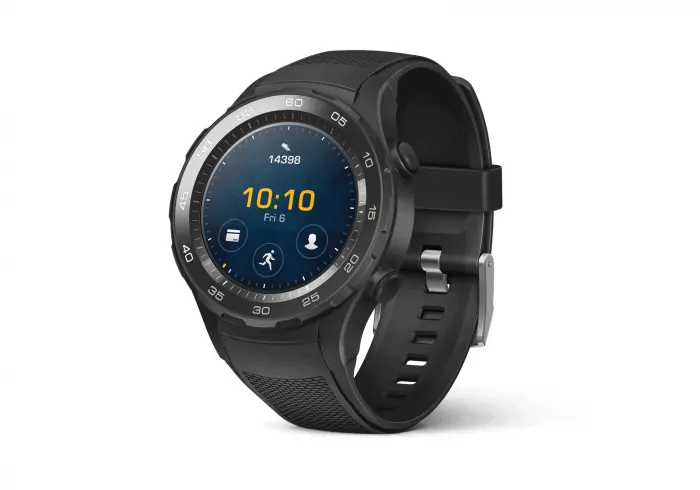 Though there's two hardware buttons (top for apps and bottom for a shortcut), there's no rotating bezel (as rumored) or rotating crown (like the Apple Watch and LG Watch Sport/Style). Too bad, many will miss the convenience it provides for scrolling through lists, emails, and texts. Also, hard printed numbers in the bezels aren't my favorite — though at least this is a pretty looking bezel and it's made of ceramic.
Included watch faces look the same as before which is to say not very good — fortunately, Wear exceeds when it comes to third party offerings and there are many fantastic choices (try Facer or WatchMaker). Charging is via pogo pins and not magnetic likely making for occasionally frustrating cradle placement. Finally, note that the screen size on these new models is smaller than their replacements yet the bezel is (far) larger.
To be fair, these aren't bad designs by any means. But, they're not the highly refined, slick watches Google needs in its court to give Wear a boost. Fans of rugged, bulkier and sporty watch designs will surely find something here to like. Aficionados of the original Huawei Watch and its elegant, simple look might want to look elsewhere (Apple Watch?).
Android Central has a MWC Watch 2 preview as well and call it "a disappointing second act."
Huawei Watch 2 arrives Stateside in April. Prices have not been announced, though, safe to say, they'll come in around $349 (USD) or so based on what we saw from the LG Watch launch.
I can't help but think a "Pixel Watch" is the way forward for Google. Rumors suggested it would happen, that Google would build its own watch like it did (very successfully) with the Pixel phone. Pinning its hopes for hardware on LG (at launch) and Huawei is looking like a poor decision. Apple Watch works so well I think because Apple can effectively manage the whole user experience, soup to nuts, because it controls it all, software and hardware. Maybe it's time for Google to do the same. Pixel Watch. Wear 3.0. Sounds right!
For now, in the real world of today where Apple is pummeling the smartwatch competition, the Big Question is:
Is Android Wear Dead?
Sigh. Things aren't looking so great for Google's struggling wearable OS. First, there was the delay. Originally slated for 2016, the Wear 2.0 update — designed to streamline the user interface and more importantly bring feature parity with the Apple Watch — didn't arrive until this month. And it fell like a lead balloon. A meager blog post ("Make the most of every minute"), and a pair of decidedly mediocre watches from LG (available via the Google Store and other places like Verizon) didn't exactly strike fear into the hearts of the mothership in Cupertino.
Meanwhile, us early adopters and Wear fans who purchased first-gen devices are still waiting for OTA 2.0 updates. This is Google after all. So we don't get dates or specifics. Rather, we get vague ("in the weeks and months ahead") updates. Too bad. When a new OS comes out, you'd expect a company to rally a bit, and drum up some excitement, and ballyhoo about all that's new and great. Apple apparently knows this well.
So you have to wonder, at least a bit… is Android Wear dead?
Pebble died (See Fitbit).
Motorola is not making Wear 2.0 watches.
Sales of wearables are not taking off as expected.
Well, except for Apple who (surprisingly) dominated Q4 2016, selling approximately 6 out of 10 smartwatches. Samsung (Tizen) was a distant second in sales. And Wear? We don't know the numbers exactly, though we do know they were very small by comparison. Google is losing this race badly. Then again, don't forget the Android platform got off to a slow start before Google's open licensing model began to see impressive inroads thanks to massive marketing efforts from the likes of Motorola, HTC, LG, Samsung and Huawei itself among others.
More on Wearables by Clinton Stark
Of course Wear is not completely dead (yet). In my tests of the Developer Preview on the original Huawei Watch I was pleasantly surprised to see Google had ironed out some of the usability issues of the Wear. Things were easier to navigate. Overall design and aesthetic was much improved — in some cases, quite elegant. But you do wonder. This was supposed to be a big wearable milestone for Google. And, yet, the LG watches are stocking out? I find it hard to believe it's because of demand. Rather, I suspect this is a case of taking it one step at a time. To not overcommit and end up with excess inventory.
And, now we get these ho-hum Huawei Watches.
It would seem Apple's smartwatch lead is not any danger of slipping anytime soon.