It was the best of times, it was the worst of…
Ah, the never-ending quest to validate something known as the smartwatch market.
That, and the broader wearables category, were among tech's biggest letdowns of 2016. At least by analyst forecasts. What happened? Smartwatches and sensors on clothes and fitness trackers tethered all over our bodies were the next Big Thing. Oh, right, VR… virtual reality… on to the next shiny thing…
Yet us Pebble survivors actually have a glimmer of hope.
Pebble Savior or Satan (depending on your Reddit sensibilities) Fitbit (NYSE: FIT) managed to simultaneously release a bit of unsurprising news and surprising news yesterday.
First, the piece that didn't catch any of us off guard: Fitbit is struggling. Management is laying off staff (110 employees). Given the demand for fitness trackers hasn't quite met expectations, this correction is likely a long-time coming. Whereas many saw wearables as a massive new market opportunity, the reality is suggesting it is actually a small niche. Even Apple is having trouble selling smartwatches.
Which, brings us to the second piece of Fitbit news:
Fitbit is doubling down on smartwatches.
Right. That failing, shrinking market? Ripe for investment apparently. Either that or this is what desperation looks like. This is, after all, a company who has acquired the remnants from the mobile payments and smartwatch scrap pile including Coin (May 2016), Pebble (December 2016), and, most recently, Vector (January 2017). It would seem that somehow, some way, Fitibit could piece part a killer Frankenstein-inspired smartwatch should it choose to do so.
And it looks like Fitbit will indeed do exactly that.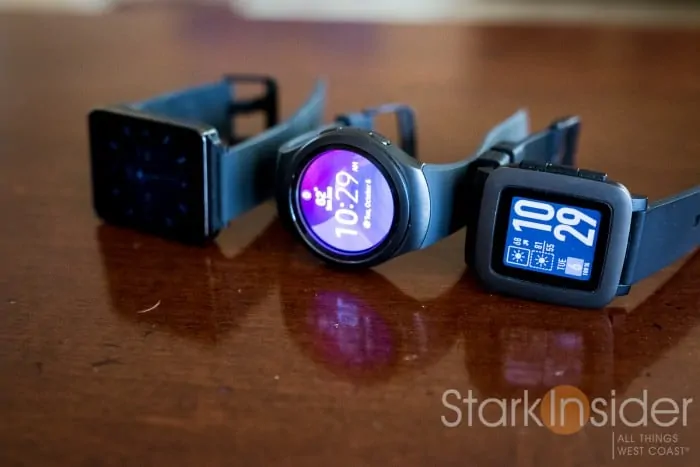 "We believe we are uniquely positioned to succeed in delivering what consumers are looking for in a smartwatch: stylish, well-designed devices that combine the right general-purpose functionality with a focus on health and fitness," said CEO James Park in Fitbit's Q4 2016 earnings release.
Fitbit Q4 2016 Earnings Summary

Devices sold: 6.5 million

Estimated revenue: $572 to $580 million

Previous guidance: $725 to $750 million

Net loss per share: ($.51) to ($.56)

Stock: NYSE: FIT – current market capitalization $1.12B

Source: Fitbit investor relations
IDC (should we trust yet another wearable prediction?) does, at least somewhat, validate the move. Though there are less players in the space, the analyst firm notes in this report, the ones that survive will "evolve and innovate further" presumably leading to growth opportunities.
Meanwhile, Fitbit stock is trading at 70% below its IPO price of $20.
The real winner, though, might be us Pebble loyalists — us Pebblers who continue to use our anime-like smartwatches despite the fact that they will no doubt eventually stop working.
Also See: Is the Pebble smartwatch a goner? All eyes on Fitbit… (Update: Yes, it's over/refunds issued)
After the Fitbit acquisition we all wondered what would become of the Pebble brand. Would it live on as a sub-set of Fitbit? Would it be killed off completely? Or, would Fitbit use its assets along with some of its other IP and produce a newly branded Fitbit smartwatch?
It now looks like the latter scenario is possibility: a Fitbit smartwatch in 2017 is imminent.