Got to hand it to the venerable 70D DSLR. Canon got this camera absolutely right (save for just a few things below that I'd like to see in its followup).
Launched in 2013, the Canon EOS 70D still is among the best selling DSLRs according to Amazon. No wonder, it's extremely well built, features the best video auto-focus (Dual-Pixel) in the business, and can go for what seems like ages on a single battery. It's not the most compact, to be sure. For improved portability I'd recommend one of these mirrorless cameras. But if you want stellar 1080p video, interchangeable lenses with lots of choice, and a price ($899) that won't break the bank, look to the 70D.
Don't just take my word for it, Google around, and check out some of the leading 70D reviews such as this on from Expert Reviews (5 out of 5 stars) and this one from PhotographyBLOG (5 out of 5), a great resource. And, of course, the digital photography site of all sites, DPReview (83% Gold Award).
I've been shooting video for Stark Insider on a 70D since it came out two years (before that a 60D, and T2i). Here's a recent example of video with the 70D:
Shot on Canon EOS 70D:
"Sarah Silverman is Not Impressed"
Sarah Silverman is Not Impressed from Stark Insider on Vimeo.
One thing to point out when it comes to the 70D and video is the camera's lack of advanced focus and exposure tools. You won't find peaking or zebras. Shame that. I suspect the 80D, whenever it arrives, will have them.
Canon EOS 70D: 5 Things I Learned Shooting Video

 1. Use manual mode all the time when shooting video (manual shutter, exposure, white balance, and ISO)

Automatic settings can change during a scene causing unwanted flickering and/or abrupt changes in the video image.

2. Canon's new "STM" lenses are a perfect match for video shooters

Look for the STM designation (I love the 18-135mm kit lens), it focuses fast and silently, a really good match for a camera like the 70D.

3. Get a shotgun microphone

If you're at all serious about audio, buy something like a small Rode VMGO Video Mic, it will make a substantial difference in sound quality and, ultimately, viewer retention.

4. Buy the best glass you can afford

Great lenses remain great lenses, even when camera bodies age and fall out of date. Buy the best glass! You can take those lenses with you to the next camera body. Humble suggestion that served me well: instead of buying 2 mediocre lenses, save up and buy 1 outstanding one.

5. Practice, practice, practice

The best thing I've learned when it comes to shooting DSLR video is to… just get out there and shoot. Cliche to be sure, but there's only so much you can learn watching videos made by others or researching gear. Grab your DSLR, get out there, hit record and practice. Make mistakes, smile, and have fun.
Good news though: you can easily add an external monitor via the 70D's HDMI port.
That's something you might want to do anyways, as the built-in 3-inch LCD panel isn't the best for critical focusing. I use an Atomos Blade, primarily for a Canon C100 Super 35 video camera, but also on occasion with the 70D (only as a monitor though since the 70D doesn't output a "clean" signal via HDMI).
Here's an example of the C100 with Atomos Blade, using an 85mm cinema lens at night:
Shot on Canon C100:
"Nightwalk Loreto"
Stark Baja Dailies: Nightwalk Loreto from Stark Insider on Vimeo.
Also making a strong showing in Amazon's top 10 sales ranking is the T5.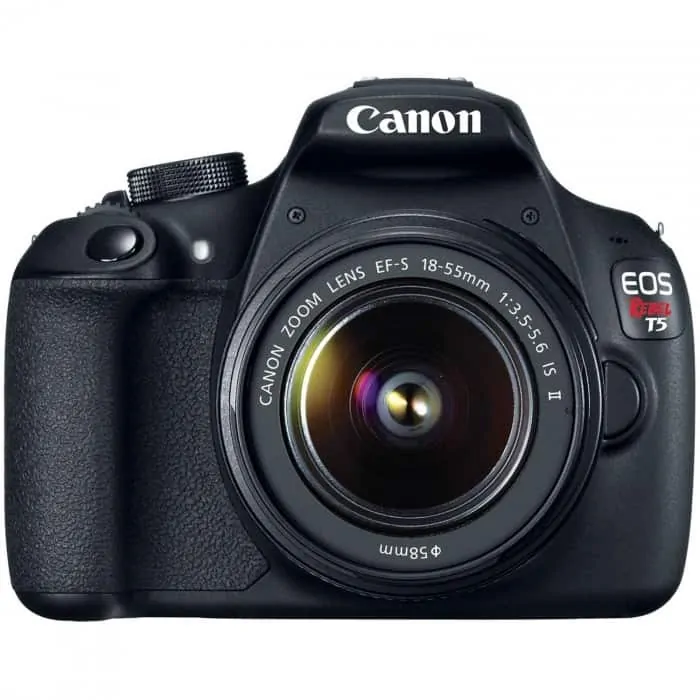 No wonder, it's a well regarded entry level DSLR, with bundles starting at just $399. I have no experience with this particular Canon model, but I did recently test a Rebel T6i ($749 with 18-55mm) to see how good it was at video, and if it could hold a candle to its more advanced big brother, the 70D:
Shot on Canon Rebel T6i:
"Sausalito Art Festival"
Sausalito Art Festival with Loni Stark (Voiceover Cut) from Stark Insider on Vimeo.
Verdict, I was impressed with the results. All with kit lens, run-and-gun.
There's a lot of talk about mirrorless these days, and how the DSLR is dying. I'm not sure that's entirely true. I do believe that smartphones are cutting into the low-end point-and-shoot market (< $300). Enthusiasts and pros, in my estimation, will still want higher frame rates for bursts, better dynamic range, DOF, and larger sensors (which perform better in low light and provide higher resolution files). For us, the good news is that prices continue to drop.
More: Videography Articles & DSLR Tips by Clint Stark

Subscribe to the Stark Insider YouTube channel to see results of Canon cameras in action including: the Canon EOS 70D, Canon EOS 60D, Canon Rebel T2i, Canon T6i, and, most recently, the Canon C100 Mark II.
Cameras like Canon's Rebel T5 (and T6i), and EOS 70D demonstrate that consumers will still pay for quality and build. Would I like a Sony A7S Mark II and its trick in-body stabilization, 4K video and phenomenal ISO performance? Sure. But I'm not quite ready to fork out $3,500 for the privilege. For me, I'm good with 1080p — delivering Stark Insider videos predominantly to YouTube, Facebook, and Vimeo.
If you're in the market for a new DSLR, either as a first-timer or upgrader, by all means consider, in order of price: the Rebel T5/T5i, T6i, and, the heavily discounted and still epic EOS 70D. I think you'll discover an incredible world of videography awaits.
You can find more about Canon's top sellers (along with Nikon too) here.
And if you're a fan of the EOS 70D or considering buying one, you might want to check out some of the posts and video production tips I've written about the 70D over the years. Hint: it's simply a beast.
Happy shooting!
Research and Buy Canon DSLRs mentioned in this article:
Canon Rebel T5 from $399 (#2 best seller)
Canon EOS 70D from $899 (#6 best seller)
Also consider: