Worst case scenario: Loni and/or I would get bit by a rattlesnake and die on the Loreto Bay golf course, gasping for our last breath, "It was perfect".
Or, in the best case: we'd capture more Canon C100 footage during the golden hour.
Fortunately we did survive — managing to fill up a hard drive with more (stellar) Prores 4:2:2 footage.
Then again, there's much talk of rattlesnakes here in the Baja resort of Loreto Bay (located in a town called "Nopolo" which apparently might mean something related to snakes, though I can't find online confirmation of that). I haven't seen one yet in the nine years I've been visiting. Then again, there's always stories.
We' been shooting video here for a few weeks. Loreto. Loreto Bay. The Sierra de la Giganta. La Mision. Town square. The new El Zopilote brew pub. The sea of cortes. Malecon. Margarita parties. There's no shortage of things to see and do, and film here in this peaceful Baja retreat located in the southern state of the peninsula.
Though I've shot here in the Baja many times before, it was my first time with a new camera. Stark Insider videos will now be in Super 35. What in earth will that mean? I'm not entirely sure, though I'm very pleased with the images I'm seeing so far out of the Canon C100 Mark II cinema cam. Not that my trusty old EOS 70D was any slouch. Not by any means. That DSLR (released in 2013) is destined to be a Canon classic. It was the first to market with Canon's trick auto-focus system (Dual Pixel AF) that can automatically track subjects with the tap of the touchscreen. It works incredibly well. And I've used the 70D for backstage Broadway shoots, at music concerts (like Live in the Vineyard in Napa), film festivals (Mill Valley Film Festival), interviews with actors and directors, and on several "wanderlust" video pieces for Stark Insider, such as the "Glamping" video we should in Baja Sur, California.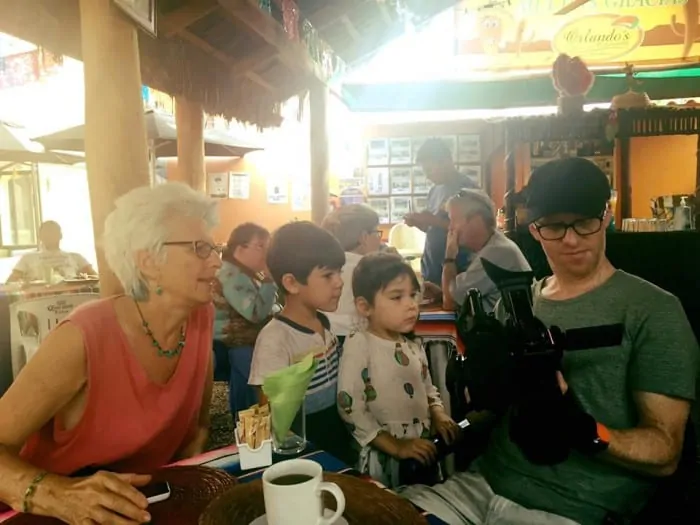 For the latest clip, I waited until the golden hour, had Loni don her hat (procured at Agnes Boutique here in Loreto Bay), and head across the street to a strip of the golf course that afforded a dramatic view of the Sierra de la Giganta.
Stark Baja Dailies – Scenes from Loreto, Loreto Bay and the Baja

#3 – Nightwalk Loreto

#4 – Wild Blood

#5 ?
This was supposed to be a slo-mo test.
But I screwed up.
And what you see are weird frame rates, wrongly set shutter speed, etc. In the end, though, the Rokinon 85mm 1.5 lens delivered once again. Love that lens. It's all manual. Get it right, though, and the results can be creamy and filmic.
Slow motion of the Canon C100 is any great shakes to begin with — it shoots only up to 60fps, whereas competitors can double or triple that easily. I'm not a slow-mo kind of guy anyways. I'll hopefully give it a go again next year on a RED Raven.
Today's Stark Baja Dailies are all about some Wild Blood… fortunately, only figuratively…
We're crying out, do you follow me
Stark Baja Dailies: Wild Blood (shot at Loreto Bay Golf Course)
Canon C100 II cinema camera. Rokinon 85mm 1.5 and Tokina 11-16mm lenses.