More footage to share from Loreto, Baja here in Mexico. We're here shooting video segments for Stark Insider. After so many years coming down to the Baja this time I brought a Canon C100 cinema camera. So far it's been amazing, especially the dynamic range. Pushing it in post in Premiere Pro is a relative joy compared to my good old EOS 70D — an amazing DSLR to be sure.
Upload speeds aren't the best here in our base at Loreto Bay. It can take 3-4 hours just to get a 1080p 90-second clip posted. If something goes wrong, I have to start over. Still, I've managed to get a few "dailies" posted to Vimeo. These are rough outtakes of footage that will hopefully eventually make it into fully produced SI wanderlust segments.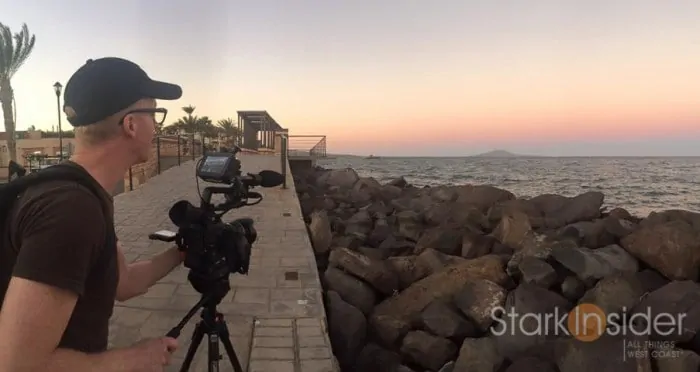 This time, it's "Nightwalk Loreto".
I pulled out the Rokinon 85mm for several of the street shots, and went full manual. Nailing focus can be tricky, though peaking on the C100 LCD (and Atomos Ninja Blad) helps immensely. I love the look. I'm the anti-sharpness guy. For me, make it filmy, grainy, creamy. E.g., the headlights and street lights on this gorgeous evening in the town of Loreto to my eyes looks the bomb thanks to the C100's dynamic range, and the Rokinon's silky optics:
Stark Baja Dailies: Nightwalk Loreto
Stark Baja Dailies: Nightwalk Loreto from Stark Insider on Vimeo.
More soon from Loreto. We've just about filled a 250GB drive with a bunch of ProRes 422 footage, and I can't wait to get it back in to the San Francisco studio for final cuts.
Saludos from the Baja.
Stark Baja Dailies – Scenes from Loreto, Loreto Bay and the Baja

#3 – Nightwalk Loreto

#4 – Wild Blood

#5 ?