At an average price of about $86 a bottle, Cakebread Cellars tops the list of most popular wines sold in restaurants across the U.S. Jordan Vineyard, Duckhorn, Sonoma-Cutrer and Silver Oak round out the top five.
Wine & Spirits published the list as part of its annual restaurant survey. The results are now featured in its April issue. Wine directors in 1600 restaurants across the country were asked to name their best selling wines during Q4 2013.
Napa Top of Mind
7 out of the top 10 restaurant wines hailed from Napa, reaffirming the region's powerful brand. In a way it reminds me of that saying back in the 80s – "You never get fired for buying IBM" (interesting: you never heard anyone say that about NCR…). The same is likely true here. If you're hosting an important meeting, and want to (attempt to) please as many palettes as possible, without taking too much of a risk, then Napa will generally do the trick.
Top 10 Most Popular Restaurant Wine List Brands of 2013

1. Cakebread Cellars (profile)
2. Jordan Vineyard & Winery
3. Duckhorn Vineyards (profile and video tour)
4. Sonoma-Cutrer Vineyards
5.  Silver Oak Wine Cellars (profile and video tour with Chef Orsini)
6. Frank Family
7. La Crema
8. Stag's Leap Wine Cellars
9. Decoy
10. Franciscan Oakville Estate
Expect to pay $50-100 per bottle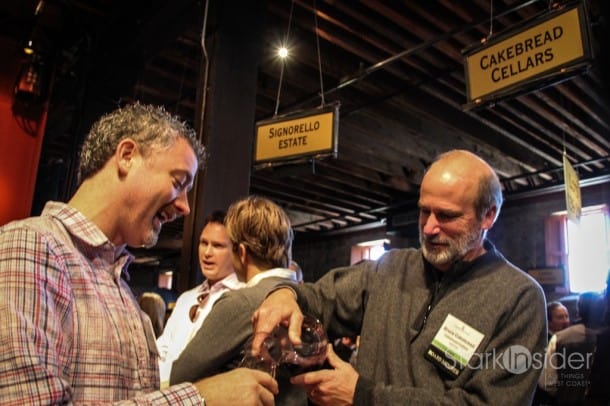 I didn't calculate an exact per bottle average, but scanning the Wine & Spirits list you can basically see that most spend between $50-100 for a bottle of wine in a restaurant.
There's really not much surprise there, given typical margins can run 30-50%. In San Francisco I know it's (shockingly) common for bottles to run $300-500 – in Palo Alto and Menlo Park too these are often seen as the going rates. Again, what bubble?!
MORE STARK INSIDER: Cakebread Cellars, Napa Valley: The ambiance of a busy bakery
But Other Regions Coming on Strong
Wine & Spirits publisher Joshua Greene notes that Greece, Portugal and Argentina are increasingly well represented in restaurants and that "interest in in Central and Eastern European wines continues to surge."
If you don't have access to the issue, you can get a quick summary of the results here.
The list may exist online, but I can't find it – if that's the case I find it odd that the publisher doesn't attempt to package it in some compelling online form. An infographic? Interesting Vine + Twitter campaign? Live stream featuring a lion, sabre and dancing somms? Anything to drum up more interest. The results would probably get more mindshare–aka socialshare–among the digital oenophile community.