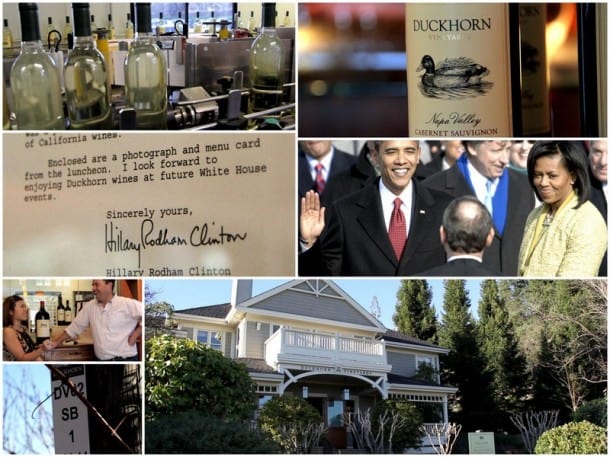 Things you don't normally hear at Duckhorn Vineyards in Napa Valley: "We're trying to revive Pabst Blue Ribbon here"; and "We're toying with the idea of potentially doing a Chardonnay."
That would be executive winemaker Bill Nancarrow giving us his twist on the it-takes-a-lot-of-beer-to-make-wine riff, and sharing a scoop on what could be (when it comes to whites, Duckhorn only produces a Sauvignon Blanc and Sémillon).
Recently we caught up with Bill on the grounds of Duckhorn where he not only gave us a tour, but provided choice bits and quotes as evidenced in this, our latest weekly episode of Stark Insider TV.
Many will recognize Duckhorn as a Presidential favorite. The wines from the St. Helena winery have made their way to the White House on several occasions. And it would appear taste in fine Napa wine is bipartisan. From Reagan to Obama, administrations have routinely requested their Cabernet to pair with state dinners, luncheons with foreign dignitaries, and — in 1998 — the historic inauguration of President Obama. How did that last one come about? Bill says they just call a call, "We need some wine for the inauguration!" There is no submission process, or as Loni calls it an "RFP" process. Capitol Hill knows what it likes, and so when the all the President's Somms decree, you heed the call and ship 20 cases.
On this particular sunny (and at 82F, unseasonably warm) wine country morning, the staff were preparing for a special tasting and party as part of Premiere Napa Valley. This year the annual wine auction raised over $3 million in just  3 hours shattering the previous record. I can attest to its power to ignite celebration and to bring together so many wine enthusiasts, collectors, and trade: no other Napa event that I know of results in so many email invitations. It seems as if every single winery in the valley holds some sort of party and tasting during PNV. After attending the barrel tasting later in the morning, and then the auction itself, we headed up to Pine Ridge for one of those typically easy-going, chat-happy wine country parties. There was a live band, good eats, and, of course, great wine, Silverado style.
But back to Bill.
The native of New Zealand came to California in 2001 to work harvest, and thanks in part to the weather made Napa home and soon after found himself in the prominent role as winemaker for the Duckhorn family of wines, including Paraduxx.
INTERVIEW: Wine Legend Jan Shrem of Clos Pegase
There's more to that story of course, but watching the video is the best way to learn the details first-hand. Plus, Bill describes a food that is his "downfall" and reveals his favorite gadget, which it turns out could be the perfect prop for a horror film.
Searching for Obama – Duckhorn Vineyards, Napa Valley