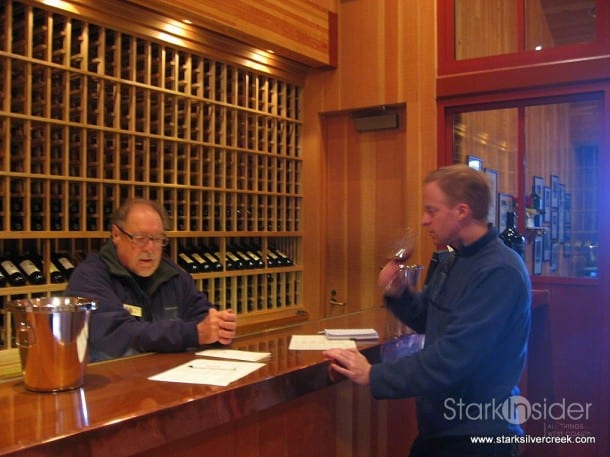 When I arrived at Cakebread Cellars in Napa Valley, the place was teeming with people swarming between a large barn-like building and its smaller counterpart on the right. Cakebread lays claim as the 38th winery established in Napa Valley, producing its first vintage in 1973, a Chardonnay.
Peering into the larger of the two structures, I saw lines had formed around tables that formed a square, each having one or two cash registers on them. I could see a lot of merchandise and behind it large gleaming steel containers with the magical brew I suspect. I finally spotted someone who looked they they worked there and asked them where the tasting room was.
"No, I don't have an appointment" I responded hoping this wasn't going to be a showstopper. I was then directed to the smaller building where a gentleman who was slightly more conservative than what I would imagine Willy Wonka would be in real life, stood behind the counter, in front, a row of Cakebread wines on display.
There was a 45 minute wait for the next available red & white tastings. However, if I was interested in the red-only tasting, they would be able to accommodate us right away. I decided to proceed with the latter as waiting around for 45 minutes did not sound too appealing, making a note that if I wanted to come back to make sure I had reservations. The gentleman scribbled our names down in a binder and handed us two plastic placards and directed us to the larger building to pay for our tastings. I found this different and normally, wineries charge the tasting and any wines you purchase after the experience.
The larger room was still bustling and I waited in another line to pay for the tastings which we were told would actually happen in the smaller room. Yes, this was beginning to feel like a treasure hunt.
Finally, upon returning to the smaller tasting room, we were led by a very nice man into an enclosed tasting room encased in cedar and glass. Clint thought it was like being in fish bowl. I thoroughly enjoyed being in the enclosed tasting room. Once the door behind us shut, the room was nice and quiet, a most welcome contrast to the bustle outside.
The selection of red-only included:
2002 Pinot Noir, Carneros, Napa Valley ($75)
2005 Merlot, Napa Valley ($50)
2001 Cabernet Sauvignon, Napa Valley ($110)
2004 Vine Hill Ranch Cabernet Sauvignon, Napa Valley ($105)
2004 Dancing Bear Ranch Cabernet Sauvignon, Howell Mountain, Napa Valley ($100)
Of all the selection, my favorite was the 2004 Vine Hill Ranch Cabernet Sauvignon which is a single-vineyard from Vine Hill Ranch which is along Oakville's western benchlands. A close second was the 2001 Cabernet Sauvignon, Napa Valley. My least favorite was the 2002 Pinot Noir, Carneros, Napa Valley.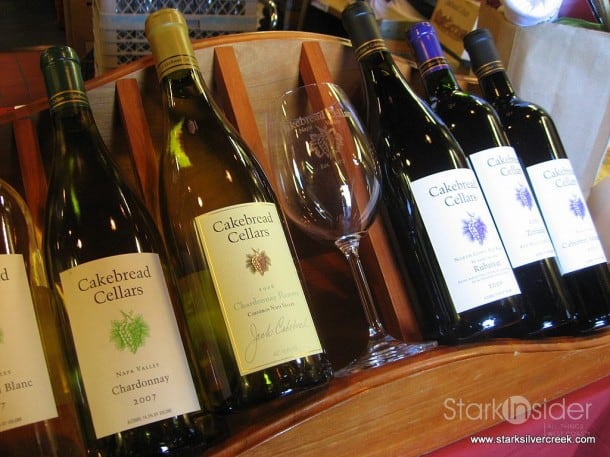 The Dancing Bear Ranch Cabernet Sauvignon is a relatively new offering. They used to make a flagship wine called Three Sisters Cabernet Sauvignon and the Dancing Bear offering is the replacement. The fruit for the Three Sisters Cabernet came from a specific vineyard and they lost the grower.
Midway through our tasting, another couple joined us in the all reds tasting. They were also from the San Francisco Bay Area and were on a date up in Napa Valley. They had been dating for several month already. Their very first date was actually several years back but due to the circumstances (including the fact that he never called her back after the first date) it took them several years to give it another try. I wish them well and hope I haven't thoroughly embarrassed them.
As for the wines, I thought Cakebread delivered some solid wines, however, the price point for most of them do not make this a value pick. On the trip we tasted several wines, at lower price points, which I thought were a cut above the selection at Cakebread.
Cakebread Cellars
8300 St. Helena Highway, P.O. Box 216
Rutherford, Napa Valley, CA
94573

Phone: (800) 588-0298
Email: cellars@cakebread.com
Website: www.cakebread.com