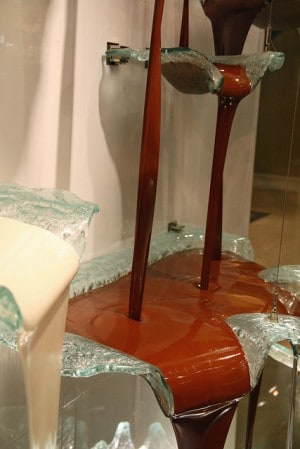 Even before Facebook's seemingly inflated, surprising announcement yesterday that it had acquired WhatsApp for the bargain price of (only) $19 billion, talk of irrational exuberance had once again begun to surface. Yet Facebook has single-handedly renewed Bubble talk across Silicon Valley with renewed gusto. Was this a smart, strategic move? Or was this another sign of people doing "silly" (as USA Today described it) things – the result of having far too much cash idling sitting by?
WhatBubble?
In 1999, I was at Cisco and having the time of my life. So was every one else. Work was fun. IPOs were all rated Red Hot. On the way to Vegas each week everyone had their 3-inch thick Red Herring magazine open (with The Industry Standard on standby), only to discover that every IPO was, indeed, Red Hot. Every time I hit refresh in Netscape I got all green. Stocks, as my Yahoo screen informed me, were up, up, up. Every day.
Ah, the Internet Economy.
At one "after party"  in San Francisco I remember being handed a glass of champagne and heading to the center of a large ballroom, ostensibly the venue for a conference. It looked conspicuously like a bunch of people drinking, laughing, partying. What, me, worry?! It was there in the middle of this jamboree, while chatting about how the web would change everything, "It's Economy 2.0!", that I saw the most astounding thing. It was a fountain – massive fountain. And chocolate was flowing. You could go up and dip a strawberry and bask in that one-of-a-kind bubble glow. Sure, it's not quite the stuff of The Wolf of Wall Street (what a book!). We weren't tossing dwarves. But, man, the good times were flowing.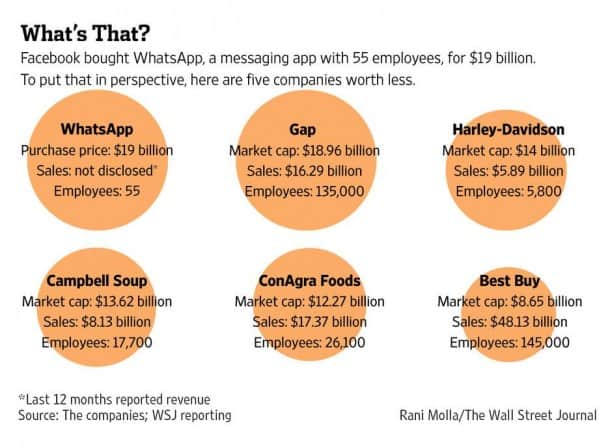 These days my Spider tenses get tingly far often than they probably should. Are we in a bubble? Are stocks about to crash? Should I move back to Canada and sell Beaver Tails?
Here's just a few of my observations on the state of Silicon Valley.
1. Traffic. Now available in Very slow, Very Very slow, and Stopped.
This is purely anectodal, of course, but in the early 2000's highway 101 and other major arteries around the San Francisco Bay Area were almost barren, at least by comparison to today. Now it's virtually impossible to find space to think when commuting. Maybe it's because Tesla is selling so many electrics, but more likely it's because the local economy is booming.
2. Stocks are Up and to the Right
Refreshing Chrome reminds me of the good old days. Everything is coming up green. Well almost everything. In 2013 the S&P 500 partied like it was 1999, jumping almost 30%. Well, I should partied like it was 1997. That was the last time the market performed as well.
3. IPOs are Back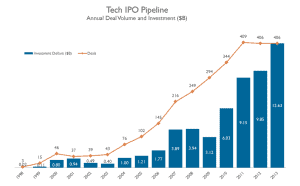 Facebook and Twitter went IPO, and have performed well. Box, King Digital (makers of Candy Crush), Spotify and many, many others are rapidly making plans to go IPO in 2014.
4. Acquisitions are Also Back
It probably goes without saying: Facebook's $19 billion acquisition of WhatsApp, the biggest of any venture-backed company we've seen since US West Media acquired Continental Cable for $11.8 billion in 1996, speaks volumes to our appetite for risk and expectations for the future. It's 10x the size Facebook's previous App grab, Instagram ($1B).
5. Startup Culture is the In Thing – We can even watch it on TV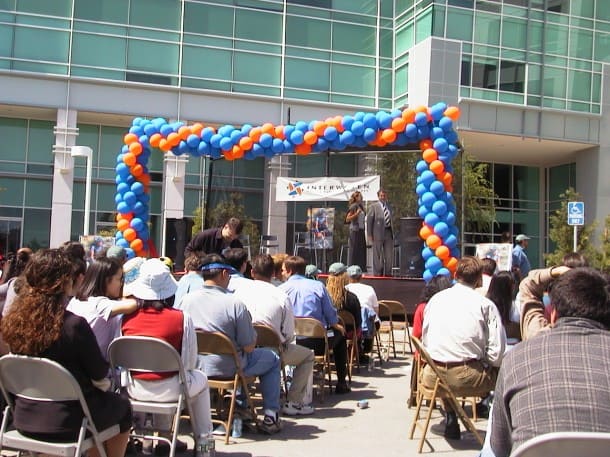 It's great to see the start-up culture back. Interest in technology, sciences and math are the way forward for this country. Hackathons are a fun way to oil the machine. And if you're not part of it you can always just watch it on one of those (god awful) TV shows. The last time we were talking about start-ups this much it was… 1999. Granted it feels as if today's ideas are actually grounded in sound business models. Mostly.
6. "The Internet of Things"
In 1999 we called it Economy 2.0. And CEO John Chambers at Cisco was a mission too Internet enable everything: appliances such as fridges and dishwashers, stoves, washing machines, pumps at gas stations, water heaters, street lights, etc. Sound familiar? Today we're calling it something different, but it sounds like the huge pipedream of yesteryear. That's not to say it's not happening. It is – and it's a great thing. My home is automated as much as possible: Nest, Insteon, WhisperKool, Sonos. I love it all. But when we all–and I mean all–latch on to a common catchphrase like "The Internet of Things" and start dropping it non-nonchalantly at Zibbinbo in Palo Alto you have to wonder if we know what on earth we're talking about.
BUT
Maybe this is just indicative of a recovering economy.
And perhaps the biggest proof point that everything will be alright comes from a guy who's as smart and respected as they come:
Marc Andreessen
Marc has been a this game for a while. He's built companies, sold companies and invested in companies. Sometimes all at the same time. Maybe it's that Steven Covey inspired hairdo, or the rumor that he lives in a zen cottage atop the Santa Cruz Mountains with only a small rug and satellite dish to his name; whatever it is, when he speaks, people listen. And this is what Fortune Magazine recently tweeted regarding his take on the state of the tech economy:
Hope he's right. Feels frothy here. RT @FortuneMagazine Marc Andreessen: 'Tech is recovering from a depression' https://t.co/AtgnrvcfCh

— Clinton Stark (@clintonstark) February 13, 2014
"Tech is recovering from a depression."
ALSO SEE: Sold! A cinematic, behind-the-scenes look at the Premiere Napa Valley mega wine auction (Video)
That's a powerful comment. If I read between the lines I could interpret it to mean that things might feel frothy not because we're necessarily growing too fast, but because for the better part of the last decade we were in such a deep abyss.
As I said I hope he's right. In the article, which is a brief recap of a Goldman panel in San Francisco, he also says Bitcoin is here to stay. If there's an insider with access to some of the smartest people, and the inner trappings of what makes Silicon Valley rise and fall it's Marc. For now, then, I'm not quite ready to reach for the panic button.