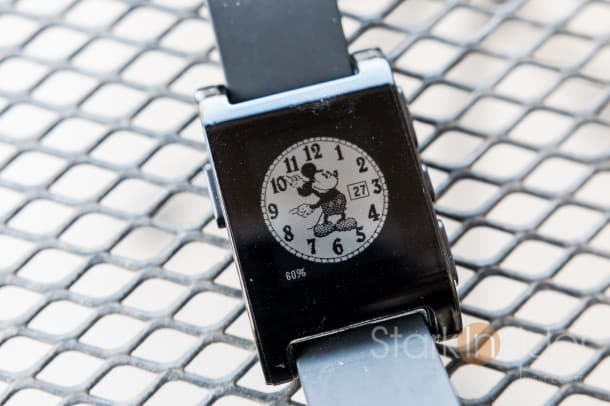 What good is life if you can't have just a tiny-weeny, itsy-bitty, but of fun every now and again.
So it was out with Katy Perry, and in with Mickey Mouse.
That photo above is what the watchface of the future looks like. Or maybe it's the past. Or both?
It's true. When I'm not covering the scene at a wild Napa Gras trade party in Napa, or hauling up and down 101 to see some of (outstanding) Bay Area theater, or digging into the colorful past of San Francisco's O'Farrell club (what links?!), you'll find me searching long and far for the ultimate watchface for my Pebble.
Think Pebble hasn't garnered developer love? Just load up their App store on your iOS or Android phone (I'm running Beta 10 on my newly and sadly cracked Nexus 5) and check in every morning. You'll find a steadily growing catalog of interesting apps, and interesting watchfaces. By my estimate, there's anywhere from 5-15 new watchfaces every day. And, if you wonder sometimes about the human race and the very concept humanity, you'll find lots of sociological evidence to reinforce or counter your claims… in the Pebble App store.
Let's get to it. Watchface. Analysis. Begins now: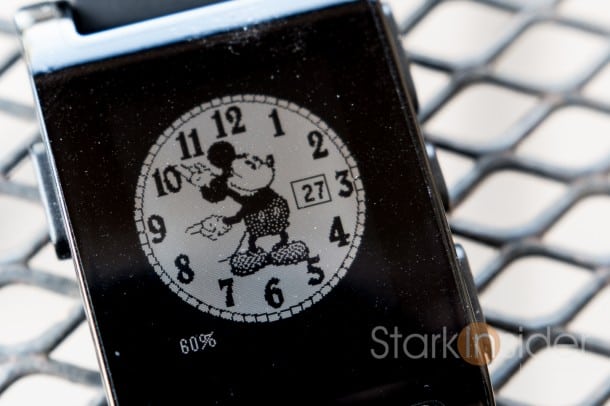 – You have Mickey
– You have the time (hey, thanks Mickey)
– You have the date
– And you have a battery life indicator
– Best of all, you have pure joy
It may not be my daily driver – that would go to Casio of course, but I'm giving this one a solid A.
On a serious note, it pains me to believe things could get very rough soon for Pebble, the company. The Palo Alto-based start-up is just that, a start-up. They are small. Maybe around 50 employees or so. That's a tall order to ask: to support both iOS and Android platforms, design and manufacturer not one but two smartwatch models (Pebble the recently announced Pebble Steel) in several colors, and keep it priced competitively. So far it's done yeoman's work. Its successful Kickstarted campaign in 2013 accomplished at least two objectives: (1) it raised a boatload of cash; and (2) it gave Pebble a tonne (of well earned) publicity and superfans.
But Pebble is not going to have all the wearable fun to itself.
Here comes: Samsung, Sony, LG (reportedly working with Google), Martian, Meta, Razer, Neptune, i'm Watch (?), and, of course, Cookoo (again, ?).
Yes, those company/product names are all real.
2014 is shaping up to be the year of the smartwatch. Or not. Consumers have not shown strong demand, at least not for the first wave of products. Not everyone is a proud, nerdy early adopter like me. Companies want us to believe you need a smartwatch. Tech blogs want us to believe too because they're tech blogs.
Then there's: Apple.
Could this be CEO Tim Cook's shining moment? Could this be his his opportunity to step up to the plate and hit his Steve Jobs monkey-on-the-back out of the park?
Jobs gave us Mac, iMac, iPhone, iPad.
Will Cook bring us iWatch?
I'm sort of ambivalent about the matter. I've got Pebble. I've got Mickey. And life is grand.