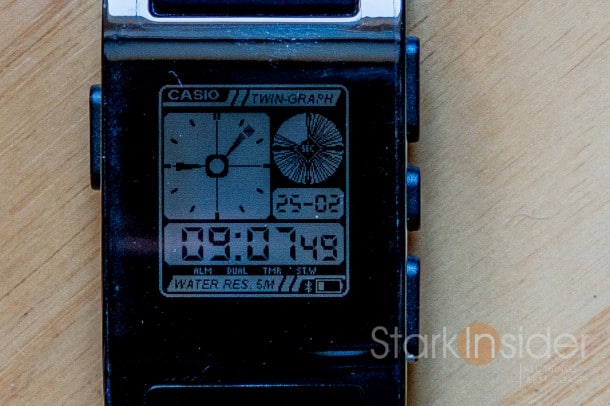 Casio AE-20W. That's the watchface above, running on a Pebble smartwatch.
It originally retailed  in 1989 for $44.95, but you can download on the Pebble app store for free. The cool factor of triumphantly wearing a design win like this, especially in Silicon Valley while driving a Tesla, is not to be underestimated. Or maybe that should be a Delorean.
Studying this Casio emulation–with far too much obsession for my wife's comfort–waves of nostalgia crashed over me. All of a sudden I was humming Huey Lewis and the News' Power of Love, while reminiscing about Back to the Future starring that one of the Canadian greats Michael J. Fox. If I could buy a flux capacitor on eBay I'd use it to return to 1988 and re-experience that awesome Def Leppard concert (Hysteria, in the round!) at the Ottawa Civic Center.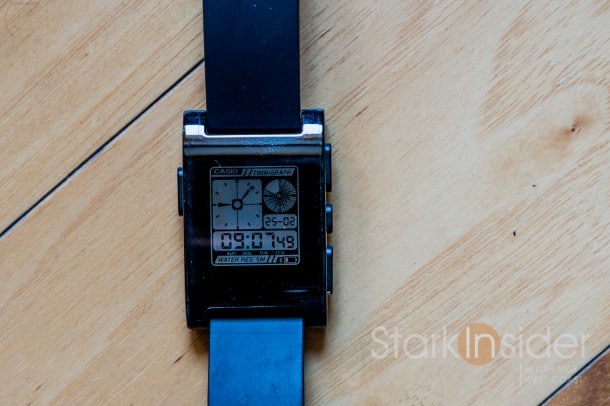 Yes, I gushed about Pebble the other week (Life With Pebble – There's no going back). Well, the the second best thing I like to do these days is wax poetic about digital watchfaces on Pebble.
Turns out this Casia AE-20W [Twin Graph] is a bit of a favorite among collectors. After doing some light research I discovered that digital watches are a thing. Not an Internet of Things. A thing. Pragmatically this one tries to do it all: it has a digital read-out of the time, plus an analog clock in the upper left, and it shows seconds, and also has a visual second timer with sweeping hand in the upper right (great for timing espresso shots). Hence: Twin Graph. And even with all that there's also a (legible) date. To top it all off, the developer has even added (tiny) bluetooth and battery indicators bringing this bit of Casio history fully into the 21st century in Pebble style. Bravo.
Similar to most Pebble watchfaces, this is what the options screen looks like on the Pebble app (I'm running the 2.0 Beta 10 on Android on a Nexus 5):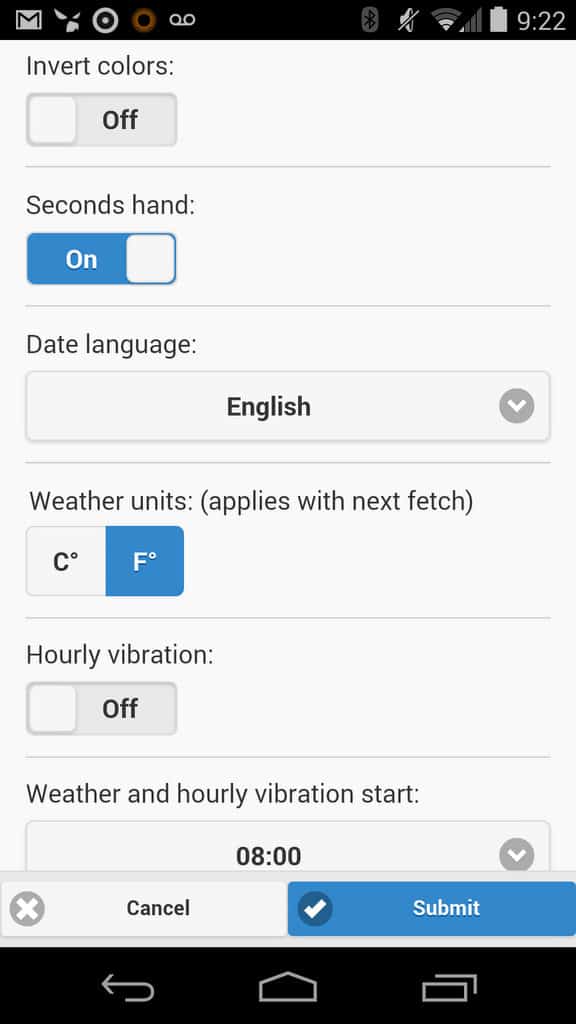 Oddly, I never liked digital watches. I preferred Swatches. They were so much fun. Maybe.
ALSO SEE: Life With Pebble – There's no going back
Parting thought: What will become of Pebble, the company. With Samsung charging hard with a refreshed batch of wearables (Gear 2, Neo and Fit) and Google (using a new smartwatch version of Android with Google Now) and Apple reportedly set to unveil smartwatches some time this year, can a small Kickstarter-funded start-up like Pebble survive?