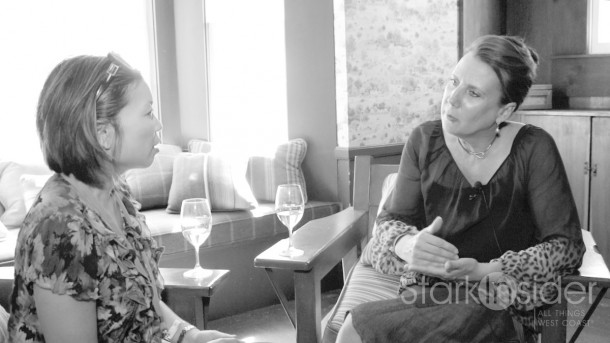 Coming in at #4 on the Stark Insider top wine movers and shakers (aka wine personalities) for 2013 is someone who needs little introduction.
Gina Gallo and the Gallo name are virtually synonymous with the wine business.
"Do the things you really don't feel comfortable doing. Get out of your own skin."
It wouldn't be unrealistic to include her on power broker type lists every year. But 2013, in particular, saw Gina balancing a new family (twin girls), a growing wine empire, and the day-to-day minutia related to the tireless enterprise of winemaking.
When we caught up with Gina earlier this year at MacMurray Ranch (during the wonderful extravaganza that is the Sonoma Wine Country Weekend) she was energetically hosting a tour group; explaining Gallo history, pouring wines, fielding questions. Often we think of legends of wine–the Robert Mondavis, the Mike Grgichs–as wizards of sorts, sitting high atop Napa mountains, gifting the masses with elixirs of the gods (to borrow an expression from Jean-Charles Boisset). In reality, though, the wine industry is at times, surprisingly accessible, and absolutely down to earth. After all, this is the nitty-gritty world of agriculture.
Like so many that have spent a lifetime around vineyards, soils, grapes, Gina is effusively passionate about anything and everything related to wine – be it technical aspects of winemaking, the business side of the operation, or simply the joys of sitting on a couch by a fire, popping open a Chardonnay, and reading a good book. Sure, this industry can be brutal, especially when it comes to the unpredictability of Mother Nature. In the end, though, perseverance, hard work and endless optimism rule the day.
Stark Insider TV: Gina Gallo
TOP 5 WINE MOVERS AND SHAKERS 2013

5. Jeff Smith, Hourglass Vineyards

4. Gina Gallo, E.&J. Gallo Winery

3. ?

2. ?

1. ?
Note: I should point out that this list of movers and shakers is California-centric. In fact, the entire list consists solely of those from Napa and Sonoma. You won't find representation from Okanagan, Oregon, the Finger Lakes, or even Santa Barbara, much less emerging regions like Virginia, North Carolina, or Pennsylvania. Quite sheepishly I'll admit that this really should be the top wine personalities of Northern California. Or, Sonoma and Napa. Ridiculous? Very possibly, but it is the area we focus on here at Stark Insider. Plus, doesn't the wine world ultimately revolve around Napa… (cue the outrage).