In this Stark Insider TV segment Loni Stark sits down with Gina Gallo of E.&J. Gallo Winery in an up close and candid conversation about the wine business, theater and the arts, and overcoming stage fright. Gina was recently named the most powerful woman in wine.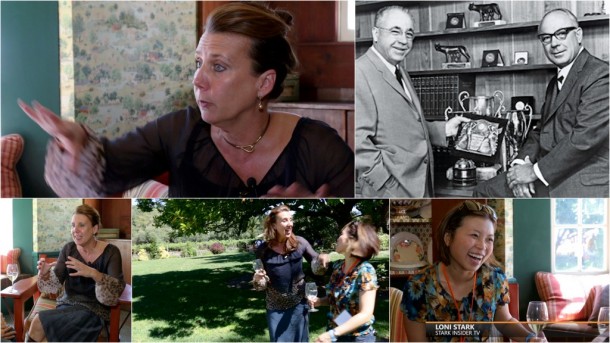 Slow down? For Gina Gallo that does not compute. If I were to describe the mother of twin girls, horse lover, and matriarch of E&J Gallo, one of the world's most expansive wine empires, it would be simply this: boundless energy.
Okay, and maybe also, infectious enthusiasm and inspiring confidence. Spend time with Gina and you'll know exactly what I mean.
With such deep family roots in the industry I wondered if wine was always her calling.
"There was definitely other avenues. But one thing I learned. My father loved what he did. My mother loved what she did," she told me when I recently met up with her in Sonoma for this interview. "It was really about follow your passion, not your pension."
The center of a community is the arts.
But it didn't come easy.
Gina revealed to me (later in the interview after we had taken a few sips of some Gallo Chardonnay) that she suffers from stage fright, and is, contrary to popular belief, an introvert.
"I remember in High School I had to do spontaneity speaking, and I went 'Forget it!' I wouldn't show up to class."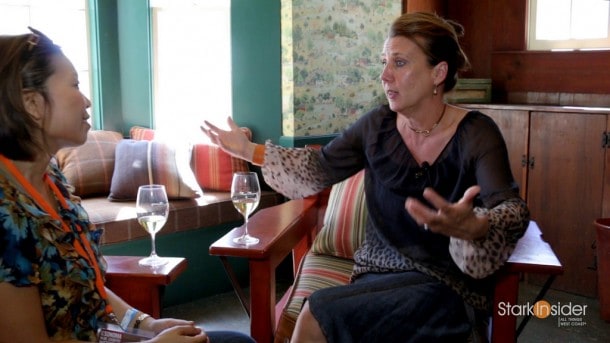 Showing up doesn't seem to be a problem these days.
When I arrived for the interview at MacMurray Ranch during the Sonoma Wine Country Weekend celebration, Gina was giving a tour group a personally guided tasting of wines. For many it may have been surprising to see a Gallo, no less, being so hands on. Hard work is in her blood though. E.&J. Gallo wines are ubiquitous today–it's a powerful industry brand. However, that wasn't the case last century when her grandfather Julio, an Italian immigrant and farmer, set foot on American shores. Together with her Uncle Ernest, a gregarious salesman, he built their first wine business on an old Gravenstein apple orchard. Learning came from the good old school of hard knocks, and required substantial "sixth sense." The rest, as they say, is history.
Today, a typical workday for Gina involves overseeing and giving constant attention to the winemaking process. It's clear that each vintage brings new challenge and opportunity. So she finds herself each morning, especially now during harvest, tasting from barrels, ensuring that quality remains intact, just as her Grandfather had done decades earlier.
UP CLOSE: Gina Gallo

E.&J. Gallo Winery

Favorite varietal: Chardonnay

Biggest fear: The stage

On success: "You do have to challenge yourself and do the things you really don't feel comfortable doing. Get out of your own skin."

On work/life balance:: "My father said you can't have it all. I said, 'Well, I'm not buying into that.' Because I think you can do it all."

Favorite wine trend: Oval cement tanks
MORE Stark Insider TV: Best of Sonoma Wine Country Weekend
All this on her plate, plus that certain guy named Jean-Charles Boisset. Her gregarious husband, who I subtly refer to as the James Bond of Wine, runs the newly renovated Buena Vista winery in Sonoma, in addition to several properties back in his native France. It seems only fitting that at the end of a long day Gina just wants to enjoy some fresh grilled Salmon, curl up on the couch with a glass of Chardonnay and… her husband. As she says:
"Beautiful."
WATCH: Interview with Gina Gallo of E.&J. Gallo Winery