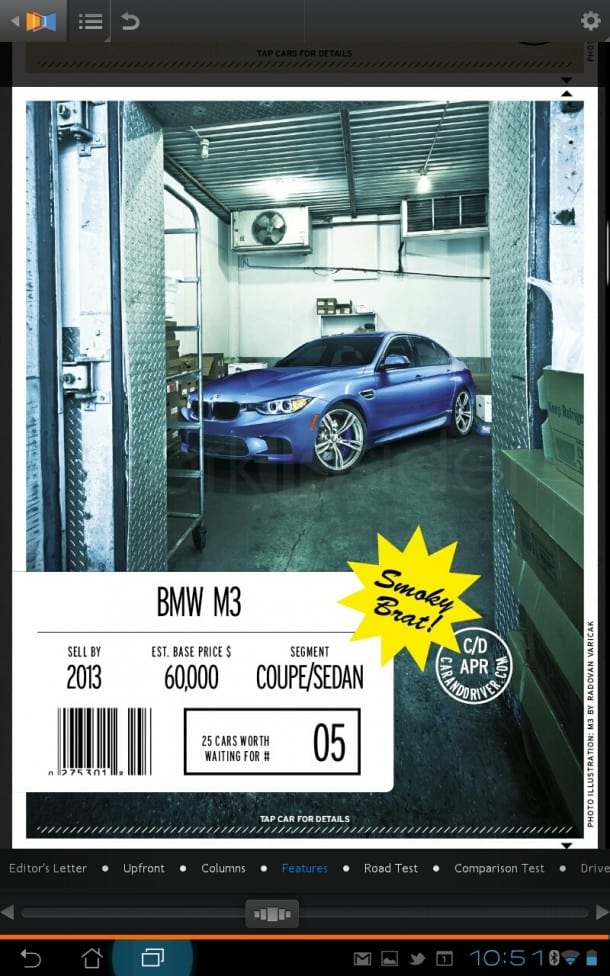 Would you pay a monthly subscription for unlimited magazines? That's the idea behind 'Next Issue' a new business model being tested by a consortium that includes traditional publishers Conde Nast, Hearst, Meredith, News Corp, and Time Inc. Similar to video services such as Netflix, Hulu and music services such as Spotify, Slacker, the idea is that we make monthly payments in exchange for complete access to a library of content. The Android app was just released, so I signed up for a trial to see if it could sway me.
Next Issue has two unlimited plans. The basic costs $9.99 per month and gives you access to titles such as Car & Driver, Elle, Popular Mechanics, Money and Golf. For $5 more the premium plan adds 5 more titles: Entertainment Weekly, People, Sports Illustrated, The New Yorker, and Time. All told, there are 32 magazines currently on offer. Therein lies the first problem. Selection is very limited, and the value of the service will obviously vary depending on whether or not your favorites are included. It's a bit like tantalizing us with an all-you-can-eat Vegas buffet (Rio!) only to discover they're out of lobster tail, and all they have left are carrot sticks and mashed potatoes. However, if you bought even just a few issues of any of these at regular newsstand prices – digital or otherwise – you'd  quickly recoup your subscription.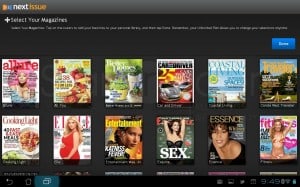 To sign-up, you'll need to head to the Next Issue web site, and, yes, you'll need to provide a credit card even to test drive the service for 30 days. I chose the premium plan ($14.99/month). I'm a big fan of Apple's newsstand and other digital magazine apps, such as Zinio (review) and Rupert Murdoch's The Daily. Unlike those, Next Issue promises an all-you-can-eat model; though the real upstart in the space most likely to bring revolution is Flipboard (review).
After creating an account, I entered my credentials into the app on the rather zingy Tony Stark (no relation) certified Asus Transformer Prime. I was prompted to add selections. I scrolled through magazine thumbnails and realized something immediately:
How bizarre are these covers?!
First: SEX still sells (and apparently always will). Second: No one looks like a real person anymore – we are living in the world of Photoshopped Avatars. And third: Where's Playboy magazine?
Then I wondered if I was strolling the aisles of an publishing museum. A hall of fame of what has been – All You?! Blogs and other forms of new media are today's darlings. HuffPo to AOL for $300 million. Mashable reportedly in play for around $200M. TechCrunch also to AOL for $25M or so. Meanwhile, magazine and newspaper conglomerates look for new ideas to unlock the key to eternal youth, and earnings.
So I choose Car & Driver. The most logical offering amongst a sea of dread, and wickedly insipid gloss (New Yorker and Time excluded). After a force close, I was presented with a back catalog of C&D issues- not unlike what we've seen before on Zinio or Apple newsstand. That was followed by a visit to download hell. For whatever the reason (it wasn't our wi-fi connection) downloading an issue took eons. And a few force closes. The responsiveness during this process was abysmal. Be it the fault of Next Issue, Android 4 ICS, or the Transformer Prime, I have no idea. Maybe their servers are under seige today. Regardless, I stuck with it, and after multiple attempts had the April issue of C&D.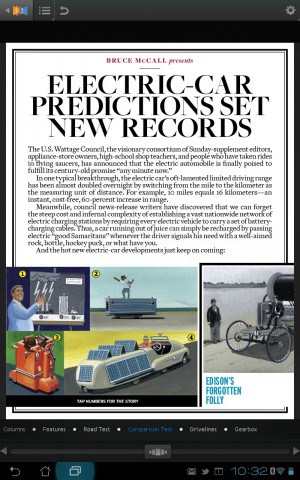 Navigation is just like you'd expect, save for one glaring omission. You can't pinch to zoom. Yep, it's 2007 all over again. Bizarre, really, and I hope an oversight that's remedied soon. Fortunately, thanks to the Transformer Prime's brilliant screen and sharp text I didn't have any problem reading.
Overall, the interface is slick. I particularly like the cover flow page view. Issues can be "pinned" for storage on your tablet, until you want to free up some space.
I was pleasantly surprised to discover the magazines are not flat imports. There is interactivity. For example, I was able to click through C&D's "Best Pranks of the Past" which featured one charming gag involving a marital aid and a glove box.
Ultimately, Next Issue performs like so many Android tablet apps: poorly. The iPad version can't come soon enough. I find it odd they'd launch on Android. As much as I like Android smartphones (I'm still on trusty OG Droid contemplating an upgrade dilemma: HTC One X, Droid Fighter, or Samsung S III) the tablet experience – Gingerbread and ICS – is rough going compared to iOS. Next Issue is right. Once the crashes subsided, and the April issue had fully downloaded, however, I did enjoy the reading experience, especially C&D's "25 Cars Worth Waiting For."
It's a bit of a rocky start. If Next Issue can increase selection, and get the iPad app out soon, there could be loads of potential here. Meanwhile I'm willing to give it a shot, and hope that the wrinkles are ironed out in good time.
Oh, that 2013 BMW M3 – definitely a smoky brat that one.
IN PHOTOS: Next Issue for Android