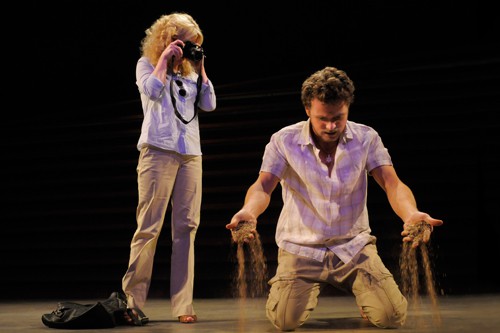 A busy week in San Francisco theater indeed. Shows opened all over the Bay Area from here in SF, down to San Jose, and up to Berkeley and just about everywhere in between. There's a lot to like here, and plenty of variety. In this edition of Stark Theater Beat we round-up our latest reviews in one (hopefully) easy to read snapshot of what's what on the stage.
Buried Child – San Jose Stage
Sam Shepard's classic work is not for everyone. The reason to see this particular production is the acting. Randy King gives a seminal performance as Dodge, the dying father. He's on stage the entire production (about 2 hours) and is just riveting. A lot of the work is detail stuff, like the way King moves his eyes in response to what other characters are saying or doing. It's a bit of a madhouse, and at times the material can frustrate. But, man, what a memorable evening of theater. From my review: "Not surprisingly, this material resonates well. The 1970s economic downturn may have much in common with our current woes. Many would suggest there is filth, disgrace and disillusionment not only with the economic system, but especially with the American political system."
Oh, then there's this, from Randy King's daughter:
This is my dad. He's a rockstar! American Dream deconstructed Casey Anthony style in 'Buried Child'  via @StarkInsider

— Alexandra King (@alexandraking) February 22, 2012
A Doctor in Spite of Himself – Berkeley Rep
I'm taking heat for this one, but I stand by my review of Berkeley Rep's latest show: "The few laughs come not from comic story-telling or whimsical folly, but from the fact that we're hearing today's major headlines recited on stage. 'Occupy That!' Oh, okay." Many disagree. Karen D'Souza at the Merc wrote: "The shtick flies. While the bawdy show, seen at the Wednesday opening, comes dangerously close to an overdose of nonsense, it's hard to quibble while you giggle." Hard to quibble while you giggle. I like that. Also, our own Gregory Alonzo who's theatrical musings I tremendously value, wrote in the comments of the review:  "I couldn't disagree more. A wonderful adaptation of the classic commedia dell'arte form , with the traditional plot of involving archetypal characters of star-crossed young lovers seeking the assistance of servants to trick the stern elder into allowing their union." The only way to settle the matter is to see the show yourself!
Green Whales – Renegade Theatre Experiment
Less than perfect men? Say it ain't so. Gregory Alonzo calls this production not easily forgotten, and writes, "Gloria McDonald and Sara Luna lead a superb cast of four that capture just the right tone of comic desperation without ever lapsing into annoying caricature. It's another edgy, daring play from Renegade Theatre Experiment that's not easily forgotten."
The Great Gatsby – Yerba Buena Center for the Arts
In her favorable review, Cy Ashley Webb writes, "Exquisite costumes, imaginative lighting, and video artistry evidence the incredible work poured into this production" and "Soprano Susannah Biller captured all attractions of Daisy, making her a sympathetic character. Biller's lush voice had both power and expressivity, with a tendency to linger delightfully on the ends of her lines."
Higher – A.C.T.
You still have a few more days to catch this new play by A.C.T.'s artistic director Carey Perloff. It's not often you see a show about the world of architecture. It's a marriage made in design heaven though; A.C.T.'s undeniably cool sets plus architects chasing design Valhalla. The combo makes for interesting theater. Thoughtful as always, here's what I said in my review: "Andrew Polk is robust, entertaining as he continually finds himself at wit's end. The latter part of the play is stronger, as conflict reaches fever pitch, and the artistic imperative intersects with the grieving process. I just wish the intensity was there earlier.
Follow San Francisco Bay Area Theater on Twitter
As always let me know your thoughts, feedback and opinions.