UPDATE 2/21/12 5:20pm PT – In just 3 hours Buried Child has become the most-viewed review we've ever written for San Jose Stage. Is that because of Sam Shepard, or Casey Anthony… or maybe it's the Randall King cool factor?
A buried child. A detached, disillusioned family. A shattered American Dream. These are not only themes that underscored the sensational Casey Anthony last year, but also ones that give Sam Sheppard's Buried Child unforgettable heft. It's not always pretty, but his Pulitzer Prize-winning (1979) play proves quite prescient in deconstructing the gloss, the artifice that we so readily don to conceal our own ghosts.
But forget all that.
The main reason to see this play, which opened over the weekend at the San Jose Stage, is Mr. Randall King. His performance as Dodge, the hobbled, beaten down husband, is monumental. King anchors this metaphorically-rich production with such conviction, and ease it's a wonder to behold. I've seen him perform several times before. In the stunning Pillowman, his gruff delivery, coarse voice, and weathered Keith Richards vibe was aces. I'm not sure where this performance stands in his illustrious theater career — he's been doing this for a while, 23-years I'm told — but I'd suggest it might very well approach the pinnacle. How appropriate that Sam Shepard wanted to be a "rock and roll star," not a playwright. You get the feeling there's kinship here between Shepard and King.
"There's no honor in self-destruction."
Buried Child is the kind of play that sneaks up on you. It feels normal. At first.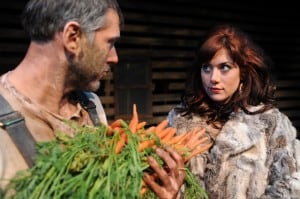 Set in a farmhouse somewhere in the Midwest, there's a certain comfort and coziness in the simple living room; Dodge lounges on the couch, secretly chugs whiskey, and stares into an old television, a blue flicker dancing across his face. His wife (Judith Miller in a strong performance), heard initially only off-stage, is quick to reach for religion and has an unusually close relationship with Father Dews (Tim Hart). When his son Tilden (Michael Navarra in a brooding, demented performance that is achingly good) comes in from the rain, with a bunch of corn and starts shucking it furiously right there, letting it fall to the floor, slowly we witness the ritual descent.
This is the Sam Shepard calling card, yes? Ground us in reality- then stir in some surrealism and even perhaps absurdism (I think so, but others disagree with me on this point). Things take a turn for the unexpected when forgotten grandson Vince (Harold Pierce) and his girlfriend (Lyndsy Kail) – a reprieve from the insanity – show up. But have they got the right house? It seems as if no one knows who Vince is anymore. It should be noted that Harold Pierce must have some kind of wicked fastball. This is the most impressive beer bottle shattering exhibition I've ever seen.
"Put the carrots down!" (note: my first time hearing these words on stage…)
By the time slacker Bradley (Stephen F. Massott) is crawling, semi-chasing Vince through the house in an attempt to recover his prosthetic leg, the family is in full blown exorcism mode. The rain falls harder. Cleansing is underway. Just about the same time Father Dewis declares himself out of his league, we in the audience could be feeling the same way. There's a lot happening. Juxtaposition reigns supreme, and you're either reluctantly lapping it up in horrified recognition, or you're somewhat befuddled and perhaps even stupefied.
Buried Child. Did Sam Shepard foresee Casey Anthony? Put down those carrots! http://t.co/FCi406sP #theater #shucking

— Clinton Stark (@clintonstark) February 21, 2012
Not surprisingly, this material resonates well. The 1970s economic downturn may have much in common with our current woes. Many would suggest there is filth, disgrace and disillusionment not only with the economic system, but especially with the American political system.
It seriously begs the question: can you trust a man who keeps bringing in vegetables from out of nowhere?
Buried Child

3.5 out of 5 stars (Sweet Stuff)

The Stage, San Jose
Directed by Kenneth Kelleher
Starring Randall King, Judith Miller, Michael Navarra, Stephen F. Massott, Harold Pierce, Lyndsy Kail, Tim Hart
By Sam Shepard

Through March 11, 2012