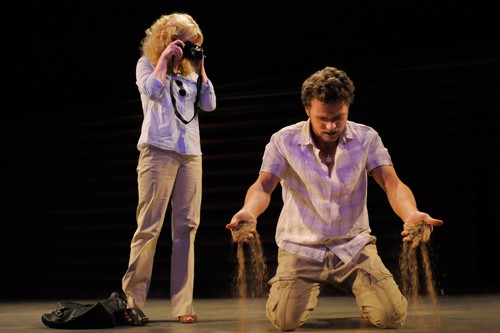 It's not often you see a play about architects. In her fourth full-length play, Carey Perloff takes us on a journey to the Middle East, where two American architects are vying for the same job: to build a memorial honoring 22 victims.
In search of a signature building…
As Elena Constantine (René Augesen) surveys the site, heartbreak washes over the theater; fresh grass sprouts up outside of the scorched earth where terrorists had blown up a bus. How should we honor the dead – with a subtle landmark that respectfully blends in with the environs, or with a soaring monument that ensures we won't soon forget the tragedy? In Higher, indeed grief and design clash. Perhaps the process is more important then the winning design. The two hour journey rips apart existing relationships, creates new ones, before coming full circle. Regarding those pesky details, fuck the birds!
Once again, there is a familiar A.C.T. aesthetic to the presentation of Perloff's new work. The staging is right out of Architectural Digest. Minimalist, with soaring frosted glass flanking an austere hardwood stage, the juxtaposition against sun-soaked scenes in Israel alongside the Sea of Galilee, make for striking visuals, imagined and otherwise. Those that frequent A.C.T. productions will recognize the signature style.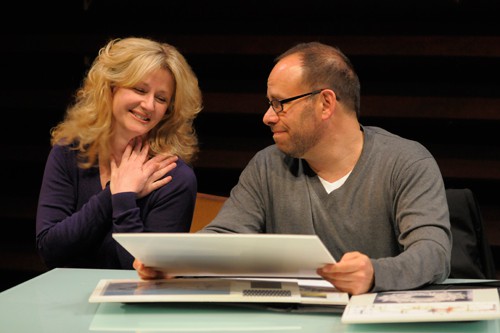 This particular production, a world premiere, takes place at the Children's Discovery Museum in San Francisco. And "discovery" is an interesting theme in Higher. Elena discovers her humanistic intuition when it comes to capturing grief in a soft, emotional homage of a design. Counterpoint: Jewish architect Michael Friedman's (Andrew Polk) over-the-top, glass and concrete uber monument that casts the names of the dead across various surfaces depending on the light.
Unlike the large, historic A.C.T. space on Geary, this theater (a "blue box"!) is intimate. I like the steeply raked seating arrangement which affords us an up-close and personal view of the intense interactions, and barbed dialog.
Your grief has shaped the building.
Two supporting characters who both suffered losses, a wealthy New York socialite (Concetta Tomei) and judging committee member (Alexander Crowther), give the architects contrasting sounding boards for their designs. One is ready to pony up $30 million for a grandiose monument while the other wanders the desert, overcome with sadness ("This is Israel. Things always look hopeless, and then it gets worse.")
Why pour concrete over your own history?
On the home front, star architect Friedman, who prefers the high paying clients of Dubai ("Billionaires without boarders"), struggles to relate to anyone around him. His award winning designs are the easiest way for this workaholic to communicate. His son, a shoe-in for celebrity pastry chef Yigit Pura here in San Francisco, is prone to Creme-Brulee torch injuries, dabbles in innovative fare (Halva – a faith-based pastry movement) and doesn't appreciate his father's idea of pouring concrete on hallowed ground.
There's a classic love story here, run amok thanks to a misunderstanding which resolves itself in predictable fashion. Although Higher is for the most part unique, fresh — mysterious world of architecture, crackling dialog, Jewish tears — it lacks the spark and emotional connection I felt when watching Perloff's stunning homage to San Francisco, The Tosca Project. Part of that is likely due to the flat first act. There's a distinct lack of zing, and absence of chemistry between the actors. Still, Andrew Polk is robust, entertaining as he continually finds himself at wit's end. The latter part of the play is stronger, as conflict reaches fever pitch, and the artistic imperative intersects with the grieving process. I just wish the intensity was there earlier.
Higher

By Carey Perloff

3 out of 5 stars (Worth a Look)

American Conservatory Theater
Directed by Mark Rucker
Children's Discovery Museum, San Francisco

@clintonstark:
Occasionally soaring, HIGHER an intelligent look: grief, design impact on humanity, complexity of cultural divides https://www.starkinsider.com/2012/02/grief-design-clash-carey-perloff-higher-review-act.html