UPDATE 2.2.2012 – There's a lot of spirited (and even sassy) conversation about this article taking place on… Twitter:
@starkinsider You made some Bay Area theatre tweeters feel slighted, as you may have seen. But you drew eye to what big orgs are doing.

— Howard Sherman (@HESherman) February 2, 2012
Basically, I get Tweeted to the turf. But live to tell. Not everyone agrees with my assertion that theater is "late" to the social party.  Search for #2amt for some of the discussion. Some tweeters are "slighted." There's some good points, some sensitivity and some enlightening conversation. I should point out that I naturally come at this from a publisher perspective, which is markedly different than that of an arts org or community. When I go to a show, there's still very little pre- and post-show social networking happening.
But there's hope for me yet:
@StarkInsider @BatfishLD All of that said, a huge THANK YOU for drawing attention to the SF Bay Area twitter theatre scene

— Melissa Hillman (@melissaimpact) February 2, 2012
Disagreements, opinions aside, I suspect we all share passion for live theater. Conversation hopefully adds color, builds awareness. Play on!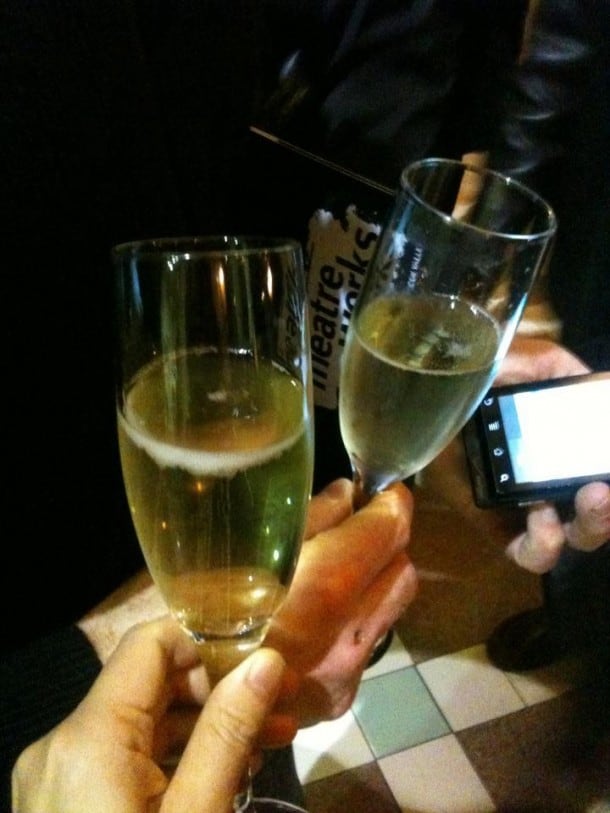 Finally. Finally! It looks like the theater scene in and around the SF Bay Area is getting social.
More theaters are taking to Twitter, and, at least by my informal estimates, activity is up in 2012.
More of us – fans, theater reps and staff, critics, and trade alike – are tweeting. Not just about shows either, but also about industry news, auditions, and, of course, what we ate for breakfast (espresso and blueberry yogurt mash with oatmeal, followed by a chocolate covered peanut and Twizzler).
Theater: What took you so long?
I wondered when this time would come. Other passions we follow on Stark Insider such as film, wine and food have seen far greater and faster uptake when it comes to social networking. Tech of course is a natural and needs no cajoling – Google+ is a gadget-lovers paradise; you can find me there incessantly talking about DSLR, Android and cars. But theater seems like such a natural. After all, plays and live stage are all about emotion. That in turns leads to conversation. Facebook and Twitter are perfect outlets for engaging with others. However, theater is regional in nature. Unlike that new Samsung Galaxy Nexus which is hotly discussed across the Nation, the opening of something like Give 'Em Hell, Harry in Palo Alto obviously has a smaller base of interested people to draw from.
Social Networking. Okay, let's do it! But…
Twitter is a double-edged sword. It affords tremendous opportunity. You can reach the world with the click of a mouse button or the touch of your iPhone. That's the easy part. On other side of the social networking coin is the effort and time required to create dialog and build an online presence.  I would be somewhat cavalier of me to say, "Well, just do it! You must!" Time, as I've been reminded all too often as I've made my way from theater to theater over the past three years, is a glorious, rare luxury. Right up there with: money. So while it might not cost anything to open accounts, it most certainly does to get them off the ground, to gain a loyal following, and then to convert that momentum into butts in seats. Cut backs, such as California's axing of redevelopment agencies doesn't help. I read this morning this may lead to tough times ahead for the San Jose Stage Company. I'd imagine it's hard to allocate any kind of effort on the social networking front with this kind of headwind.
Live Tweeting
#FF @SFPlayhouse <== For wonderful theater in San Francisco, plus, they Live Tweet during one night of each new play! #SFPlay

— janettwokay (@janettwokay) December 16, 2011
SF Playhouse scores points for pushing the envelope. With its Tweet seats and live tweeting nights you can work your #hashtags during a live performance. It's a controversial topic (see To tweet or not to tweet by Karen D'Souza). Theaters across the country have also experimented. Some condone the practice. After all, it's distracting not only for other audience members, but also for the performers. LOL. However, one thing is for sure: theater-goers are not getting any younger. And just like wineries that are reaching out to the millennials with RT love, Tweet-Ups, Live Tastings and #WineWednesday (#ww for the savvy) to groom a future customer base, theaters ought to consider the same. That means thinking outside the (black) box. Sure, mailers, email, partnerships, web and other marketing practices will continue to be part of the mix. New ideas will be increasingly important. Like it or not, this is a world of Xbox Live, memes, viral videos, and planking.
Welcome Aboard…
Lights up. The stage is bare. MTC enters from stage right.
MTC: Tweet!

— Marin Theatre Co (@MarinTheatreCo) January 24, 2012
Marin Theatre Company joined Twitter this month. By my estimation (correct me if I'm wrong pls) they were the last LORT (League of Resident Theatres) to take the jump, joining the other majors which include Berkeley Repertory Theatre Company (2,569 followers as of today), American Theater Company (1,789), San Jose Rep Theatre (770), and TheatreWorks (238).
For sake of comparison: the Met NY has 423,700; Mashable 2,705,618; SF Giants 218,880; Robert Mondavi Winery 5,515. Oh, and of course Ashton Kutcher has 9,371,910.
Not exactly apples-to-apples I know. There's probably a way to normalize data using the local market to assess social penetration. Ouch. Still, the SF Bay Area is some 6M people strong. There's plenty of opportunity moving forward.
Also notable is theater stalwarts such as Karen D'Souza (SJ Merc), Sam Hurwitt and Chad Jones appear to be more active these days, which is not only adding more credibility to the proceedings, but make it more fun to follow what's being said about various productions.
Introducing: the San Francisco Theater Scene Twitter List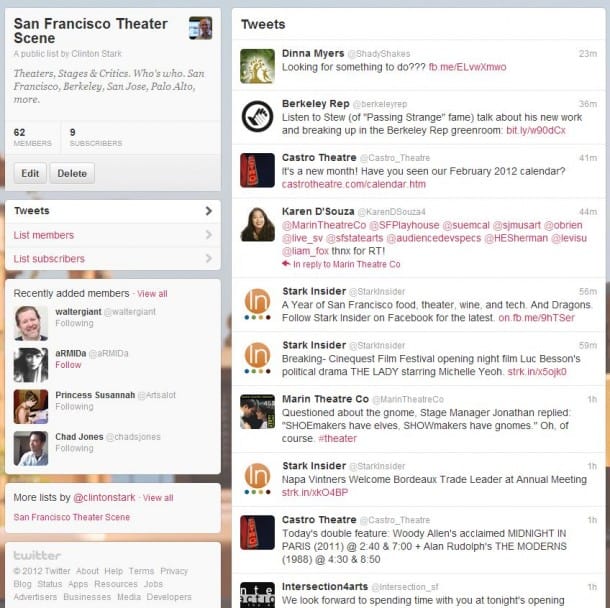 If you're not familiar with lists on Twitter, they're a remarkably handy way to track peeps with a common interest, be it theater, wine, food, or any topic or commonality that strikes your fancy. Because you can track a list with a few simple clicks, it's a powerful way to potentially get people engaged fast.
Over the past few years I've been slowly adding theaters, critics, people of interest, actors, etc. to the SF Theater Scene Twitter list. It's far from complete. And I know I'm missing a lot of folks out there. Just let me know (don't forget to follow me: @clintonstark but remember I talk about wine, film, Sean Connery and the SJ Sharks too).
To check out the list, and follow it, just click this link:
https://twitter.com/#!/clintonstark/sf-theater-playon
We're just getting started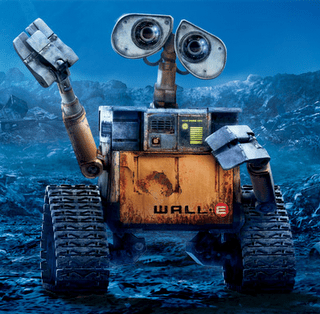 In 2009, when Twitter was still considered an obscure signaling idea than a tool for overthrowing dictatorships, Loni and I made the decision to start covering theater on Stark Insider. We didn't do it for page views. We didn't do it for money. Theater ranks last in those regards, sadly. We do it because we love it. If we were thinking with our business hats on, we would've kicked it to the curb a long time ago – like a lot of mainstream media have. That would break our hearts. We definitely don't do it for the comps. Covering theater is the most brutal thing in the world in terms of overhead. The commute as most know is killer in the Bay Area. Writing reviews I find exceptionally difficult, and time consuming. SI is just one of many sites we run, and we have technical, marketing, sales, and other operational things we need to do day-to-day. But theater is oh-so-satisfying. We just love live theater. When I'm feeling over-worked I think of people in theater; I believe they are some of the hardest working, most inspirational people around. How can you not get goose bumps when the house lights go down? Theater, especially here, is so vibrant it constantly surprises us, moves us, challenges us. Yes, I often cry. Just like I do when I watch animated children's films like Wall-E. Skyrim for PS3, Angry Birds, Flipboard, even dare I say hockey (okay, maybe not)… none of that comes close to the thrill of Bay Area theater. Sex, and a good Napa Cab, maybe. Come to think of it: theater + wine + sex … all at the same time. I might be on to something here!
I'll be writing more on theater in the coming months and through 2012. Follow me. I follow back. Tonight we're off to Magic Theatre for the opening of Jesus in India.
Let the show begin…
SF Bay Area Theater Social Networking Scorecard
Who to Follow

Karen D'Souza, critic

Chad Jones, critic

Sam Hurwitt, critic

Richard Connema, legend (Facebook only as far as I can tell)

Trevor Allen, playwright

Princess Susanna, actor/arts

Also: you can follow this SF Bay Area theater list which includes all of the above plus almost all the theaters in the region, actors, Tweet happy members of the San Francisco Bay Area Theater Critics Circle (SFBATCC), some members of Theatre Bay Area (I'm adding new ones every day), artistic directors (though I can't find many on Twitter… it's almost as if they're too busy or something) and more.