Look, I'm all for boobies. I appreciate the Tim Burton visual, especially when it comes to bats in the belfry hair and costumes. And modern-day references — James Franco, Quiznos, Mitt Romney — with literal #wtf chutzpah can really help ratchet up the Zany factor. But in the case of Berkeley Rep's latest production A Doctor in Spite of Himself, the whole is unfortunately less than the sum of the parts. On the other hand, if you dabble in some pre-show Mary Jane over by the Peace Wall, squint your eyes, and don your polyester parlor jacket you might find this bizarro world a wildly fun trip down the rabbit hole.
There's certainly lunacy here, and granted that's largely the point…
An adaptation of Moilère's Le Médecin malgré lui (1719), a happy-go-lucky woodcutter Sganarelle finds himself mistaken for a doctor. He's unwittingly taken to a mansion where he's cajoled into helping the daughter of a wealthy bourgeois regain her voice. Playing the role of a doctor, however, has its perks. People listen to you, and if you're wrong you simply change the rules (being in the sun is good for you! … no, no… uh, it causes cancer!). So we understand when Sganerelle starts to relish his regal, new-found status.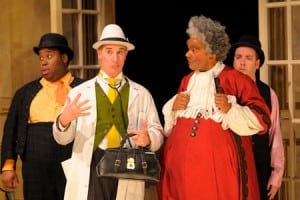 But the comedy does not surface, at least not consistently…
What's odd about Doctor, is the frequent peppering of modern references alongside an old-fashioned tale of mistaken identity. We get politics (Santorum), fast food (Quiznos), music (Abba) intermixed with rapid-fire delivery that largely bamboozles us. The few laughs come not from comic story-telling or whimsical folly, but from the fact that we're hearing today's major headlines recited on stage. "Occupy That!" Oh, okay.
More Theater & Arts
At one point an actor asks, "When is the play going to start?" Mid-way through the insane barrage, if I recall correctly, I was thinking the exact same thing.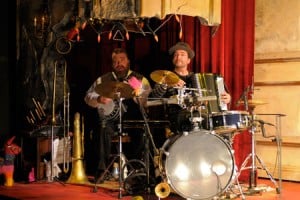 All is not lost. The costumes are beautiful. The acting is superb, most notably Steven Epp as the doctor in spite of himself. He dances, sings, acts with equal aplomb. If shtick is the thing, he's your guy, and it's quite an impressive physical exhibition. Also thumbs up for the two musicians (Greg C. Powers, Robertson Witmer) who bring mucho-gusto to the proceedings.
There's a neat trick involving puppets at the beginning of the show, which repeats at the end under a striking moon lit evening sky along with a smile-inducing musical number about the power of laughter. Plus, the art of the stage slap and punch is perfected in some truly hilarious, well-timed scenes. Once again, there's no shortage of creativity on Addison.
Swinging knockers. Tim Burton 4stage. A drunken woodsman. But when is the play going to start? #theater #imagination http://t.co/LnRLipvO

— Clinton Stark (@clintonstark) February 18, 2012
It was bound to happen: Berkeley Rep's unparalleled winning streak has come to an end. During the last three years since we've been covering the explosively imaginative theater house, it's received our highest average score of any theater – big or small – in the SF Bay Area. This production is my least favorite of the lot. Regardless, as I left the Roda I couldn't help but smile. In some ways it's far more enjoyable to watch a team take creative risk, reach for the stars and fall somewhat flat (see: War Music) than it is to sit through a warmed over re-run of, say, Sweet Bird of Youth.
Speaking of James Franco and goofiness…
A Doctor in Spite of Himself

2 out of 5 stars (Boohoo)

Berkeley Repertory Theatre
Performance attended: February 17, 2012
Roda Theatre, Main Season
Written by Moilère
February 10 – March 25, 2012
This is Stark Insider