First, the good news: there are 3 hot Android smartphones available this month. All will be available on Verizon, and pack 4G LTE. On the downside, us upgraders can (likely) only choose one. And that handset will need to get us through the next two years, assuming that is we don't jump out of contract early- always a tempting proposition.
We already know quite a bit about the Samsung Galaxy Nexus (aka Nexus Prime), and the awesomely thin Moto RAZR – a tough choice between two Android heavyweights. And now, thanks to the launch event today in New York, we've got the official skinny on the HTC Rezound, odd name and all. Here's the quick run down:
HTC Rezound Specs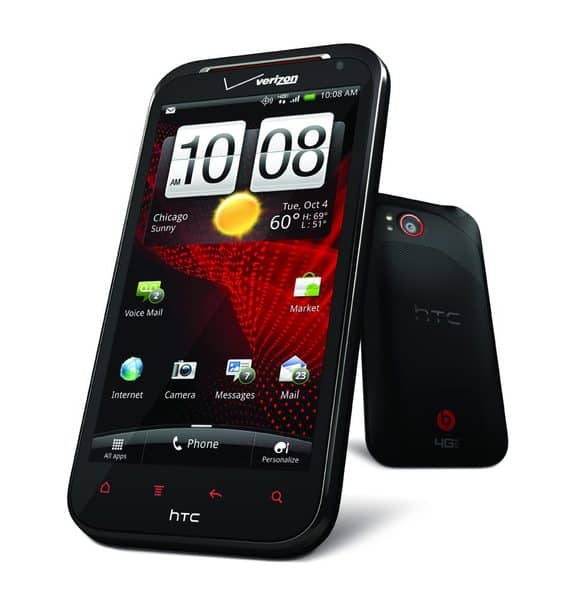 — 4.3″ 1280×720 display (par)
— 4G LTE (par)
— 1.5GHz dual-core processor (par) Update: this is better than both RAZR and Nexus, thx @KristinL
— 8MP camera with 1080p video (slightly above the competition)
— 2MP front-facing camera (not important to me, but per @KristinL in comments is almost twice the res of the others)
— 1GB RAM (par)
— 16GB storage (par)
— Beats Audio with earbuds (will matter to some, but I won't use it)
— Android 2.3 (advantage to Nexus, though I'm guessing RAZR and Rezound will both get ICS early 2012… but I don't want to wait!)
— HTC Sense (it's the slickest skin out there, but I prefer stock experience)
— 1,620mAh battery
— $299 w/2 year Verizon contract (par)
It's a solid device. But compared to the Nexus and RAZR I'm not convinced there's any compelling reason to choose it, unless, of course, you are smitten by HTC sense or Beats Audio.
The Nexus, of course, will be the first Android device to come with Ice Cream Sandwich, and that alone for me is probably reason enough to move it to the top of the upgrade list. I also like the idea of soft keys which will give developers a chance to get creative with app navigation controls, plus make more room available when a video is playing.
As an original Droid owner (Nov 6, 2009 launch day at local Verizon store here in Silicon Valley!), I am partial to the Motorola brand, especially since it's an American company and now part of Google. My trusty Droid has survived the rough-and-tumble Baja, many a bounce off the floor, and lots of scratching action against car keys and lint in my pocket. Through it all it's been exceptional. Now I find it too slow, but this is a two year old phone now.
I know this much: Just say no to iPhone.
So onto the upgrade… current rankings:
Clint's Android Hotness Rankings
1. Samsung Galaxy Nexus (ICS, softkeys, Samsung build quality)
2. Motorola RAZR (well… razor thin!)
3. HTC Rezound (no distinguishing feature unless you absolutely must have HTC Sense)
I'm convinced I'll go Nexus. Plus the recent delay works well for me as I'm Baja bound for a few weeks, and will return just in time to begin phase 2 of life with Android.
What say you?