How does the new Motorola Droid phone fare in the rugged terrain of the hot, humid Baja desert?
Well, aside from the absence of any Verizon service, remarkably well. And much to other's concern, sans protector or case.
The wi-fi feature is great and has allowed me to use the Droid despite the lack of cell coverage.
Downtown Loreto becomes more progressive every year, and now sports several free hot spots. When I'm in a restaurant, hotel, bar, or just strolling along the stunning Malecone next to the Sea of Cortez, I quickly pull up the Wi-Fi screen to see if any networks are available. Most times there is at least one open and working. I hop on, and moments later, all my emails are flooding in. I can also do quick checks on our corporate calendar, and send out a Baja Tweet or two and a Facebook photo for those wanting to see what it is to turn into a lobster in the heat here (although the weather has been just perfect last few days).
At first I thought the Droid was very good, but now I'm beginning to think it's excellent.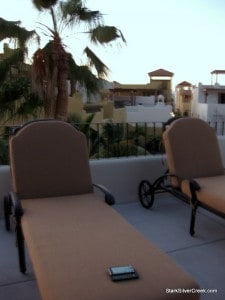 Battery life, a sore point with HTC Eris buyers, is still something to be wary of, but I easily get through a full-day with frequent use of Wi-Fi, occasional GPS, emailing, Tweeting, etc.
On this trip, though, I have not made any phone calls. I did try to use Google Voice and Skype, but neither would work here. I get network registration errors. I suspect this is because you still need to have a cell service provider active, otherwise you could buy a cell phone without service, and use just VOIP services to make calls… how much longer before this is the norm?
Performance has been perfect; I don't encounter any lag or issues that others have occasionally reported. Then again, I'm not running a bunch of apps at the same time. Instead, I run Facebook, TwiDroid (the best Twitter client going for Android), Gmail, Calendar and perhaps a Browser window here and there.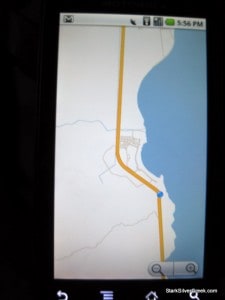 If you're a fan of widgets, you'll want to download Beautiful Widgets which provides an assortment of well designed widgets that can be added to any of the three home screen panels. The weather widget, in particular, is sharp, mimicking the look of the Sense UI by HTC. I was surprised that it could even tell I was in Baja!
Google Maps has the streets marked off for Loreto here in Baja California Sur, but does not have street names or points of interest. I recall about a year ago that there was nothing, so this is a good indication of more to come.