Another week, and another round of openings across stages here in the San Francisco Bay Area, including two flagship theater premieres with The Three Sisters at Berkeley Rep (James Carpenter alert!) and No Exit at A.C.T.
Once again here's a round up of shows that are on our radar. There are so many that it would be impossible to include them all – and might require a small army to assemble all the information. If you do know of a show, or if you work at a theater that is not included here (with shows opening this week) or in the Bay Area Theater Guide, please do let us know and we will try as we might to include your listings.
But, first, as always, we have the quote of the week. This time it comes from a show that opened last week in San Jose. The show will remain nameless if only because I'm hoping the air of mystery enchants, entertains:
"I'm living my life, what are you doing?"
There you have it. Can you guess the show? Clue: just thinking about it gives me butterflies (thanks, Clint!).
In case you missed it, Stark Insider was on location for interviews with SF Playhouse for their latest, a sci-fi thriller called Wirehead and at Broadway San Jose for their latest show, the infectious worldwide hit Stomp.
Let the show begin…
The Three Sisters
Berkeley Repertory Theatre
Opens: April 13
Audiences and critics on both coasts embraced Eurydice and In the Next Room (or the vibrator play), two shows steeped in longing from playwright Sarah Ruhl and director Les Waters. Now this talented team turns its attention to a fresh translation of a masterpiece. Three Sisters by Anton Chekhov depicts an entire village of unlucky lovers struggling with the bittersweet distance between reality and dreams. Ruhl enlivens this classic with the same elegant understanding of intimacy that infused those earlier collaborations, while Waters and a cast of 14 deliver another sumptuous production. The West Coast premiere of this new adaptation explores the intertwined mysteries of denial and hope. Discover the humor and heartbreak of one of the world's great plays, told anew through the lyricism of two leading voices in contemporary theatre.
No Exit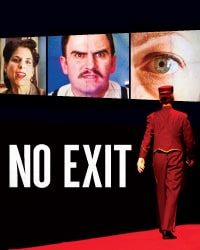 American Conservatory Theater, San Francisco
Opens: April 13
Fresh from sold-out performances across Canada, Jean-Paul Sartre's redefined classic makes its U.S. debut at A.C.T. A mysterious valet ushers three people into a shabby hotel room, and they soon discover that hell isn't fire and brimstone at all—it's other people arguing about their lives. Sartre's 1944 existential classic, skillfully reimagined through the perspective of a series of hidden cameras, turns the stage into a cinema, and the audience into voyeurs, as a thrillingly staged "live film" takes place before your eyes. A.C.T. continues its tradition of welcoming the work of innovative international artists to the Bay Area with this riveting multimedia event.
Enchanted April
Northside Theatre Company
at the Olinder Theatre, San Jose
Opens: April 15
When two frustrated London housewives decide to rent a villa in Italy for a holiday away from their bleak marriages, they recruit two very different English women to share the cost and the experience. There, among the wisteria blossoms and Mediterranean sunshine, all four bloom again—rediscovering themselves in ways that they, and we, could never have expected.
Collected Stories

Essential Action Productions
Stage Werx, San Francisco
Opens: April 16
A famous writer takes on a promising student and guides her younger charge through all the stages of awkwardness and self doubt.  In return, the younger woman chooses to appropriate her mentor's life story as the basis for her own novel.  What are the ethics here?  What is fair game for the artist?  What constitutes "fair use?" These are some of the questions raised by Donald Margulies in his much-lauded drama, Collected Stories, the debut production of San Francisco's Essential Action Productions, April 15-May 7 at Stage Werx in San Francisco.
NOW PLAYING
Lead photo: Lisa Lázár.