Rodgers and Hammerstein moved the Broadway musical beyond the sentimentality and farcical style of their predecessors into what is now considered the golden age of the genre. For the first time the songs and dance numbers became an integral part of the narrative. And their stories often addressed serious themes of social relevance.
Carousel was their second effort and it features some of their most memorable and beautiful ballads, including "If I Loved You" and "You'll Never Walk Alone." It was both a commercial and critical success when it opened in 1945, resonating with a country in the throes of the Second World War.
Unfortunately, the passage of time has not served it well. Its dubious message about unconditional love has become woefully dated. What endures is a flawed masterpiece, weighed-down by an unappealing protagonist, a pervasive somber tone and a redemptive finale that feels somewhat forced.
Set in a New England fishing village in the late 1800s, the play opens with a vibrant, picturesque scene of pantomimic bustle. It's an impressive and complicated piece of staging, and it's performed with impeccable timing and zeal by the entire ensemble.
The lighting design is of particular note, accented by subtle changes in background color that enhance the mood reflected in the melody and lyrics. It's a nice touch, and the vividly imagined scenic and costume design serve to complete the visual tableau.
Billy Bigelow, a handsome ne'er do well who works as a carousel barker, possesses few, if any, redeeming qualities. And yet, a brief encounter on a merry-go-round with the naive Julie Jordan blossoms inexplicably to a smitten romance. Her motivation is perplexing inasmuch as her life takes a turn for the worse the moment she pursues the conceited boor. A better example of "bad boy" syndrome could not be found!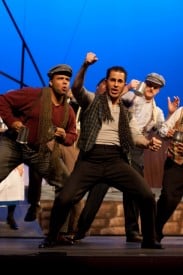 Sascha Joggerst was most likely cast for his exceptional vocal prowess and not his acting acumen. His awkward demeanor does manage to convey Bigelow's masculine swagger and overweening pride, but he lacks the charisma and vulnerability necessary to garner any respect or sympathy. The robust baritone does shine, however, when belting out a tune.
Jordan is depicted as a victim of Bigelow's questionable charm and physical abuse. Kerie Darner-Moss, endowed with a melodious singing voice, captures the ambivalence of a woman who sincerely wants to support her man but lives in constant fear of his darker side. Alas, despite her best efforts, she cannot overcome the solemn material and her character remains curiously remote.
Carrie Pipperidge (Beth Anne Wells) and Jigger Craigin (Gary Stanford) provide the much-needed comic relief. Both actors display a winning stage presence, delivering strong supporting turns in all facets of their performance. When they share center stage their prodigious talent is in full bloom!
As is to be expected of local companies, none of the remaining cast members waver in their commitment or enthusiasm. Standouts are too numerous to mention, but special recognition must go to Lisa Marie Woods, who seizes the opportunity to showcase her dramatic skill and expressive balletic moves during an exquisitely choreographed ballet sequence. Bravo!
Overall, the production is a mixed bag, as is the historic Montgomery Theatre in San Jose, which can be unforgiving to those players who forget to project with the required intensity. Reservations notwithstanding, one should not forego a chance to see this entertaining Lyric Theatre presentation of a genuine classic.
Carousel

Lyric Theatre
at the Montgomery Theatre, San Jose
3 out of 5 stars
Stage Director: Bill Starr
Music Director: Michael Morris
Through April 3, 2011
Photo credit: Dover Beach Photography