Does Loni have what it takes to be a percussive star? Find out as Stark Insider goes on location to Broadway San Jose to visit the talented cast from STOMP. Think of John, "D", Michael, and Elec as the super-heroes of rhythm. Each brings a unique background, a unique talent to the production.
Expect some pretty wild sights and sounds as street performance is brought to stage.
Basically they make rhythm out of anything they can get their hands on. Stiffle-bristle brooms become a sweeping orchestra; Zippo lighters flip open and closed to create a fiery fugue; wooden poles thump and clack in a rhythmic explosion. Even trashcans, tea chests, plastic bags, plungers boots, and hubcaps play a part… essentially anything but conventional percussion instruments.
The show is in town here in San Jose until Sunday, and brings with it several changes since it was last seen here. A new piece "Paint Cans" evolved out of the "Boxes" routine in the Las Vegas show and "Donuts" is a piece that implements huge tractor tire inner tubes, worn around the waist on a bungee cord.
You'll have to see — and, more importantly, hear — it to believe it.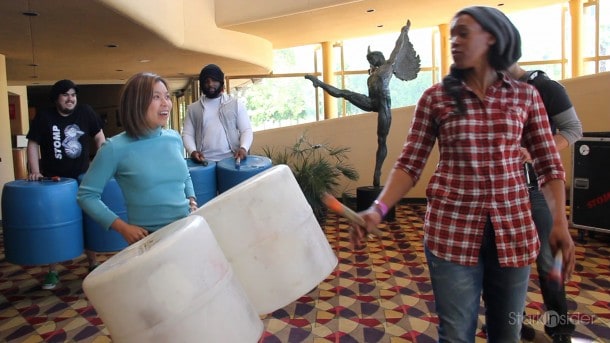 If you plan on attending one of the performances, here's your chance to help Bay Area food banks. Broadway San Jose has teamed up with Second Harvest Food Bank to highlight a national effort to "STOMP OUT HUNGER."  You can help by entering the code word HUNGER when ordering tickets to STOMP and a $5 donation will automatically be made to Second Harvest Food Bank — enough to provide 10 complete, nutritious meals.
Also, bins will be available at the San Jose Center for the Performing Arts to collect canned and packaged goods. Organizers tell us that foods most needed include: peanut butter, canned meat such as tuna, and meals in a can with pop-top lids (soup, stew, chili).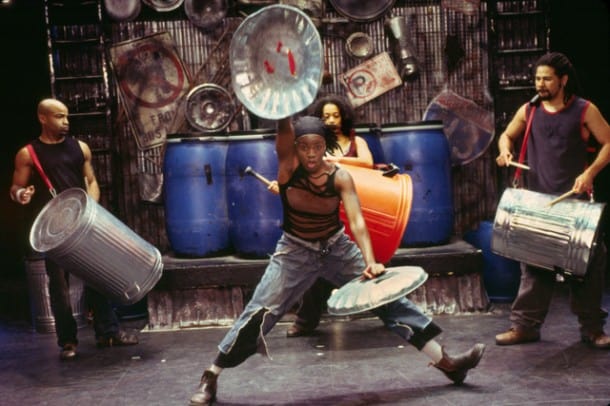 (With Clinton Stark and Loni Kao contributing on location. Also: thanks Chris!)