TheatreWorks starts its 42nd year with the exquisitely beautiful Snow Falling on the Cedars. While we've all gotten a little spoiled by director Robert Kelley's productions, he's given the community a great gift here.
Scenic designer Andrea Bechart captures the dreamy Pacific Northwest beauty of this corner of Puget Sound, trees and mountains silhouetted against the deep blues as snow falls silently. Set pieces are almost moving on this stage, trees come together, desks come and go, ships rise up and courtroom windows drop, moving slowly as the world becomes transformed. Evening comes, bringing stars, and winter, the inevitable snows. Short acts at the Mohave internment camp of Manzanar, and Betio, site of a Pacific allied invasion leave the audience shocked out of their natural environment, lulled as they were by sound designer Gregory Robinson's winds over the water and falling rain. This is a set you want to move into.
The dramatization of the David Guterson's 1994 book is as much a murder mystery as a love story, a war story as much as a tale of redemption. The fusion of these elements prevents this material from being yet another two-dimensional story about racial injustice. This play is too complex for that, and Kelley, too smart a director. Not telling a story becomes as much a way of telling the tale, as the reticence of the Japanese characters is as loud as the self-righteous Norwegian voices.
The fast pace of the production is evident in the first few minutes. Opening narrative bounces from one actor to another, always in motion against the still mountains and trees that seem to hover over a luminous blue. This pace doesn't stop, doesn't relent, bringing the audience with it. Perfectly paced for maximal understanding, this sense of motion propels the story forward, placing the courtroom trial of Kabuo Miyomoto against the investigation of the murder of Carl Heine, the Ishmael Chambers' wounded body against his wounded spirit, strawberry festivals against land sales lost in the Japanese relocation. Tension is everywhere here, all set against the profoundly calm background.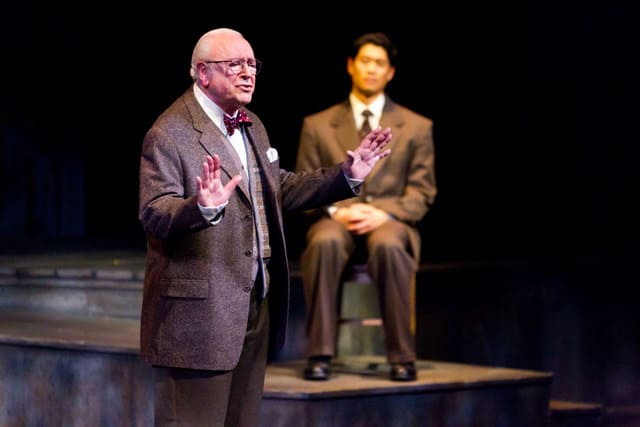 Every first year constitutional law student struggles with the outcomes of Korematsu v United States and Yasui v United States. With the 1988 apologies more than 40 years late and $20,000/head reparations absurdly small, liberal indignation seems as much a dead end as the injustice itself. This production is a better take in the material, reminding us that while we're really the same people, there's a small moment of redemption in the falling snow.
Snow Falling on Cedars

TheatreWorks, Mountain View Center for the Performing Arts
4 out of 5 stars

Book by David Guterson
Adapted for the stage by Kevin McKeon
Directed by Robert Kelley
Tim Chiou – Kabui
Will Collyer – Ishmael
Maya Erskine – Hatsue
Randall Nakono – Zenhichi
Edward Sarafian – Nels
Mia Tagano – Fujiko
March 30th – April 24th
Photo Credits: Tracy Martin and Mark Kitaoka.