Edward Albee's uncompromising expose of marriage was tantamount to dropping a nuclear bomb upon the venerated institution when it opened on Broadway in 1962. Not until Who's Afraid of Virginia Woolf hit the stage had any American playwright stripped the veneer of wedded bliss with such explosive frankness and corrosive vulgarity. Once the fallout subsided, however, what remained was a surprisingly poignant, albeit decidedly perverse, love story.
The title is a parody of the song from the Disney cartoon "Three Little Pigs," and it's a recurring line meant to reference the introspective, stream-of-consciousness technique that characterizes much of Woolf's body of work. Her evocative writing style is in stark contrast to the conjugal illusions that Albee proceeds to destroy without mercy!
The entire play takes place on a single, functional living room set. Highlighting the minimalist design is a tall pair of opposing bookcases standing upstage, featuring separate collections of books to one side and liquor bottles to the other. Hung dead center between the twin towers is a surreal portrait of a multi-faced woman, completing Rich Allen's handsome, expressionistic composition.
George is a middle-aged associate history professor and his older spouse, Martha, is the daughter of the president of the small New England college that employs him. In the wee small hours of a Sunday morning they retire to their campus home after attending a faculty party.
The fun and games are about to begin, as Martha has invited a young biologist and his wife over for a nightcap. What ensues is an alcohol-fueled frenzy of acerbically funny exchanges that serve to humiliate and eviscerate. And their unwitting guests are not immune, as they too become embroiled in the ritualistic insanity.
Martha is a woman whose bitterness stems from the profound disappointment she's suffered living vicariously through the dubious accomplishments of the men in her life.  Her rage is eclipsed only by her own self-loathing.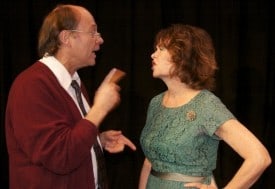 Befitting her role, Pennell Chapin plays her loud and obnoxious, reciting caustic dialogue such as "I swear, if you existed, I'd divorce you" with a diabolic glee. It's a strong performance, but truth be told, there's an artifice to her over-the-top delivery that lacks verisimilitude. She misses the right tone required of the third act and ultimately comes off as more caricature than human.
George is depicted as a man resigned to make the most of a union that resembles a codependent hell more than holy matrimony. He survives by deploying a superior intellect and rapier wit as weapons against the onslaught of an overbearing and emasculating mate.
Ms. Chapin's emoting may very well demand our attention, but it's Tom Woosnam's pitch-perfect portrayal of the beleaguered husband that commands our respect. Instead of chewing the scenery, he adopts a cerebral, soft-spoken demeanor that provides the ideal foil to his obstreperous adversary. His subtle approach adroitly belies his character's complicity in their mad dysfunction. And the undertone of affection present in his voice each time he utters her name reveals that it is George's love for Martha that keeps him going. Bravo!
Daniel Trecroci is fine as the ambitious young colleague who finds himself in over his head as he becomes the somewhat deserving target of the older couple's simultaneous envy and contempt.
And Mary Waterfield is simply superb as his mousy better half, providing a depth and vitality to the part that one suspects was not evident on the written page. Wonderfully attired like Doris Day and dutifully clutching her Kelly purse, she just about steals her scenes right from under her unsuspecting fellow cast members!
A solo bass player (Michael La Guardia), costumed in full beatnik regalia, performs jazzy interludes between acts that evoke the period and set the mood. It's a classy touch, and it illustrates the thought and careful attention to detail that director Tim Longo and his talented staff put into this elegant production by the Coastal Repertory Theatre. A trip to the beautiful seaside town of Half Moon Bay could not be more worthwhile!
Who's Afraid of Virginia Woolf

By Edward Albee
Coastal Repertory Theatre, Half Moon Bay
3.5 out of 5 stars
Directed by Tim Longo
Starring Pennell Chapin, Daniel Trecroci, Mary Waterfield, Tom Woosnam
April 1 – 23, 2011