Guest post by Bob Jamison.
In his directorial debut, San Francisco's own Ricardo Salinas embraces both the local and latino cultures ZinZanni style in "Caliente", a salsa injected production set amongst current events in the 100 year old Pier 29 Spiegeltent on the Embarcadero.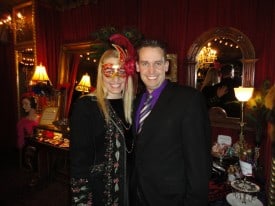 Teatro Zinzanni allows guests to experience the entire "evening out" since dinner is included and they don't need to feel rushed trying to squeeze in dinner and drinks before hurrying to make it to the show by curtain call. With Teatro ZinZanni's lovely anteroom providing catchy cabaret-themed merchandise, a fully equipped bar with eclectic drink concoctions, and dinner integrated with the show, guests can actually immerse themselves into the evening and take it all in.
On this night the enthusiastic audience was eagerly waiting to see what was "hot" under the tent tonight including ZinZanni veterans and those that wanted to see what this 13 year running phenomenon was all about. While enjoying a light course of olives and cheese at an intimate table with other lively guests the lights dimmed to a shadowy atmosphere and the show kicked off with an often current theme today – a foreclosure — and that the representatives from the Corporate owner have arrived.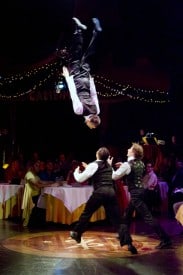 As the kitchen staff is busy preparing for the nightly show the maitre d' is rudely interrupted by the son of the new owner Mr. Ching (Ling Rui of Cirque du Soleil fame in his solo performance debut) and his abrupt translating real estate broker played by the talented singer/songwriter Rebekah Del Rio. The news is passed down that Mr. Ching's father is razing the tent and all of the staff are receiving a pink slip. Apparently everyone else was told except the behind the scenes staff. Cinco (played by Robert Lopez the "Mexican Elvis") and his busty sister Tres (played by the multi-talented Christine Deaver) start to galvanize the staff into a revolt until they are presented their contract that is as long as the IRS tax code. Fortunately someone from the kitchen finds a loophole! The staff is guaranteed one last performance but there remains a problem that the broker clearly points out – they have no talent or abilities other than the "lowly" kitchen jobs they have been performing. Mr. Ching and his broker scoff at them and leave the tent in disbelief of success. For the next three hours the staff heat it up and rise to their full potential to entertain and amaze the audience.
The three hour show included all that we love about ZinZanni – a great 5 course meal, crowd involvement in riotous competitions and performances, spell binding acts, and even the train transformed into a Mexican themed event.
This production seemed lighter on circus style performances as compared to other ZinZanni performances yet the audience was engaged throughout since according to one staff member, "The show never has a low point and the energy is consistently up throughout." What was a welcome addition to this production was the frequent inclusion of current events and culture from both here in San Francisco and the wider Latino community.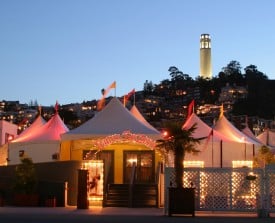 "Caliente" is more personal and engaging since Director Salinas includes issues such as the under representation of Latinos in the broader American culture, union challenges, and the side effects of constant "development" all weaved into a mix of comical skits, both moving and humorous songs, and Latino cultural tie-ins such as tequila and vatos.
I do think that the most memorable theme was the realization by all of the characters and even Mr. Ching and his secretary, that everyone has potential and talents. When faced with a challenge, which in today's challenges are everywhere, people can band together and realize their full potential with support from each other and applause from the audience.
Can the janitor, a maitre d' and a waiter (actually the very talented Les Petits Frères circus trio) entertain an audience to a standing ovation as high as the Spiegeltent? You better believe it!
Teatro ZinZanni – Caliente

4 out of 5 stars

Spiegeltent at Pier 29, San Francisco

Wednesday through Saturday starting at 6 pm and Sundays at 5 pm through June 19, 2011.

Tickets range from $117 – $145 for this engaging performance and are available online or by calling (415) 438-2668.
Photo credit: Mark Kitaoka and Tracy Martin