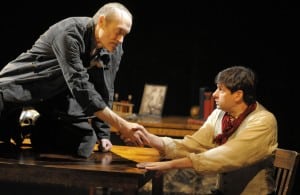 San Francisco Bay Area Theatre Critics Circle (SFBATCC) announced the 2009 nominees earlier this week. The list is below, but fair warning: you may want to block off a few hours, or even next week, to get through the list. It might even have been easier to list who is not nominated. However, times are tough I must tell my sarcastic side, and it's good to celebrate all that is right in the performing arts.
I still—and I think always will—get Greased Lightning-like chills when the house lights dim and the show begins. It's that live theater moment that I especially love.
One of my favorite trends from last year is the uptick in the use of social media for theater marketing. It's not the ultimate panacea, but as more engage via Twitter and Facebook, the more readily a new, younger audience will relate to the shows. I think this is crucial to grooming the next generation of theater enthusiast.
Okay, so anyways, what about these nominees then? 4-hour drum roll please.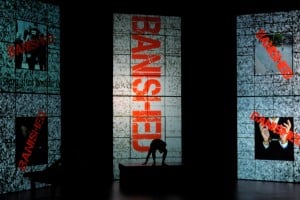 The first thing you should know, the SFBATCC segments theaters into 3 sizes:
> 300 seats (e.g. American Conservatory Theater, San Francisco)
100-300 seats (e.g. Aurora Theatre, Berkeley)
< 99 seats (e.g. Cutting Ball Theatre, San Francisco)
Next, a few highlights:
The San Jose Rep received 25 nominations
Best of Broadway had 3 shows nominated for best touring production (The 39 Steps, Spamalot, Wicked)
OVO by Cirque du Soleil, which we loved (review) also received a touring nomination
As did the British gem Brief Encounter (review) – which would be my pick to win the category
The visually astonishing As You Like It (review) by Rick Lombardo received 8 nominations
Performers of note that we covered last season that received nominations: Anna Bullard (As You Like It), Rachel Ticotin (Boleros for the Disenchanted, Barzin Akhavan (The Kite Runner), James Carpenter (The Lieutenant of Inishmore, As You Like It, The Creature), Anthony Fusco (November), Ellen Ratner (Awake and Sing), Amy Resnick (She Stoops To Comedy), Liliane Klein (Fat Pig), Zehra Berkman (First Day of School), Zoe Winters (Mauritius), Bill Engligh (First Day of School), Judd Williford (Fat Pig), Liam Vincent (She Stoops to Comedy), Patrick Alparone (One Flew Over the Cuckoo's Nest), Peter Ruocco (Fat Pig), Ray Reinhardt (Awake and Sing), David Sinaiko (The Bald Soprano) and Rodd Gnapp and Warren David Keith (Mauritius)

Kneehigh Theatre's acclaimed production of Brief Encounter melds theater and film in unexpected ways: Laura (Hannah Yelland) waves goodbye to Alec (Milo Twomey) as he leaves on his train. Photo by Kevin Berne.

American Idiot (review) received 12 nominations
TheatreWorks led the pack with 2 musical nominations for It Ain't Nothin' But the Blues and Tinyard Hill (review)
SF Playhouse scored two nominations for entire production, mid-size theater: She Stoops to Comedy (review) and First Day of School (review)
It was great to see Evren Odcikin, friend of SSC, get nominated for best director for Machinal – congratulations!
Director Rob Melrose and playwright Trevor Allen received nominations for their stellar The Creature (review)
As they say: congratulations to all the nominees.
Take a deep breath, and if you want all the details continue to read the entire list below. There are many more exceptional, talented people who received nominations for lighting, set design, scripts and more.
Taking a look at all of these productions made me realize once again the rich diversity of shows here in the Bay Area; the third largest theater market in the US.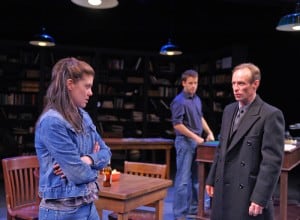 If I had to choose 3 top shows from 2009, they would be: The Creature, Brief Encounter, and The Kite Runner. Honorable mentions would go to: Awake and Sing, Mauritius, and OVO by Cirque. Note that I'm only including shows we covered here on SSC.
The winners will be announced on May 3 at the Palace of Fine Arts in San Francisco.
San Francisco Bay Area Theatre Critics Circle

2009 FINAL NOMINEES

* Actors' Equity Association Members and Theatres.

TOURING PRODUCTIONS
Alfred Hitchcock's The 39 Steps—Best of Broadway*
Brief Encounter—American Conservatory Theater*
Burn the Floor—Post Street Productions
OVO—Cirque du Soleil
Spamalot—Best of Broadway*
Wicked—Best of Broadway*

THEATRES OVER 300 SEATS
DRAMA

ENTIRE PRODUCTION
As You Like It—San Jose Repertory Theatre*
Happy Days—California Shakespeare Theater*
Kite Runner, The—San Jose Repertory Theatre*
Lieutenant of Inishmore, The—Berkeley Repertory Theatre*
Private Lives—Californian Shakespeare Theatre*
You, Nero—Berkeley Repertory Theatre*

PRINCIPAL PERFORMANCE, FEMALE
Anna Bullard*—As You Like It—San Jose Repertory Theatre*
Diana Lamar*—Private Lives—California Shakespeare Theater*
Hannah Cabell*—In the Next Room—Berkeley Repertory Theatre*
Judy Kaye*—Souvenir—American Conservatory Theater*
Patty Gallagher*—Happy Days—California Shakespeare Theater*
Rachel Ticotin*–Boleros for the Disenchanted–American Conservatory Theater*

PRINCIPAL PERFORMANCE, MALE
Barzin Akhavan*—The Kite Runner—San Jose Repertory Theatre*
Danny Scheie*—You, Nero—Berkeley Repertory Theatre*
George Maguire*—The Importance of Being Earnest—Marin Shakespeare Company*
James Carpenter*—The Lieutenant of Inishmore—Berkeley Repertory Theatre*
Stephen Barker Turner*—Private Lives—California Shakespeare Theater*
William Elsman*—Twelfth Night, or All You Need Is Love—Marin Shakespeare Company*

SUPPORTING PERFORMANCE, FEMALE
Cat Thompson*—The Importance of Being Earnest—Marin Shakespeare Company*
Catherine Castellanos*—Romeo and Juliet—California Shakespeare Theater*
Delia MacDougall*—Crime and Punishment—Berkeley Repertory Theatre*
Lori Larsen*—You, Nero—Berkeley Repertory Theatre*
Rene Augesen*—November—American Conservatory Theater*
Sarah Nealis*—Private Lives—California Shakespeare Theater*

SUPPORTING PERFORMANCE, MALE
Adam Farabee*—The Lieutenant of Inishmore—Berkeley Repertory Theatre*
Anthony Fusco*—November—American Conservatory Theater*
Danny Bret Krueger*—The Lieutenant of Inishmore—Berkeley Repertory Theatre*
Donald Corren*—Souvenir—American Conservatory Theater*
James Carpenter*—As You Like It—San Jose Repertory Theatre*
Jud Williford*—Private Lives—California Shakespeare Theater*

DIRECTOR
David Ira Goldstein*—The Kite Runner—San Jose Repertory Theatre*
Les Waters—The Lieutenant of Inishmore—Berkeley Repertory Theatre*
Lesley Currier—Twelfth Night, or All You Need Is Love—Marin Shakespeare Company*
Mark Rucker—Private Lives—California Shakespeare Theater*
Rick Lombardo—As You Like It—San Jose Repertory Theatre*
Robert Currier—The Importance of Being Earnest—Marin Shakespeare Company*
Sharon Ott—You, Nero—Berkeley Repertory Theatre*

SET DESIGN
Andrea Bechert—Twentieth Century—TheatreWorks*
Annie Smart—Private Lives—California Shakespeare Theater*
David Lee Cuthbert—As You Like It—San Jose Repertory Theatre*
Eric Flatmo—November—American Conservatory Theater*
Erik Flatmo—You, Nero—Berkeley Repertory Theatre*
Mark Robinson—The Importance of Being Earnest—Marin Shakespeare Company*
Vicki Smith—The Kite Runner—San Jose Repertory Theatre*

SOUND DESIGN
Andrew Pluess—A Midsummer Night's Dream—California Shakespeare Theater*
Billie Cox—The Importance of Being Earnest—Marin Shakespeare Company*
Billie Cox—Twelfth Night, or All You Need Is Love—Marin Shakespeare Company*
Eric Drew Feldman—You, Nero—Berkeley Repertory Theatre*
Odadiah Eaves—The Lieutenant of Inishmore—Berkeley Repertory Theatre*
Scott Edwards—The Kite Runner—San Jose Repertory Theatre*

LIGHTING DESIGN
Alexander V. Nichols—November—American Conservatory Theater*
Alexander V. Nichols—Rich and Famous—American Conservatory Theater*
David Lee Cuthbert—Groundswell—San Jose Repertory Theatre*
David Lee Cuthbert—The Kite Runner—San Jose Repertory Theatre*
Peter Maradudin—You, Nero—Berkeley Repertory Theatre*
Peter West—A Midsummer Night's Dream—California Shakespeare Theater*

COSTUME DESIGN
B. Modern—As You Like It—San Jose Repertory Theatre*
David Zinn—In the Next Room—Berkeley Repertory Theatre*
Fumiko Bielefeldt—Twentieth Century—TheatreWorks*
Katherine Roth—Private Lives—California Shakespeare Theater*
Paloma H. Young—You, Nero—Berkeley Repertory Theatre*
Patricia Polen—The Importance of Being Earnest—Marin Shakespeare Company*

SPECIALTIES (Choreography, Fight, Projections, etc.)
Cynthia Pepper (Choreography)—Twelfth Night, or All You Need Is Love—Marin Shakespeare Company*
Dave Maier* (Fight Choreographer)—As You Like It—San Jose Repertory Theatre*
Dave Maier* (Fight Choreographer)—Private Lives—California Shakespeare Theater*
Dave Maier* (Fight Director)—The Lieutenant of Inishmore—Berkeley Repertory Theatre*
Ken Merckx* (Fight Director)—The Kite Runner—San Jose Repertory Theatre*
Laura Burton (Music Director)—Rich and Famous—American Conservatory Theater*

ORIGINAL SCRIPT
Amy Freed—You, Nero—Berkeley Repertory Theatre*
Matthew Spangler—The Kite Runner—San Jose Repertory Theatre*
Sarah Ruhl—-In The Next Room—Berkeley Repertory Theatre*
Tony Kushner—Tiny Kushner—Berkeley Repertory Theatre*

SOLO PERFORMANCE
Rick Reynolds—Love God Sex—LGS Productions

ENSEMBLE
As You Like It—San Jose Repertory Theatre*
Crime and Punishment—Berkeley Repertory Theatre*
Importance of Being Earnest, The—Marin Shakespeare Company*
Kite Runner, The—San Jose Repertory Theatre*
Lieutenant of Inishmore, The—Berkeley Repertory Theatre*
Twelfth Night, or All You Need Is Love—Marin Shakespeare Company*

MUSICALS

ENTIRE PRODUCTION
25th Annual Putnam County Spelling Bee, The—San Jose Repertory Theatre*
American Idiot—Berkeley Repertory Theatre*
It Ain't Nothin' But the Blues—TheatreWorks*
On the Town—Diablo Theatre Company
Producers, The—Diablo Theatre Company (fka DLOC)
The Who's Tommy—Ray of Light Theatre
Tinyard Hill—TheatreWorks*

PRINCIPAL PERFORMANCE, FEMALE
C. Kelly Wright*—It Ain't Nothin' But the Blues—TheatreWorks*
Hope Mirlis—On the Town—Diablo Theatre Company
Melissa Wolfklain*—Crazy for You—Broadway by the Bay
Melissa Wolfklain*—Tinyard Hill—TheatreWorks
Susan Himes Powers*—The King and I—Broadway by the Bay
Terry Darcy D'Emidio—Hello, Dolly—Diablo Theatre Company (fka DLOC)

PRINCIPAL PERFORMANCE, MALE
Chris Critelli*—Tinyard Hill—TheatreWorks*
John Gallagher, Jr*.—American Idiot—Berkeley Repertory Theatre*
Marcus Kilinger—The Producers—Diablo Theatre Company (fka DLOC)
Mark Farrell*—On the Town—Diablo Theatre Company
Ryan Drummond*—On the Town—Diablo Theatre Company
Ryan Drummond*—The Producers—Diablo Theatre Company (fka DLOC)
Steve Perez—Crazy for You—Broadway by the Bay
Zachary Franczak—The Who's Tommy—Ray of Light Theatre

SUPPORTING PERFORMANCE, FEMALE
Allison Briner*—Tinyard Hill—TheatreWorks*
C. Kelly Wright*—A Civil War Christmas—TheatreWorks*
Emma Goldin—On the Town—Diablo Theatre Company
Lisa Marie Newton—Bat Boy—Foothill Music Theatre
Rene Wilson—Hello, Dolly—Diablo Theatre Company (fka DLOC)

SUPPORTING PERFORMANCE, MALE
Cameron Weston—The Who's Tommy—Ray of Light Theatre
James Moye*—Tinyard Hill—TheatreWorks*
Patrick Michael Dukeman—Oliver—Contra Costa Musical Theatre
Stephen Foreman—The Producers—Diablo Theatre Company (fka DLOC)
Steve Irish*—The 25th Annual Putnam County Spelling Bee—San Jose Repertory Theatre*

DIRECTOR
Brook Knight—Crazy for You—Broadway by the Bay
Michael Mayer—American Idiot—Berkeley Repertory Theatre*
Randal Myler—It Ain't Nothin' But the Blues—TheatreWorks*
Robert Kelley—Tinyard Hill—TheatreWorks*
Shane Ray—The Who's Tommy—Ray of Light Theatre
Timothy Near*—The 25th Annual Spelling Bee—San Jose Repertory Theatre*

MUSICAL DIRECTOR
Attilio Tribuzi—Crazy for You—Broadway by the Bay
Ben Prince—The Who's Tommy—Ray of Light Theatre
Carmel Dean—American Idiot—Berkeley Repertory Theatre*
Cheryl Yee Glass—Hello Dolly—Diablo Theatre Company (fka DLOC)
Pat Moran—Too Big to Fail—San Francisco Mime Troupe*
William Liberatore—Tinyard Hill—TheatreWorks*

SET DESIGN
Andy Scrimger—The Producers—Diablo Theatre Company (fka DLOC)
Angelo Benedetto—The Who's Tommy—Ray of Light Theatre
Christine Jones—American Idiot—Berkeley Repertory Theatre*
Mark Mendelson—Hello, Dolly—Diablo Theatre Company (fka DLOC)
Robert Broadfoot—The 25th Annual Putnam County Spelling Bee—San Jose Repertory Theatre*
Tom Langguth—Tinyard Hill—TheatreWorks*

SOUND DESIGN
Brian Ronan—American Idiot—Berkeley Repertory Theatre*
Cliff Caruthers—It Ain't Nothin' But the Blues—TheatreWorks*

LIGHTING DESIGN
David Lee Cuthburt/Gregory Gale—The 25th Annual Putnam County Spelling Bee—San Jose Repertory Theatre*
Don Darnutzer—It Ain't Nothin' But the Blues—TheatreWorks*
Dustin Snyder—The Who's Tommy—Ray of Light Theatre
Kevin Adams—American Idiot—Berkeley Repertory Theatre*
Michael Ramsaure—Crazy for You—Broadway by the Bay
Pamila Z. Gray—Tinyard Hill—TheatreWorks*

COSTUME DESIGN
Andrea Lauer—American Idiot—Berkeley Repertory Theatre*
Julie Engelbrecht—It Ain't Nothin' But the Blues—TheatreWorks*
Mark Koss—The Who's Tommy—Ray of Light Theatre
Melissa Anne Pateson—The Producers—Diablo Theatre Company (fka DLOC)
Shigeru Yaji—-25th Annual Putnam County Spelling Bee—San Jose Repertory Theatre*

SPECIALTIES (Choreography, Fight, Projections, etc.)
Carol Edlinger and Mindy Cooper of Company C Contemporary Ballet Company (Choreography)—On the Town—Diablo Theatre Company (fka DLOC)
Chad Bonaker (Projections)—It Ain't Nothin' But the Blues—TheatreWorks*
Darrel Maloney (Projections)—American Idiot—Berkeley Repertory Theatre*
Donald McKayle (Choreography)—It Ain't Nothin' But the Blues—TheatreWorks*
Ellyn Marie Marsh* (Choreography)—The Who's Tommy—Ray of Light Theatre
Lawrence Pech (Choreographer)—Hello Dolly—Diablo Theatre Company
Robin Tribuzi (Choreographer)—Crazy for You—Broadway by the Bay
Steve Hoggett (Choreography)—American Idiot—Berkeley Repertory Theatre*

ORIGINAL SCRIPT
Michael Gene Sullivan*—Too Big to Fail—San Francisco Mime Troupe*
Michael Mayer and Billy Joe Armstrong—American Idiot—Berkeley Repertory Theatre*

SOLO PERFORMANCE
No Nominees

ENSEMBLE
25th Annual Putnam County Spelling Bee—-San Jose Repertory Theatre*
American Idiot—Berkeley Repertory Theatre*
Crazy for You—Broadway by the Bay
Hello Dolly—Diablo Theatre Company (fka DLOC)
It Ain't Nothin' But the Blues—TheatreWorks*
Too Big to Fail—San Francisco Mime Troupe*

THEATRES 100 – 300 SEATS
DRAMA

ENTIRE PRODUCTION
Enchanted April—Center Repertory Company*
Faust, Part 1—Shotgun Players
First Day of School—SF Playhouse*
Jack Goes Boating—Aurora Theatre Company*
Mauritius—Magic Theatre*
My Name is Asher Lev—Marin Theatre Company*
She Stoops to Comedy—SF Playhouse*

PRINCIPAL PERFORMANCE, FEMALE
Amy Resnick*—Dead Man's Cell Phone—SF Playhouse*
Amy Resnick*—She Stoops to Comedy—SF Playhouse*
Carrie Paff*—Witness for the Prosecution—Center Repertory Company*
Ellen Ratner*—Awake and Sing—Aurora Theatre Company*
Gloria Garayua*—Lydia—Marin Theatre Company*
Lauren Grace*—Miss Julie—Aurora Theatre Company*
Liliane Klein*—Fat Pig—Aurora Theatre Company*
Zehra Berkman—First Day of School—SF Playhouse*
Zoe Winters*—Mauritius—Magic Theatre*

PRINCIPAL PERFORMANCE, MALE
Bill English*—First Day of School—SF Playhouse*
Bobak Cyrus Bakhtiari—Betrayed—Aurora Theatre Company*
Jud Williford*—Fat Pig—Aurora Theatre Company*
L. Peter Callender*—My Children! My Africa!—Marin Theatre Company*
Liam Vincent*—She Stoops to Comedy—SF Playhouse*
Liam Vincent*—T.I.C. Trenchcoat in Common—Encore Theatre Company*
Mark Anderson Phillips*—Miss Julie—Aurora Theatre Company*
Peter Stadlen*—My Name is Asher Lev—Marin Theatre Company*

SUPPORTING PERFORMANCE FEMALE
Beth Deitchman—Miss Julie—Aurora Theatre Company*
Danielle Levin*—My Name is Asher Lev—Marin Theatre Company*
Joan Mankin*—Boom—Marin Theatre Company*
Laura Morache*—My Children! My Africa!—Marin Theatre Company*
Stacy Ross*—What the Butler Saw—Marin Theatre Company*
Tamar Cohn—Witness for the Prosecution—Center Repertory Company*
Wanda McCaddon*–Enchanted April–Center Repertory Company*

SUPPORTING PERFORMANCE MALE
Craig Marker*—The Story—SF Playhouse*
Mark Farrell*—Witness for the Prosecution—Center Repertory Company*
Patrick Alparone*—One Flew Over the Cuckoo's Nest—SF Playhouse*
Patrick McNulty*—My Name is Asher Lev—Marin Theatre Company*
Peter Ruocco—Fat Pig—Aurora Theatre Company*
Ray Reinhardt*—Awake and Sing—Aurora Theatre Company*
Rod Gnapp*—Mauritius—Magic Theatre*
Warren David Keith*—Mauritius—Magic Theatre*

DIRECTOR
Barbara Damashek—Fat Pig—Aurora Theatre Company*
Chris Smith—First Day of School—SF Playhouse*
Hal Brooks—My Name Is Asher Lev—Marin Theatre Company*
Joy Carlin*—Jack Goes Boating—Aurora Theatre Company*
Loretta Greco—Mauritius—Magic Theatre*
Margo Hall*—The Story—SF Playhouse*
Mark Jackson—Miss Julie—Aurora Theatre Company*
Mark Rucker—She Stoops to Comedy—SF Playhouse*

SET DESIGN
Bill English*—Dead Man's Cell Phone—SF Playhouse*
Bill English*—First Day of School—SF Playhouse*
Eric E. Sinkkonen—My Children! My Africa!—Marin Theatre Company*
Erik Flatmo—What the Butler Saw—Marin Theatre Company*
Kelly Tighe—Enchanted April—Center Repertory Company*
Melpomene Katakalos—My Name Is Asher Lev—Marin Theatre Company*
Mikiko Uesugi—Fat Pig—Aurora Theatre Company*
Nina Ball—Awake and Sing—Aurora Theatre Company*

SOUND DESIGN
Chris Houston—Boom—Marin Theatre Company*
Chris Houston—Fat Pig—Aurora Theatre Company*
Chris Houston—Jack Goes Boating—Aurora Theatre Company*
Cliff Caruthers—Dead Man's Cell Phone—SF Playhouse*
Ted Crimy—My Children! My Africa!—Marin Theatre Company*
Ted Crimy—What the Butler Saw—Marin Theatre Company*

LIGHTING DESIGN
Jim Cave—Fat Pig—Aurora Theatre Company*
Jim Cave—Jack Goes Boating—Aurora Theatre Company*
Kurt Landisman—Awake and Sing—Aurora Theatre Company*
Kurt Landisman—What the Butler Saw—Marin Theatre Company*
Michael Palumbo—My Children! My Africa!—Marin Theatre Company*
Sarah Sidman—Mauritius—Magic Theatre*
Scott Dennison—Witness for the Prosecution—Center Repertory Company*
York Kennedy—My Name is Asher Lev—Marin Theatre Company*

COSTUME DESIGN
Callie Floor—Awake and Sing—Aurora Theatre Company*
Callie Floor—My Name is Asher Lev—Marin Theatre Company*
Cathleen Edwards—Jack Goes Boating—Aurora Theatre Company*
Fumiko Bielefeldt—Miss Julie—Aurora Theatre Company*
Fumiko Bielefeldt—What the Butler Saw—Marin Theatre Company*
Maggie Morgan–Enchanted April–Center Repertory Company*
Maggie Whitaker—Fat Pig—Aurora Theatre Company*

SPECIALTIES (Choreography, Fight, Projections, etc.)
Dave Maier* (Fight Director)—One Flew Over the Cuckoo's Nest—SF Playhouse*
Lynne Soffer* (Dialect Coach)–My Children! My Africa!–Marin Theatre Company*

ORIGINAL SCRIPT
Billy Aronson—First Day of School—SF Playhouse*
George Packer—Betrayed—-Aurora Theatre*
Mark Jackson—Faust, Part 1—Shotgun Players
Peter Sinn Nachtrieb–T.I.C. Trenchcoat in Common–Encore Theatre Company*

SOLO PERFORMANCE
[Note: SFBATCC regrets that though the following performers were nominated, no one in this category received enough votes to qualify for an award.]
Jim David*—South Pathetic—New Conservatory Theatre Center
Robert Parsons*—I Am My Own Wife—San Jose Stage Company*

ENSEMBLE
Awake and Sing—Aurora Theatre Company*
First Day of School—SF Playhouse*
Jack Goes Boating—Aurora Theatre Company*
Little Dog Laughed, The—New Conservatory Theatre Center
Mauritius—Magic Theatre*
My Name is Asher Lev—Marin Theatre Company*
She Stoops to Comedy—SF Playhouse*
Story, The—SF Playhouse*
What the Butler Saw—Marin Theatre Company*

MUSICALS
ENTIRE PRODUCTION
All Shook Up—Center Repertory Company*
Cabaret—Center Repertory Company*
Dames at Sea—New Conservatory Theatre Center
In The Mood—6th Street Playhouse
Threepenny Opera, The—Shotgun Players
Wildcat—42nd Street Moon*

PRINCIPAL PERFORMANCE, FEMALE
Kate Del Castillo—Cabaret—Center Repertory Company*
Kelsey Venter*—The Threepenny Opera—Shotgun Players
Marjorie Rose Taylor—In the Mood—6th Street Playhouse
Maureen McVerry*—Wildcat—42nd Street Moon*
Rene Wilson—Dames at Sea—New Conservatory Theatre Center

PRINCIPAL PERFORMANCE, MALE
David Sattler*—All Shook Up—Center Repertory Company*
Jeff Wood—The Threepenny Opera—Shotgun Players
Nick Gabriel*—Cabaret—Center Repertory Company*
Rob Hatzenbeller*—Wildcat—42nd Street Moon*
Ryan Drummond*—The Wedding Singer—Willows Theatre Company
Tim Kniffin*—In the Mood—6th Street Playhouse

SUPPORTING PERFORMANCE, FEMALE
Beth Wilmurt—The Threepenny Opera—Shotgun Players
Leanne Borghesi—Dames at Sea—New Conservatory Theatre Center
Mindy Lym*—All Shook Up—Center Repertory Company*
Millissa Carey*—Cabaret—Center Repertory Company*

SUPPORTING PERFORMANCE, MALE
Benjamin Pither*—All Shook Up—Center Repertory Company*
Jarion Monroe*—Cabaret—Center Repertory Company*
Richard Pardini*—Wildcat—42nd Street Moon*

DIRECTOR
John Craven—In the Mood—6th Street Playhouse
Kalon Thibodeaux*—Wildcat—42nd Street Moon*
Mindy Cooper—Cabaret—Center Repertory Company*
Robert Barry Fleming*—All Shook Up—Center Repertory Company*
Susannah Martin—The Threepenny Opera—Shotgun Players

MUSICAL DIRECTOR
Brandon Adams—Cabaret—Center Repertory Company*
David Moschler—The Threepenny Opera—Shotgun Players
Dolores Duran-Cefalu—All Shook Up—Center Repertory Company*
G. Scott Lacy—Dames at Sea—New Conservatory Theatre Center

SET DESIGN
David Lear—In the Mood—6th Street Playhouse
Kelly James Tighe—All Shook Up—Center Repertory Company*
Kuo-Hao Lo—Dames at Sea—New Conservatory Theatre Center
Nina Ball (Set Design)—The Threepenny Opera—Shotgun Players
Robert Broadfoot—Cabaret—Center Repertory Company*

SOUND DESIGN
Brendan West—The Threepenny Opera—Shotgun Players
Lewis Mead—All Shook Up—Center Repertory Company*

LIGHTING DESIGN
John Kelly—Dames at Sea—New Conservatory Theatre Center
Kurt Landisman—All Shook Up—Center Repertory Company*
Kurt Landisman—Cabaret—Center Repertory Company*

COSTUME DESIGN
Melissa Anne Davis—All Shook Up—Center Repertory Company*
Victoria Livingston Hall—Cabaret—Center Repertory Company*

SPECIALTIES (Choreography, Fight, Projections, etc.)
Joe Bowerman* (Choreographer)—Cabaret—Center Repertory Company*
Tom Segal (Choreographer)—Wildcat—42nd Street Moon*

ORIGINAL SCRIPT
No Nominees

SOLO PERFORMANCE
Mark Nadler—My Wife Ira—The Rrazz Room

ENSEMBLE
All Shook Up—Center Repertory Company*
Cabaret—Center Repertory Company*
Threepenny Opera, The—Shotgun Players

THEATRES UNDER 99 SEATS
DRAMA

ENTIRE PRODUCTION
A Delicate Balance—Custom Made Theatre Company
Bald Soprano, The—Cutting Ball Theater
Betrayal—Actors Theatre of San Francisco
Body of Water—Spare Stage Company
Creature, The—Black Box Theatre*
Machinal—Brava! for Women in the Arts*
Unexpected Man, The—Spare Stage Company
Where the Sidewalks Ends—Boxcar Theatre Company
Who's Afraid of Virginia Woolf?—Actors Theatre of San Francisco

PERFORMANCE, FEMALE
Abigail Van Alyn*—The Unexpected Man—Spare Stage Company
Caitlyn Louchard—The Bald Soprano—Cutting Ball Theater
Holly Silk—Body of Water—Spare Stage Company
Julie Brothers*—Magic Forest Farm— Marin Theatre Company*
Larissa Garcia—Memories of a Virgin as part of Marin Fringe Spring 2009—Dominican University [BATCC member Mario Echevarria (playwright) did not vote]
Paige Rogers—The Bald Soprano—Cutting Ball Theater
Sylvia Kratins—The Homecoming—Off Broadway West Theatre Company

PERFORMANCE, MALE
Dale Albright—Tennessee In Summer—New Conservatory Theatre Center
David Sinaiko—The Bald Soprano—Cutting Ball Theater
Dennis McIntyre—A Delicate Balance—Custom Made Theatre Company
Gabe Marin*—The Creature—Black Box Company*
James Carpenter*—The Creature—Black Box Company*
Ken Ruta*—The Unexpected Man—Spare Stage Company
L. Peter Callender*—Old Times—TheatreFirst*
Will Marchetti*—The Book of Matthew—Pacific Alliance Theatre*

DIRECTOR
Christopher Jenkins–Tennessee In Summer–New Conservatory Theatre Center
Evren Odcikin—Machinal—Brava! for Women in the Arts*
Jessie Holt—Loot—The Masquers Playhouse
Joyce Handerson—The Homecoming—Off Broadway West Theatre Company
Keith Phillips & James Baldock—Betrayal—Actors Theatre of San Francisco
Rob Melrose—The Bald Soprano—Cutting Ball Theater
Rob Melrose—The Creature—Black Box Company*
Sasha Litovchenko—Robot's Revenge – A Relevant Pantomime as part of Marin Fringe Spring 2009—Dominican University [BATCC member Annette Lust (playwright) did not vote for S.Litovchenko]
Stephen Drewes—The Unexpected Man—Spare Stage Company

ORIGINAL SCRIPT
Annette Lust—Robot's Revenge – A Relevant Pantomime as part of Marin Fringe Spring 2009—Dominican University [BATCC member Annette Lust (playwright) did not vote]
Gene Abravaya—The Book of Matthew—Pacific Alliance Theatre*
Trevor Allen—The Creature—Black Box Company*
William Bivins—Pulp Scripture—Original Sin Productions and PianoFight (SF Fringe and Off‑Market Theaters)
Zayd Dohrn—Magic Forest Farm— Marin Theatre Company*

SOLO PERFORMANCE
Note: SFBATCC regrets that though the following performers were nominated,
no one in this category received enough votes to qualify for an award.
Charlie Varon—Rabbi Sam—The Marsh
David Sinaiko—Santaland Diaries—Combined Art Form (Off-Market Theaters)
Don Reed—East 14th: Tales of a Reluctant Player—The Marsh
Michael Phillis' Dolls—New Conservatory Theatre Center

ENSEMBLE
Bald Soprano, The—Cutting Ball Theater
Loot—The Masquers Playhouse
Machinal—Brava Theatre*
Pulp Scripture—Original Sin Productions and PianoFight (SF Fringe and Off-Market Theaters)
Tennessee in Summer—New Conservatory Theatre Center
Three Sisters, The—Porchlight Theatre*
Who's Afraid of Virginia Woolf—Actors Theatre of San Francisco

MUSICALS

ENTIRE PRODUCTION
SF Follies—John Bisceglie
Urinetown—Novato Theatre Company

PERFORMANCE, FEMALE
[Note: SFBATCC regrets that though the following performers were nominated, no one in this category received enough votes to qualify for an award.]
Allison Marcom—Possession of Mrs. Jones—6th Street Playhouse
Amy Dondy—Putting It Together—Custom Made Theatre Company
Danelle Medeiros—Rent Boy Ave.: A "Fairy's" Tale—Boxcar Theatre
Jessica Fisher—Swingtime Canteen—Diablo Actors' Ensemble

PERFORMANCE, MALE
Bobby Bryce—Rent Boy Ave.: A "Fairy's" Tale—Boxcar Theatre
Edward Hightower—Cotton Patch Gospel—Custom Made Theatre Company
J. Conrad Frank—Katya's Holiday Spectacular!—New Conservatory Theatre Center
Tom Orr—A Crass Act—New Conservatory Theatre Center

DIRECTOR
John Bisceglie—SF Follies—John Bisceglie
Kim Bromley—Urinetown—Novato Theatre Company

MUSICAL DIRECTOR
[Note: SFBATCC regrets that though the following performers were nominated, no one in this category received enough votes to qualify for an award.]
David Dobrusky—I Love You, You're Perfect, Now Change—Ray of Light Theatre
Joe Kanon—What Becomes a Legend Most—New Conservatory Theatre Center
Michael Mohammed—Rent Boy Ave.: A "Fairy's" Tale—Boxcar Theatre
Rona Siddiqui—Cotton Patch Gospel—Custom Made Theatre Company
Scrumbly Koldewyn—Pearls Over Shanghai—Thrillpeddlers

SPECIALTIES (Choreography, Fight, Projections, etc.)
Blanca Florido (Choreography)—Urinetown—Novato Theatre Company
Kayvon Kordestaini (Choreographer)—SF Follies—John Bisceglie
Kedar Lawrence (Lighting)—Cotton Patch Gospel—Custom Made Theatre Company
Keith Pinto* (Choreography)—Stateless—The Jewish Theatre*
Link Martin (Original Lyrics)—Pearls Over Shanghai—Thrillpeddlers
Scrumbly Koldewyn (Original Music)—Pearls Over Shanghai—Thrillpeddlers

ENSEMBLE
Cotton Patch Gospel—Custom Made Theatre Company
I Love You, You're Perfect, Now Change—Ray of Light Theatre
Rent Boy Ave.: A "Fairy's" Tale—Boxcar Theatre
SF Follies—John Bisceglie
Stateless—The Jewish Theatre*

via: Theater Bay Area