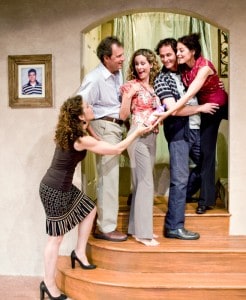 "Would you like to have sex with me?"
David (Bill English) walks the school grounds asking other parents and watches as they react to his direct approach. Meanwhile his wife Susan (Zehra Berkman) is doing the exact thing across the lot, ending up eventually in a bagel shop, before their sex experiment leads them home.
And then the hysterics begin in this satire, a world premiere play, by Beavis and Butthead writer Billy Aronson.
It all starts innocently enough when the couple drops off their kids for school, then realize they have a free day. They decide that now would be the perfect time to "start having sex with other people." Well, after picking up some pork chops for dinner.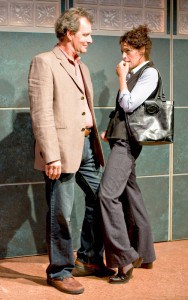 After identifying targets for a romp, they execute their plan. Alice (Stacy Ross) is an attorney climbing a lonely corporate ladder and finds herself intrigued by the possibilities and the direct, no-nonsense approach. PTA Mom Kim (Marcia Pizzo) agrees to the plan only if it mean "working" on her projects. Peter (Jackson Davis), manic and hand-waving, goes on hysterically long-winded rants and psychoanalysis, before also stumbling into the threesome (or fivesome).
The dialog is clever, especially in the opening scenes, where the parents interject adult talk almost sub-consciously while discussing their kid's teachers and class schedules. Later, when everyone meets back at the house for a rendezvous, the play emphasizes physical, slapstick comedy with some really funny bits.
The audience was rolling over as Bill English did a play-by-play of a quasi, not-quite, sort-of threesome sex scene in the living room, "they're climbing now, reaching higher! Oh, hang on… now they've fallen… they're on the floor!" Later, the orgies take a physical toll, and we see a litany of injuries. There is a mad dash for ice packs, Tylenol and band-aids – "Who keeps band-aids in the basement?!"
Who knew planning a surprise birthday party could be so much fun?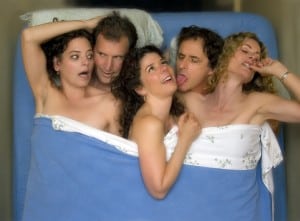 Bill English, also the artistic director at the SF Playhouse, exhibits a laid back, almost Al-Bundy like acting style that anchors the production. At times, it's almost like "Married… With Children", without the children, and with better lines.
'First Day of School' is a fun sex farce with plenty of laughs, and some home run performances. The ending is surprisingly sweet. The show is exactly what you'd expect. A quick romp, enjoyable enough at the time, but with no deep, lasting memories. And sometimes that's exactly what you might long for.
First Day of School
By Billy Aronson
SF Playhouse
Starring Stacy Ross, Bill English, Zehra Berkman, Jackson Davis, Marcia Pizzo, Torie Laher and Myles Landberg
Directed by Chris Smith
Sep 22 – No 7, 2009