"It's a pseudo documentary about reality in the theater," says one of the characters/actors in David Greenspan's She Stoops to Comedy which premiered last night at SF Playhouse.
It's one of several, pithy lines that occasionally inject entertainment value into the otherwise uneven gender-bending production.
The pieces don't add up and instead of a clever re-imaging of Shakespeare's As You Like It, it's an artsy, disjointed series of vignettes that test every device known to stage: from breaking the fourth wall and confiding with the audience to theater of the absurd and nonsensical references and expressions.
The story is loosely based on As You Like It; weak material to begin with, the idea to transform it and update seems like a compelling idea—if not exactly uncommon.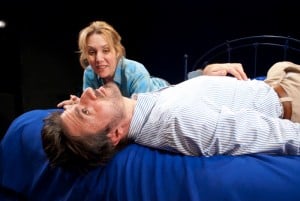 Liam Vincent, a man, plays Alexandra Page, a woman, footloosing as a man in order to score the part of Orlando in the play-within-the-play (actually in this case, film-within-play) version of Shakespeare's classic. His (or her) counterpart is played by Amy Resnick, a woman, who plays a man masquerading as a female. She is a former archaeologist turned lighting designer. On occasion she (or he) alternatively and simultaneously plays two characters, Kay Fein and Jayne Summerhouse.
Still with me?
Yes, this one will have your head spinning a little. And that's partly the idea. What's reality, what's fiction, what's the role of gender?
"I'm no longer an archaeologist, I'm a lighting designer!"
The two leads deliver excellent, spirited performances. Liam Vincent effeminately saunters, twirls and waxes poetic about theater and relationships, "a young French Canadian with a speech impediment. He'll be a star."
Amy Resnick performs a crowd pleasing two character scene, alternatively playing the macho-esque Jayne Summerhouse, then switching to the diva-like Kay Fein. The banter and escalating argument later results in a tender snuggle fest on the prominent purple bed in the middle of the set.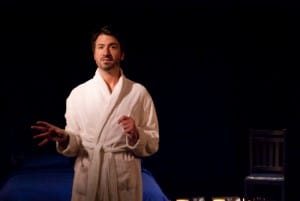 "How many times can you be a cockeyed optimist in Pittsburgh?"
The rest of the cast is good, with a few weak spots. Scott Capurro, as a middle-aged self-loathing gay man with Aids, delivers an impassioned monologue, "who needs another play about him?" that questions his sexual identity and significance in the world. A dramatic high point. But, again, as an individual scene it works, but unfortunately like most of the play, it feels disconnected.
She Stoops to Comedy will appeal to those who enjoy multi-layered, absurdist, sexually charged theater with plenty of in-jokes, references, circular logic and intellectually-barbed dialog.
For most, though, including me, it's somewhat less successful as pure comedic entertainment. It's more art house and acting school clinic then it is a successful retake on As You Like It.
Noteworthy

SF Playhouse continues their 7th season dedicated to 'The Power of Laughter'.
Located a block off Union Square the theater is located on the third floor and does a fantastic job of transforming a limited space into a theater with top notch lighting, sound and set design.
Opening gala shows at the Playhouse are followed by Champagne and a tasty spread of chocolates, cakes, cookies; mingle with artistic director Bill English and others post-show.
Coming next: West Coast premiere of Animals Out of Paper by Rajiv Joseph, directed by Amy Glazer; opens Jan 23; "a quirky comedy about a world renowned origami artist who opens her studio to a teenage prodigy and his school teacher and finds that life and love can't be neatly arranged in this dramedy about finding the perfect fold."
She Stoops to Comedy
By David Greenspan
Directed by Mark Rucker
Starring Liam Vincent*, Amy Resnick*, Sally Clawson, Cole Alexander Smith, Carly Cioffi, Scott Capurro
Close: January 9, 2010
SHOWS: Tuesday 7pm, Wednesday through Saturday at 8 p.m., plus Saturdays 3p.m.
WHERE: The SF Playhouse
533 Sutter Street (one block off Union Square, b/n Powell & Mason)
*Appear Courtesy of Actors Equity Association