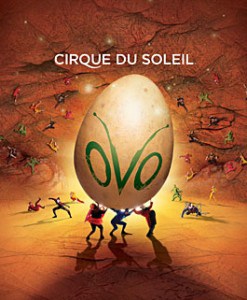 There's a reason why Cirque du Soleil remains a worldwide phenomena. The latest evidence is the vibrant show OVO now playing at Le Grand Chapiteau at AT&T Park in San Francisco (and coming to San Jose February 4, 2010).
Insects never looked so colorful, animated—this is how a live stage version of a Pixar movie would look. And the acrobatics will leave your jaw on the floor, again and again. OVO. Oh, wow!
At the center of it all is a mysterious egg, of mysterious origin. We first get a glimpse of the 28 by 22ft. egg before the lights go down, at center stage.
Then in the first act it's ceremoniously dragged throughout the audience of about 2,500 under the Big Top (ou Le Grand Chapiteau pour mes amis Français) by a clumsy, love-struck mosquito. When he arrives at a colony ruled by an exasperated little bug who's frustrating attempts to keep the insects—praying mantises, spiders, caterpillars, ants and a ladybug looking for love—in order, everyone is in awe of its majestic beauty.
But what does it mean? What's inside?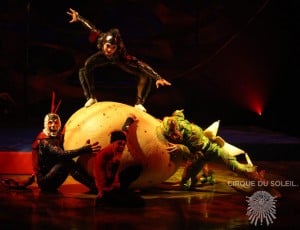 The egg and insect theme weaves throughout four acts: Acrosport, Ants, Slackwire and Wall. And true to Cirque, they're impressive displays of acrobatics, stretching, contortion, balance, gymnastics and, of course, dance.
Pulsating music, a combination of sound effects and live instrumentation, add dramatic thunder. You can feel this show.
There is lots to look at. Praying mantises stalk alongside the stage, making eye contact with the audience, rapidly glancing side-to-side for prey. Spiders slink across a large cobweb, circling the black widow below. The stage transforms from habitat, to forest, to cave. Lighting, music, and props combine to envelop us in magic that transforms the events truly into a modern day circus of art and acrobatics.
Standout moments abound in OVO.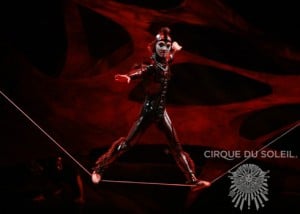 One acrobatic highlight—among many—is the slackwire act, which provides plenty of "ahhhh" moments for the audience. Entering the stage with an almost gothic rock star-like attitude, red makeup, a black spandex outfit and slight scorn alternating with grimacing smile, a spider takes to the slackwire. He walks the wire. Then rides it. Then rides it on one hand. Then does it all while the wire ascends and descends. It's a traditional circus highwire act the way Green Day might produce it. In fact, the characters and costumes would make for a perfect entourage for St. Jimmy himself.
But this show is about the kids mostly. There is definitely more of a Disney feel to OVO compared to O or KA. And it works exceptionally well. It's hard to imagine how entertainingly spectacular watching this show must feel for a child. It is a living dream.
In between acts, Monsieur Mosquito gets lessons in love, that may, or may not, help him woo the Ladybug. There is also wonderful audience interaction that combines some improv with, at times, chaos and mayhem.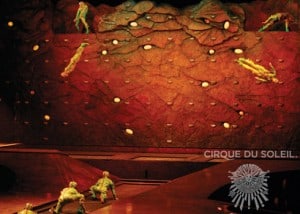 The opening act is the stronger of the two. Later there are perhaps too many floor gymnastics, or slower moments. Then again, they do make what follows in the climactic Wall act that much more dramatic with bodies jumping, bouncing and flying around a 20 foot wall.
It's 25th show in 25 years, OVO continues the Cirque tradition of showcasing astonishing physical acts of acrobatics, with mesmerizing and artistic presentation. A modern day circus, indeed, and thrilling for kids and adults alike. Merci beaucoup!
Cirque du Soleil
OVO
Le Grand Chapiteau, Big Top at AT&T Park, San Francisco
4.5 out of 5 stars
to January 24, 2010
San Jose opening: February 4, 2010
Tickets: $45.50 – $250
Noteworthy

The egg, which is inflatable, measures 28ft wide by 22ft tall.
Warning: watch your popcorn!
180,000 square feet (4.2 acres, or 17,000 square meters) is needed to house the entire site
U2 Concert? It takes 11 days for more than 200 workers, including 100 hired locally, to complete a city to city transfer of all the infrastructures.
An average of 55 tractor trailers are needed to carry more than 2 million pounds of equipment from city to city.
The Big Top infrastructure costs roughly $1.6 million.
The cast of OVO comprises 53 performing artists from 13 countries.