"I am satisfied!" says The Creature as his journey nears an end in Trevor Allen's adaptation of the famous Mary Shelley novel, Frankenstein. And so was I. Very. This production is a through-and-through masterpiece.
If it was a bumper car ride at the fair, I'd circle back into line to ride it again, immediately.
A wonderfully intimate, dimly lit Thick House provides atmosphere to spare. The set is magnificent in its class, yet simple and authentic. Two desks, a few chairs and a lab credenza line the small stage, with generous wooden surfaces and aromas. The walls are virtually jet black, focusing the eyes on the actors. The lighting too is pure 1940s elegance, and, along with brooding, pulsing sound effects and music, casts a spell as the supernatural tale unfolds. Above, shadows dance and leap across flickering light.
The treatment of the classic story exudes fresh; everything, from the dialog and acting to the direction and story, feel new again. Tim Burton should take note. This is re-imaging done right.
Trevor Allen made the decision to interweave the Creature's point of view into the narrative which adds a compelling layer of discovery. We learn about its birth. Its desire for love and companionship. And its unwitting descent into revenge and destruction.
Another welcome twist to the production: Frankenstein is not green. And, thankfully, he's sans neck-bolts too. He's deformed, and still possesses super human strength, but first and foremost he's a tormented, misunderstood soul.
The three actors are stellar. Garth Petal, as Captain Walton, narrates with a 1940s radio-style with convincing ease. He also jumps into multiple minor roles smoothly. Gabriel Marin gives Victor Frankenstein all the right energy and desperation as his quest for scientific knowledge goes off kilter. He unravels as he realizes his creation has run amok.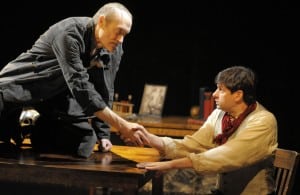 But a brilliant turn is Bay Area veteran James Carpenter (last seen breathing melancholy into As You Like It at the San Jose Rep) as The Creature himself. He contorts his body. Slinks across the stage, above desks, on chairs, on the ground. And speaks with a monstrous, bass-heavy slightly slurred voice—with perhaps a nod to the Godfather, a la cotton balls. At times, with darting eyes, slight scowl, and tight skin he channels Gollum from The Lord of the Rings. Other times, his delivery is Shakespearean. The performance is mesmerizing and haunting.
Best of all, we believe that The Creature is not that he wants. Compassion turns to rage, "All mankind has sinned against me!"
As Captain Walton says, "Its an unbelievable story." I agree, The Creature is unbelievably good.
Noteworthy

The Thick House theater looks like a loft from the street; only a few posters and a neat sidewalk projection let you know of the horror, love and salvation that awaits
According to Wikipedia, "a black box theater (or experimental theater) is a relatively recent innovation, consisting of a simple somewhat unadorned performance space, usually a large square room with black walls and a flat wall."
Seating is steeply raked so viewing angles are great with no blockage
Looking for a bite before the show? Loni and I finally (finally!) got to San Francisco with time to spare for the show, so we enjoyed some sushi at Live Sushi just a few blocks away, then enjoyed a nice walk to the Thick House
The Creature began a "few Halloweens ago" as a radio play, that was recorded as live audio podcast; in fact, I believe it is still available for download on the Black Box web site
Note that Thick House does not offer concessions during intermission; also, your program package is your ticket, and seating is open
No set changes; even though we experience the frigid arctic, mountain summits, damp caves, laboratories, homes, a ship, and other locations, all action takes place with not one single change or movement of scenery or props
The Creature
A man who would play God. A monster who would be loved.
by Trevor Allen
Black Box Theatre (Thick House)
San Francisco
October 23 – November 7, 2009
World premiere
Directed by Rob Melrose
Starring James Carpenter*, Gabriel Marin*, Garth Petal