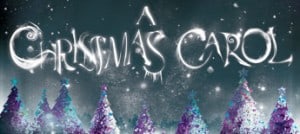 I hope Loni has her game face on (and plenty of wardrobe changes). Over the next few weeks, the yuletide theater, events and entertainment calendar here at SSC is bubbling over. It should make for some spirited On Location video segments.
Fortunately, the Bay Area theater scene is offering up all sorts of non-conventional holiday fare. All of the spirit and ho-ho-hos are there; just with a dash of creativity, imagination, and in a few cases, experimental Christmas tinkering thrown in to keep things fresh.
The end result? Great entertainment, and plenty of choice when it comes to theater and stage—San Francisco, Berkeley, San Jose, and everywhere in between.
Here's what's coming up. Plus I'll recap the current productions running that we've covered. Pooped from shopping? Why not grab some wine or coffee, sit back and enjoy the show!
OPENING SOON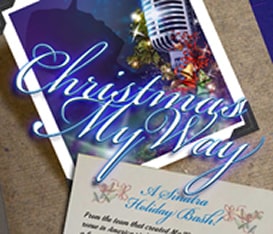 Christmas, My Way
Hillbarn Theatre, Foster City
Opens: December 4
From the team that created My Way, it's beginning to look a lot like a free, fresh, knocked-out Sinatra Christmas, complete with 40 swingin' hits perfect for the holidays. Nothing is silent about this night where singers serve up cool versions of Sinatra mainstays like "Fly Me To The Moon," "New York, New York," "That¹s Life," "Love and Marriage," "I Get A Kick Out of You," "I've Got You Under My Skin," and "The Lady is a Tramp". More information.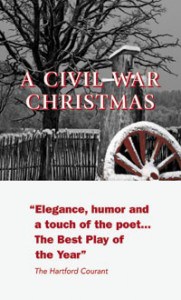 A Civil War Christmas
Theatreworks, Mountain View
Opens: December 5
This glorious tapestry of the American experience weaves fact and fiction, old-time carols, and traditional tunes into a whimsical saga of a country longing for new hope. Set on a snowy Christmas Eve in Washington, 1864, it imagines celebrated figures from Lincoln and Whitman to John Wilkes Booth rubbing elbows with colorful characters drawn from every strata of society. Created by Pulitzer Prize-winner Paula Vogel, it is a heartwarming holiday feast for the entire family. More information.
A Christmas Carol
American Conservatory Theater (A.C.T.), San Francisco
Opens: December 8
The Bay Area's favorite holiday tradition returns to A.C.T. with a sparkling, music-infused A Christmas Carol. Featuring mean ol' Scrooge, adorable Tiny Tim, those spooky Christmas ghosts, and a multigenerational cast of dozens, A Christmas Carol is a celebration of goodwill that you'll never forget. Bring your family, bring your friends, and check your "humbugs" at the door! More information.
Aurélia's Oratorio
Berkeley Repertory Theatre, Berkeley
Opens: December 9
Celebrate the holidays with Aurélia's Oratorio, where the impossible happens before your eyes. Aurélia Thierrée literally grew up in the circus and has charmed audiences around the world with this dazzling display of stage illusion. Behind her velvet curtain lies a surreal world of surprises, a topsy-turvy time of tricks and transformations. "She does wonder wonderfully," gushes the London Guardian. With dancing, puppetry, acrobatics and more, Aurélia's Oratorio is an inventive adventure set to a quirky score of chamber music and gypsy jazz. Berkeley Rep unveils this 70-minute spectacle, a concoction of mystery and fantasy for the whole family. More information.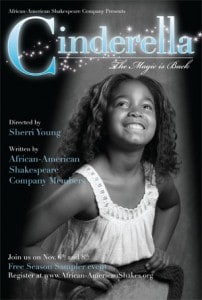 Cinderella
African-American Shakespeare Company, San Francisco
Opens: December 11
This enchanting, classical tale of Cinderella comes alive in this fresh interpretation! Our version has all the gallantry, all the pageantry, and all the charm of the original, but with added hilarity of evil Stepsisters and, of course, a hip, zany, in-your-face Fairy Godmother who makes the magic happen. This romantic and dazzling winter tale is the perfect show to enjoy with your loved ones this holiday season! More information.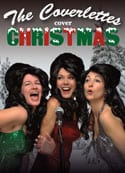 The Coverlettes Cover Christmas
Aurora Theatre Company, Berkeley
Opens: December 15
The jingle bells are rockin' again this holiday season when our yuletide treat returns to Aurora for an encore performance. In the great tradition of 1960's girl groups, legendary (and fictitious) singing sensations The Coverlettes dust off their harmonies and their bee-hives to perform some of pop music's greatest hits and holiday classics, with a few unexpected musical detours in between. This new edition of last season's holiday warm-up will get you in the Christmas spirit.
Featuring three of the Bay Area's finest female vocalists, Darby Gould of Jefferson Starship, Katie Guthorn (A Karen Carpenter Christmas), and Star Search winner, singer/ songwriter Carol Bozzio Littleton, and live band under the direction of Randy Craig, this tuneful treat is sure to bring down the house. More information.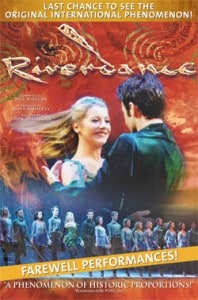 Riverdance
Broadway San Jose
Opens: December 29
RIVERDANCE, the thunderous celebration of Irish music, song and dance that has tapped its way onto the world stage thrilling millions of people around the globe; will play eight Farewell Performances in San Jose. "A Phenomenon of Historic Proportions!" raves The Washington Post. "An explosion of sight and sound that simply takes your breath away," cheers the Chicago Tribune… Discover why nothing in the world compares to The Original International Phenomenon! Whether it's your first time or your fifth, you won't want to miss these FAREWELL performances of Riverdance! More information.
NOW PLAYING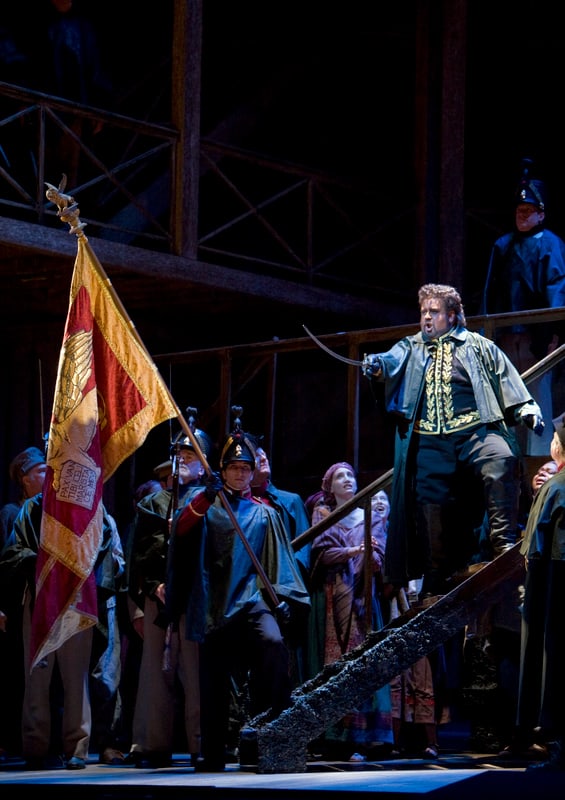 Otello
San Francisco Opera
"Johan Botha as Otello gives a strong performance both displaying the power of a leader and the dark rage of a man who thinks he has been betrayed by his wife. At the end of Act 3, as Iago stands above Otello who lays on the ground overcome by heartbreak and sorrow, I cared and felt sadness… San Francisco Opera's production of Verdi's Otello powerfully depicts the cunning nature of jealousy and its tragic consequences, all while seducing with intoxicating arias."
– Loni Kao Stark, full review.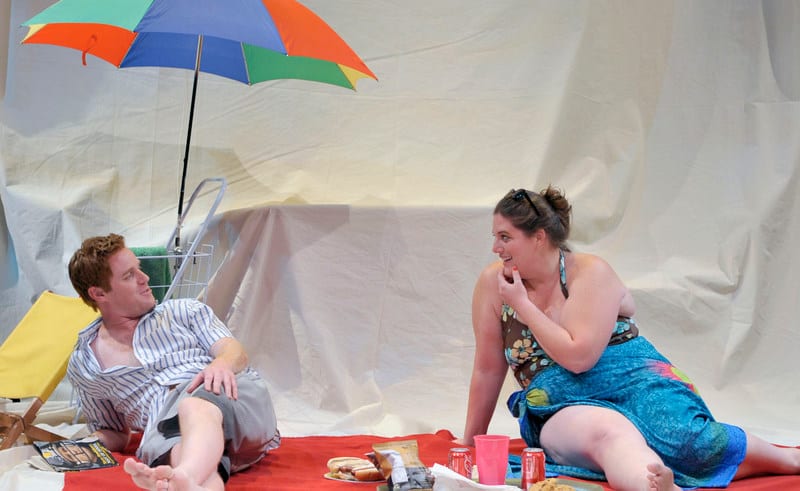 Fat Pig
Aurora Theatre Company, Berkeley
"Written by American playwright and filmmaker Neil LaBute, the dialog is fresh, cutting. It often makes us cringe. There are many awkward, but truthful moments in this play that reveals the ugly side of human nature; the kind impacted by decades of airbrushed and Photoshopped cover models, and by the pressure to be unnaturally thin. Does weight matter? Should it? … Liliane Klein, as Helen, of course is at the center of everyone's attention. Her performance is also excellent, never forced. And nuanced when needed (flirting with Tom) and, later, vulnerable, maybe even desperate (eating a hot dog at the beach)."
– Clinton Stark, full review.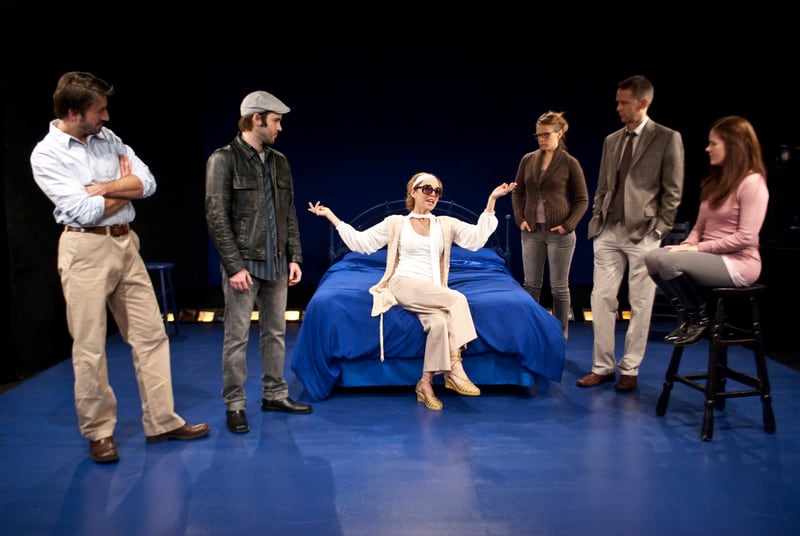 She Stoops to Comedy
SF Playhouse, San Francisco
"It's a pseudo documentary about reality in the theater," says one of the characters/actors in David Greenspan's She Stoops to Comedy which premiered last night at SF Playhouse… She Stoops to Comedy will appeal to those who enjoy multi-layered, absurdist, sexually charged theater with plenty of in-jokes, references, circular logic and intellectually-barbed dialog.
– Clinton Stark, full review.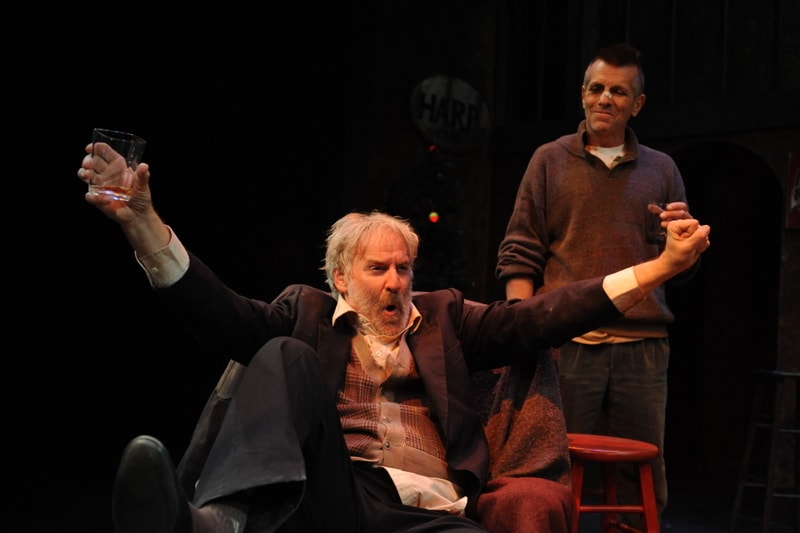 The Seafarer
San Jose Stage Company
"What could possibly happen to 4 boozy buddies who meet on Christmas Eve for a congenial round of poker? Probably nothing eventful. Unless the devil stops in for a drink and asks to be dealt into the game. Conor McPherson's poignant tale of despair about 4 drunks with fruitless boozy lives weaves a compelling fable of brotherhood, camaraderie, addiction and finally, redemption. This is another production befitting their reputation of delivering excellent drama in an intimate personal house that makes you feel as if the production is in the middle of your living room. Put this play on your holiday calendar. It is an evening well spent."
– Patricia Reardon, full review.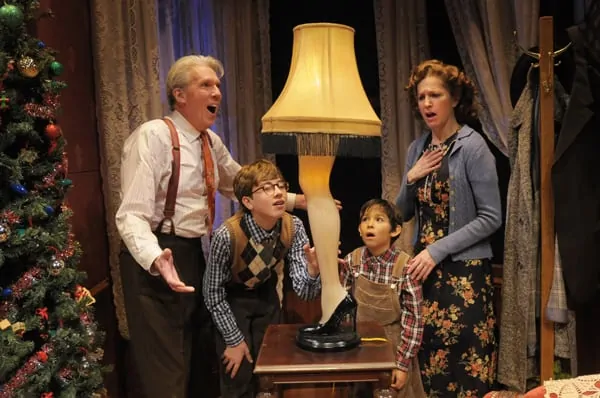 A Christmas Story
San Jose Repertory Theatre
"Oh, what would Bing Crosby think—or sing? Yes it's a white Christmas in 1940's Indiana, but they're no chestnuts roasting by the fire. Instead we enter the wacky, even sometimes gloriously campy, world of the Parkers: leg lamps, hound-stealing turkeys, rubber snakes falling from the skies, and grumpy mall Santas… This holiday classic should be at the top of your Christmas list. You'll walk out with a giant ear-to-ear grin. Just make sure you wee-wee before you go-go."
– Clinton Stark, full review.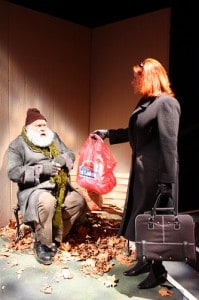 Another Night Before Christmas
City Lights Theatre Company, San Jose
"Is Santa Claus real or is he just a homeless man with a jolly attitude, bursting belly and good sense of humor? Grumpy, burnt-out Karol (Lisa-Marie Newton) must search for the answer when The Man (Michael Johnson) breaks into her home on Christmas eve… Both actors do fine work and should be commended for carrying a two hour show with emotional ups and downs. It's always a pleasure to take in a show at City Lights. The sight lines are great and the atmosphere so well suited for productions such as these."
– Clinton Stark, full review.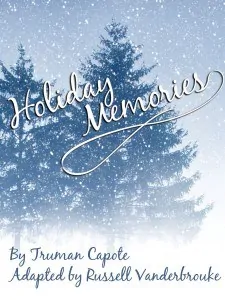 Holiday Memories
Coastal Repertory Theatre, Half Moon Bay
A charming look at the holiday season through the eyes of the renowned and award winning Truman Capote. Holiday Memories takes two short recollections of childhood by Capote, "The Thanksgiving Visitor" and "A Christmas Memory" and fashions a compelling tale of friendship, love, and fruitcake set in southern Alabama in the early 1930s. Buddy may be an only child in a house of elderly adults, but having a child-like and loving aunt as his best friend opens him to holiday adventures and the simple lessons of the heart. A funny and heartwarming entertainment for the whole family. More information.