Guest post by Pat Reardon.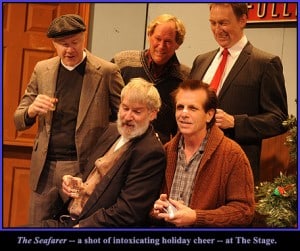 What could possibly happen to 4 boozy buddies who meet on Christmas Eve for a congenial round of poker?
Probably nothing eventful.
Unless the devil stops in for a drink and asks to be dealt into the game. Conor McPherson's poignant tale of despair about 4 drunks with fruitless boozy lives weaves a compelling fable of brotherhood, camaraderie, addiction and finally, redemption.
Central to the story is alcohol; the glue that cements most of McPherson's works. The drunken quartet lives in a world where alcoholism isn't considered an affliction but an accepted way of life.
These four men routinely gather together in Richard and Sharky's decrepit home to escape their mundane world and the women in their lives that seem to terrorize them.  Poker is the pretense. But drink is true purpose of the gatherings. On Christmas Eve, Ivan (Colin Thomson) brings along Mr. Lockhart, a pal that he met in a pub. Mr. Lockhart's sartorial splendor is totally out of place in the dismal surroundings. Over the course of the evening, his true intent becomes clear. He is there to claim the life of the pitiful Sharky and take him through "the hole in the wall" directly to hell.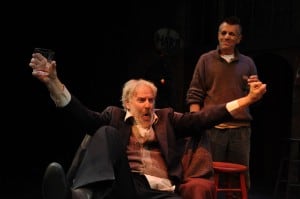 The ensemble is incredibly engaging.
Julian Lopez-Morillas plays the central character Richard who, recently blinded by a freak dumpster diving accident, turns his hapless brother Sharky into a spiritless servant. The slovenly Richard reeks with self importance. Morillas is a veteran Bay Area actor. His talent is evident with each line he delivers. Kevin Blackton as Mr. Lockhart is superb. Blackton is a San Jose Stage regular and a welcome addition to the cast. His Lockhart is powerful and very tragic.
Randall King as Sharky brings an understated poignancy to the highly emotional production. Colin Thomson is charming as Ivan who seems to lose everything (his car, his glasses, his short-term memory) but the one thing that he fears most in life. His wife.  Donald Emmerich's Nicky is an energetic comedic diversion.
Kudos to Michael Palumbo and Jean Cardinale who designed the artful run-down set and costumes made from discarded objects that appear to have been gathered from various dumpsters and recycle bins around town.
But, the evening belongs to the playwright whose dialogue infuses perennial Irish melancholy and doom with witty banter and comedic one-liners. McPherson's descriptions of hell, masterfully delivered by Blackton's Lockhart, are chillingly frightening. He describes a place where physical pain is overshadowed by never-ending emotional and psychological terror. At the same time, his remembrance of the glories of heaven is incredibly sad.
The San Jose Stage never disappoints.
This is another production befitting their reputation of delivering excellent drama in an intimate personal house that makes you feel as if the production is in the middle of your living room. Put this play on your holiday calendar. It is an evening well spent.
The Seafarer
San Jose Stage Company
By Conor McPherson
Directed by Kimberly Mohone Hill
Starring Randall King, Julian Lopez-Morillas, Kevin Blackton, Colin Thomson, Donald G. Emmerich
www.sanjosestage.com
4.5 out of 5 stars
November 18 to December 20, 2009