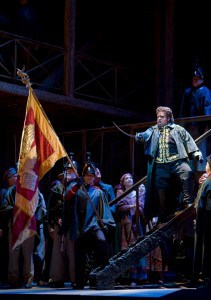 Otello, often considered one of Verdi's grandest and most challenging operas, is based on Shakespeare's play by the same name. San Francisco Opera's enactment of Verdi's masterpiece displays both the blinding power of jealousy and its tragic consequences.
It was a surprisingly sunny day in San Francisco, but once the opera commenced, the stage set and lighting depicting a dark and stormy evening swept me into Verdi's world as directed by Stephen Barlow. The emotional draw of the production was immediately felt, the anxiety as the Cypriot populace await the safe return of their commander, Otello (Johan Botha) and the sheer relief and joy when he does.
However, Otello's battle with the violent storm at sea is nothing compared to the battle with jealousy he is about to face on land.
Iago (Marco Vratogna), advisor to Moor Otello, is scorned that he has been passed over for the position of lieutenant after years of faithful service and decides to seek revenge of the most terrible kind, that borne from jealousy. Iago plays a formidable villain and like a spider weaves a web of jealousy and deceit around Otello. Iago even goes so far as to dangle a warning in front of Otello by noting:
O, beware, my lord, of jealousy;
It is the green-eyed monster which doth mock
The meat it feeds on;
Just as quickly as he warns of this, Iago sets in motion the seeds of suspicion, plants enough evidence to fuel the green-eyed monster's growth and finally sets each character like chess pieces with the sure fate of death.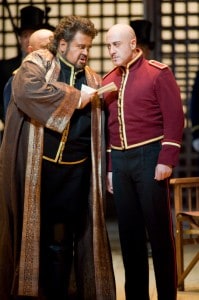 Johan Botha as Otello gives a strong performance both displaying the power of a leader and the dark rage of a man who thinks he has been betrayed by his wife. At the end of Act 3, as Iago stands above Otello who lays on the ground overcome by heartbreak and sorrow, I cared and felt sadness.
Desdemona (Zvetelina Vassileva) is a wonderful contrast to Otello, flowing around in white dresses, she is the symbol of purity and sweetness. Zvetelina really shines in Act 4 when against a simple, yet elegant stage set of flowing white fabric, she sings of her desperate plight.
The variations between scenes crowded with people and those with only a few provided good balance between visual interest and space. In the beginning, I was concerned about the crowded stage which lacked artistic structure, but this was balanced with scenes between only Otello, Desdemona and Iago.
Exceptional was the lighting design for this entire production. From the opening storm scene with the reflections of water and lighting, to the sunlight streaming in from the shutters, to the dramatic blue glow of the final scene. My favorite was what seemed to be a dappled lighting treatment in the first half where Otello and Iago open up a screen in their office to overlook the activity of the village outside. It reminded me of an Impressionist painting.
San Francisco Opera's production of Verdi's Otello powerfully depicts the cunning nature of jealousy and its tragic consequences, all while seducing with intoxicating arias.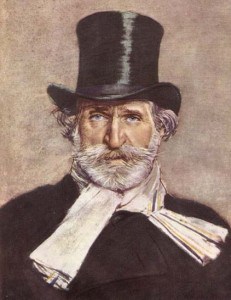 Otello
Giuseppe Verdi
Libretto by Arrigo Boito
San Francisco Opera
War Memorial Opera House
Fri Nov 13 2009 8 pm
Tue Nov 17 2009 8 pm
Sat Nov 21 2009 8 pm
Wed Nov 25 2009 7:30 pm
Sun Nov 29 2009 2 pm
Wed Dec 2 2009 7:30 pm
Approximate running time: 2 hours, 55 minutes including one intermission
Sung in Italian with English Supertitles
Cast
Otello: Johan Botha*
Desdemona: Zvetelina Vassileva
Iago: Marco Vratogna*
Cassio: Beau Gibson
Emilia: Renée Tatum
Lodovico: Eric Halfvarson
Roderigo: Daniel Montenegro*
Montano: Julien Robbins
Herald: Austin Kness
Production
Conductor: Nicola Luisotti
Director: Peter J. Hall
Revival Director: Stephen Barlow
Production Designer: John Gunter
Lighting Designer: Duane Schuler
Chorus Director: Ian Robertson
Choreographer: Lawrence Pech