Oh, what would Bing Crosby think—or sing? Yes it's a white Christmas in 1940's Indiana, but they're no chestnuts roasting by the fire. Instead we enter the wacky, even sometimes gloriously campy, world of the Parkers: leg lamps, hound-stealing turkeys, rubber snakes falling from the skies, and grumpy mall Santas.
A Christmas Story is so good you too will want to stick your tongue on a lamp post in the dead of winter.
In the kitchen The Old Man (Howard Swain) discovers with dismay that dinner is once again meat loaf and red cabbage. But, no matter. He dreams of finding the perfect turkey this Christmas, if only the furnace and Olds would stop breaking down long enough for him to get sniffing the birds at the local A&P.
Upstairs, an ad in The Open Road for Boys magazine featuring Red Ryder beckons.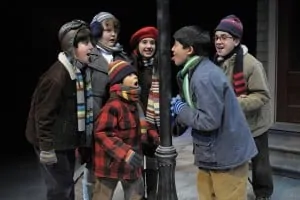 Starry-eyed nine-year-old son Ralphie (Garrett Meyer) promptly embarks upon a quest to score "the Holy Grail of Christmas presents"—a genuine Red Ryder 200 Shot Carbine Action Air BB gun (with compass, and this thing which tells time built right into the stock!).
But is a conspiracy preventing young Ralphie from fulfilling his dream? Each day brings a new challenge: the local bully (Max Mifsud), the strict, margin-obsessed teacher Mrs. Shields (Nancy Carlin), and adoring Esther Jane (Leah Kolchinsky).
Adult Ralph Parker (Dan Hiatt) narrates, jumping in and out of scenes, and reminisces about the days of the Little Orphan Annie Radio Show, Black Bart, and Red Ryder.
"You'll shoot your eye out!"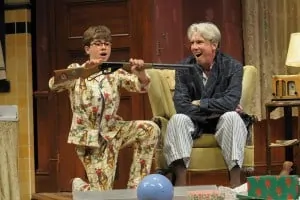 Thankfully, A Christmas Story dials back the sentimentality and pours on glossy, Simoniz-coated comedy.
And it works, much to my surprise.
In the end when the family does, somehow, manage to celebrate Christmas morning opening gifts in their pajamas, you feel genuine affection. The undercurrent of anti-consumerism and overt holiday commercialism is as relevant today as it was when the movie the play is based on hit theaters 26 years ago.
The audience at the opening last night savored every manic moment; plenty of groans, hysterical laughter, delight.
The cast is spot on. Timing, delivery, energy are all there. Another pleasant surprise is the strength of the child actors who don't rely purely on the cute card.
Howard Swain, though, as the slightly less than brilliant father towers in a comedic performance of epic stooginess.
The leg lamp storyline (a major award!) is priceless and results in some of the zaniest scenes. It's precisely why this material is so good. We're not doused in sugar-coated, diamond sweater sentimentality. Rather we are treated to a special night of satire, nostalgia, and a generous serving of inspired camp.
Not everything is perfect, though. Some punch lines and zingers are over-worked; used perhaps just one or two times too many. And the overall length is about 10 minutes longer than it needs to be. Minor stuff to be sure.
This holiday classic should be at the top of your Christmas list. You'll walk out with a giant ear-to-ear grin. Just make sure you wee-wee before you go-go.
Noteworthy

Rick Lombardo, Artistic Director

The movie version of A Christmas Story flopped in theaters in 1983 and was removed after only three weeks; later thanks to TNT television broadcasts it became a cult hit.
It's the most popular show in the San Jose Rep's history. Artistic Director Rick Lombardo: "The audience asked us to bring it back during the holidays at some point, and it felt to me that this year, with all the struggles we're confronting, was a great time to revisit what has become one of the timeless American holiday tales."
Bravo! One again, the Rep is encouraging discussion on social networking sites: the Twitter hashtag for this show is #ACStory.
I mentioned "leg lamps" in one of my Tweets at the show; later, "Leg Lamp Guy" started to follow me; I might opt for a nice brass lamp instead though.
U2 inspiration? It's probably just me, but is Rick Lombardo and team influenced again by the Irish rockers? First, it was the 3 impressive projection screens for As You Like It, and now with A Christmas Story a clever 360 rotating stage set. Okay, so I'm a U2 fan.
I admit, I'm not a fan of smarmy Christmas productions. I have two exceptions: It's a Wonderful Life, and Nutcracker. Recently though, I'm thinking of updating the list. After seeing The Wizard of Oz at Berkeley Playhouse it seems like a perfect addition. And, now, so does A Christmas Story. Just keep things grounded in wackiness.
The Open Road for Boys was an actual boys' magazine published from the 1920s to the 1950s.
Red Ryder was a popular American cowboy comic strip drawn by famed artist Fred Harman in 1933.
Don't miss: "Afters!" (the British word for dessert) party in the lobby following the first Friday performance of each play.
A Study Guide: make sure to download a copy. There is plenty of fun nostalgia, plus winter holidays around the world, and Christmas traditions in San Jose.
IMDB: the movie A Christmas Story is rated 8.0 out of 10 on imdb.com.
A Christmas Story
4 out of 5 stars
by Philip Grecian
Directed by Chris Smith
San Jose Repertory Theatre
Robert Mark Morgan (scenic designer), B Modern (costume designer), Lap-Chi Chu (lighting designer), and Jeff Mockus (sound designer)
to December 20, 2009