In recent years we've started to see more PID-equipped espresso machines positioned down-market with retail prices at about $1,000 USD. That's impressive considering in the past you'd need to pay about twice that for the temperature stability feature.
The Lelit Victoria (PL91T) is the latest example. Priced at $999 the Italian made espresso machine is a single boiler with a compact design, and some simple gauges and buttons on its stainless exterior.
The standout feature, however, that many enthusiasts will pine for, is the presence of an adjustable group head temperature sensor and readout. That's the aforementioned PID, which stands for Proportional Integral Derivative — a fancy way of saying the machine can monitor and regulate the temperature at the group head. As a result there's far less fluctuation as the boiler cycles on and off to maintain temperature. Consequently, shots are more consistent and, in theory at least, have a higher probability of a quality extraction.
Other key features on the new Lelit Victoria which was announced by way of Seattle Coffee Gear:
Lelit Victoria Espresso Machine

Key Features

Single 300mL boiler
58mm group and portafilter
3-way solenoid
Programmable pre-infusion
2.5L water reservoir
PID with OLED graphic display and Lelit electronic control system (LCC) with shot timer
Back-lit manometer (brew pressure)
Auto-purging when switching from steaming back to brewing (to bring temperature down)
Cup warmer
Warm up time of only 6 minutes
Dimensions (WxDxH): 9x15x15 inches / 23x38x38 cm
Download: LELIT Victoria Technical Specs (PDF)
Thoughts on the Lelit Victoria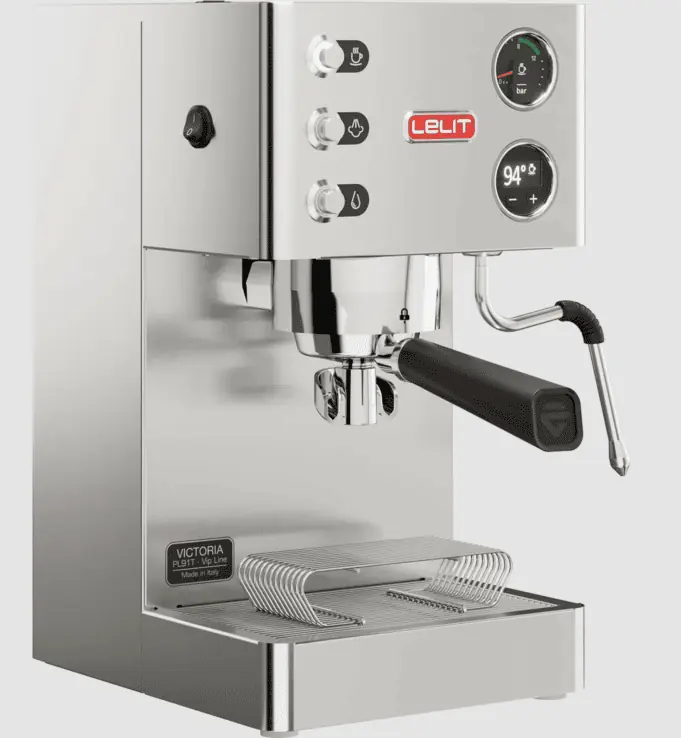 There's a lot to like here. For a lower-mid range espresso machine you get a fast warm-up, svelte design, professional features (58mm, 3-way solenoid, PID) and the pedigree of Lelit which has been making high quality gear for quite some time.
I especially like that Lelit (which is now owned by Breville who plans to bring the brand to its premium mass channel) places the two gauges — brew temp and PID control — and the upper front panel where they're easy to read out when operating the machine. Three simple buttons to the left are well-marked for brewing a shot, steaming and hot water.
Fans of Lelit will recognize the design language. Lines are clean, with the classic red Lelit logo front and center. A small removable riser sits below the portafilter so you can position smaller espresso cups closer to the portafilter when pulling smaller shots.
Programmable pre-infusion is a nice bonus. You can essentially pre-soak the puck before pulling the shot. Typically you can set this for a few seconds and the machine will wet the puck, pause, and then pull the fully pressurized (typically at 9-bar) shot. Studies have shown this can maximize the flavors from the coffee grinds.
WATCH: Overview of Lelit Victoria Espresso Machine & Lelit William Espresso Grinder
By Seattle Coffee Gear Crew Review
Seattle Coffee Gear Summary:

Lelit Victoria Espresso Machine

PROS

Large drip tray
Auto-refill of boiler
Water level sensor

CONS

Fit and finish — water reservoir cover and drip tray can rattle when brewing
Programming takes time to learn
For smaller use cases, the 300ml is actually a plus. It requires less time to heat up, and in daily operation should result in relatively less power draw. If you're going to be pulling many shots in a row you may need to wait, so this Lelit would likely not be the best for higher volume situations — though this is true of most single boiler machines.
Aesthetically, one thing I might question is the placement of the power switch. Instead of including with the three buttons on the front they decided to place it along the left side. That's great in terms of ergonomics as it's easy to see and use. But some might think it ruins an otherwise clean side panel. On the other hand, I suppose it does counterbalance the steam knob on the opposite side?
Another thing to point out is the location of the water reservoir which is at the back. And given the Victoria measures 15-inches high that means for those with lower hanging kitchen cabinets will need to pull it out to lift the tank and re-fill it. Possibly a minor convenience. Some of the competition have tanks to the side or, in the case of the Gaggia Classic Pro for instance, make it accessible from the top or the front. Speaking of competition…
Lelit Victoria: The Competition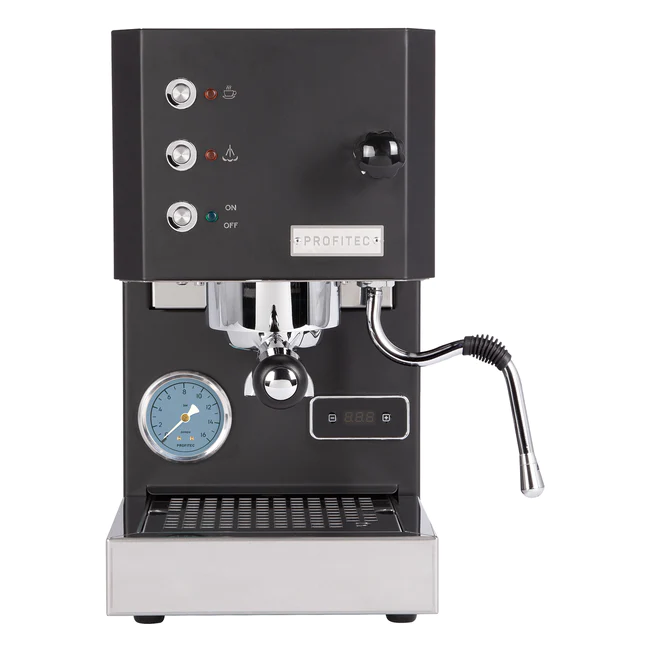 No doubt one key competitor jumps immediately to mind: the Profitec Go which I've written about before here on Stark Insider. The Profitec Go is exactly the same price ($999 USD) and also — bingo! — includes a PID as a headline feature.
The Victoria and Go are similar and most other ways too, including employing a single boiler, 58mm group, and a relatively compact footprint.
One difference is that Lelit is an Italian company, whereas Profitec is a sister company to ECM which is based in Germany. Both, though, have outstanding reputations throughout the espresso community. So that's a toss up in my estimation.
At 400ml the Go has a larger boiler, but in practice I'm not sure it's a significant difference.
The Lelit Victoria has pre-infusion which the Profitec Go does not so Lelit earns an edge there if that matters to you.
Single Boiler Espresso Machines with PIDs is an Exciting Market Segment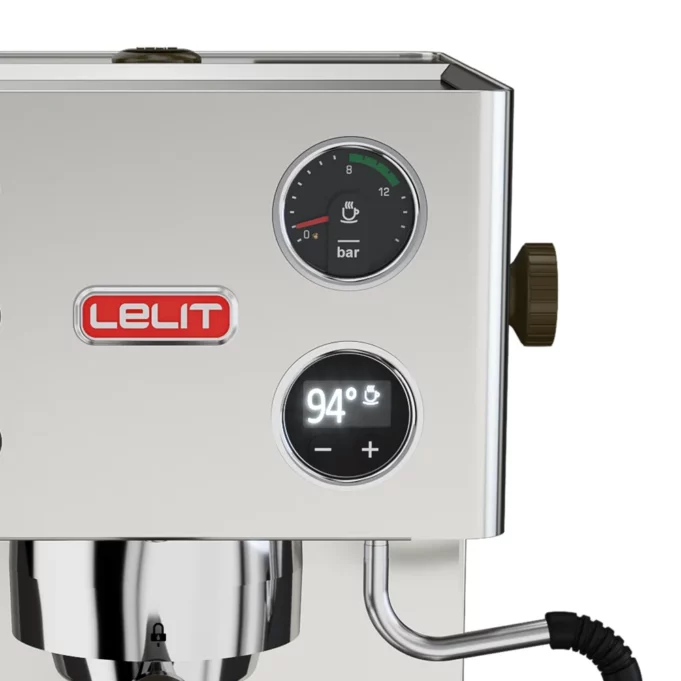 Will we see more companies target this segment? I hope so. I'd like to see more competition in the $800-$1,000 range with machines featuring nice enthusiast features such as PID and pre-infusion. They sort of bridge the gap between the entry level machines such as the Gaggia Classic Pro (just an amazing value at $400-500) and more expensive heat exchangers and dual boilers which can easily top $2,000-$3,000.
Also, note that Lelit released a new grinder called the Lelit William. For $650 USD you get 63mm burrs and programmable dosing. That's pretty sweet for this price point. Design-wise it looks like its made to complement the Victoria. No doubt the two would look well matched sitting next to each other on a kitchen cabinet. For $1,650 USD the Victoria + William combo could be a pretty sweet setup.
RELATED:

Best espresso machines under $1,000 for beginners and aspiring home baristas
Meantime, if I were researching the space, and especially considering the Profitec Go I'd most definitely now need to short list the Lelit Victoria. I think the design team did a standout job. At least that's how it looks on paper. Aspiring home baristas as well as experienced espresso enthusiasts could definitely grow and benefit from this machine given its capabilities in terms of temperature management; for instance you could set the PID to a higher temperature if you like experimenting with lighter roasts and third wave coffee
We'll need to see how the Lelit Victoria actually performs when we can put it to test and see how others react as well. For now I like what I'm seeing.