For today's Stark Insider espresso machine showdown it's the Profitec GO vs. the Ascaso Steel Uno.
Or simply: GO vs. Uno!
My 18 year-old Pasquini/Bezzera semi-automatic is not long for this world. Though it's been an ever reliable workhorse, I'm ready to upgrade.
A lot has changed in the world of espresso in recent years. It's almost as if an entirely new language has been invented. PID. Puck screens (do they really work?). The single dosing and aero retention fan club. Flow control. RDT! No burn steam wands. WDT! And on and on it goes.
Funny enough, at the end of the day it's still the basic 25-second golden rule that comes out on top. After all, espresso is a tradition steeped in history.
Still, I think I want my next machine to be up-to-date with some of the more recent features and be ready for another multi-decade run.
I've set my budget around $1,000 USD. Maybe a little more for the right machine.
That pretty much places this shopping trip in the upper entry-level segment of the espresso machine market. It's still pricey especially considering most people just pay about $200 or so for a Nespresso or Keurig machine and call it a day. I prefer to use beans, and actually enjoy the process of making espresso. It can be a welcome, even therapuetic and Zen break from sitting in front of a computer screen all day. Some prefer to shift their own and enjoy manual transmissions while others prefer their cars to have automatics — the latter is obviously winning thanks to the rise of EVs.
In any case, I've narrowed down my ~$1,000 choice to two relatively new espresso machine models:
Based on my research at least I've come up with some pros and cons, as well as some similarities between them.
If you're like me you exhaustively Google for reviews and comparisons and videos. And then do it all yet again, and again. So I might as well throw in my thoughts as well on these two promising semi-automatics.
Here's what I'll be covering:
ESPRESSO MACHINE SHOWDOWN

Profitec GO vs Ascaso Steel Uno

Similar Features

Key Differences

Design and Aesthetics

Technical Specs

Profitec GO: Pros and Cons

Ascaso Steel Uno: Pros and Cons

Conclusion & Winner?
Profitec GO vs. Ascaso Steel Uno: Similar Features
PID temperature control

Can't brew and steam at the same time

58mm portafilter

No-burn steam wands

Single brew pressure gauge (manometer)

Easily accessed adjustable OPV (Over Pressure Valve)
Both machines share a lot of common traits. Like most single boiler machine in this category you can't brew and steam at the same time. That means you'll need to either brew your espresso or steam your milk (if required) first, before flipping a switch to either cool down or heat up the machine, which can take a minute or so.
If you plan to serve several guests and need to make back-to-back drinks this extra time required to switch from brewing to steaming could be a problem and you might need to boost your budget and consider a Heat Exchanger (HX) or dual boiler, though both are more expensive options. For our household this is not an issue as we're just making a morning Cortado and then a few decafs throughout the day.
Other similarities: both have robust professional style 58mm portafilters and no-burn steam wands which is always welcome.
A manometer gauge on the GO and Uno will show you the brew pressure. You can use this to help evaluate any issues you're having with poor performing shots. For instance, if the pressure is too low, say, at 7 – 8 bar you may need to grind finer. And likewise if it's too high at 12 bar pressure, grind coarser.
The big headline feature on both machines is the presence of PID. Basically, this helps keep temperatures stable at the group head (potentially) enabling better espresso shots. By making subtle adjustments to the temperature, the machine can avoid the wild swings seen in machines without PID. Today, this is definitely a desirable feature.
Profitec GO vs. Ascaso Steel Uno: Key Differences
Profitec features a single boiler

Ascaso features a unique thermoblock design
Whereas the GO uses a tried-and-true single boiler, Ascaso opts for something different in the form of a single thermoblock unit (the step-up Duo as the name implies has two). If you're cross-shopping these two machines this is a key difference to understand when deciding what's best for you.
With the boiler in the Profitec GO the machine will operate like any other traditional single boiler machine. You turn it on. Water is pumped into the boiler, and it heats everything up. When you need hot water or steam, the unit pumps it from the boiler to either the brew head or steam wand. A basic explanation, but that's essentially the summary.
With the thermoblock design on the Ascaso Steel Uno there's no boiler. Instead water is routed through a heated metal block as it is channeled to its destination. As a result the heating happens on demand — very much like a flash water heater you might install in your home.
Ascaso says that because it doesn't have a boiler and only serves up water when needed, your espresso shots are always made with "fresh water"
Ascaso says that because it doesn't have a boiler and only serves up water when needed, your espresso shots are always made with "fresh water". I'm not entirely sure if this is just marketing-speak and if it has actually been proven to have any real world impact, but that's the claim.
A few other differences to point out here. Given that the Ascaso is about $400 USD more expensive you'd expect more in return, and that's the case. The Steel Uno one-ups the GO with these additional features:
Volumetric dosing — you can program up to two doses (single/double) and then have the same volume poured each time you flip a switch.
Removable water reservoir on the side — if overhead cabinets are an issue in terms of clearance you may appreciate that the Uno has a slide-out water tank on the right side, which makes it convenient to access.
Programmable pre-infusion — this is also a fairly recent feature, at least on the prosumer side. With pre-infusion the machine will gently soak the portafilter and espresso puck for a pre-determined time (3 seconds is common) before continuing with this standard extraction.
"Semi-Professional" — Ascaso markets this machine as part of its Steel range which is stays is suited not only for home, but also for offices, small businesses, and even the Hospitality channel. Do with that information as you may, but it's something I noticed when checking out the Ascaso web site.
Profitec GO vs. Ascaso Steel Uno: Design and Aesthetics
Both are clean and modern designs

Minimalistic controls

Profitec GO with three push buttons, steam knob in the upper panel and PID controller and pressure gauge under the group

Ascaso Steel Uno with four toggle switches, PID controller and pressure gauge on top, and steam knob on righthand side

Uno has barista lights and walnut-finished portafilter handle and steam knob winning style points
I like the look of both of these machines, and think they'd fit nicely with most modern kitchens and coffee stations.
These are decidedly anti-E61 heat exchanger designs in that the portafilter clocks in underneath an overhead panel. If you're like me you appreciate this tidier approach contrasted to E61 machines with their floating group head designs, and massive stainless steel everywhere and knobs front and center. It's definitely subjective. These days, though, it seems like more machines are adopting this style? Think La Marzocco Micra, Bezzera New Hobby, La Spaziale Vivaldi II, Dalla Corte Mina and even iconic models such as the Gaggia Classic Pro and Rancilio Silvia.

I appreciate that both the GO and Uno have all external stainless drip tray finishes. Nice!
Both companies offer several color choices. The GO is available in black, red, blue and yellow. The Uno in white, black and stainless. Note that if you opt for the black GO the gauge is a sort of baby blue whereas on the others its a more traditional black.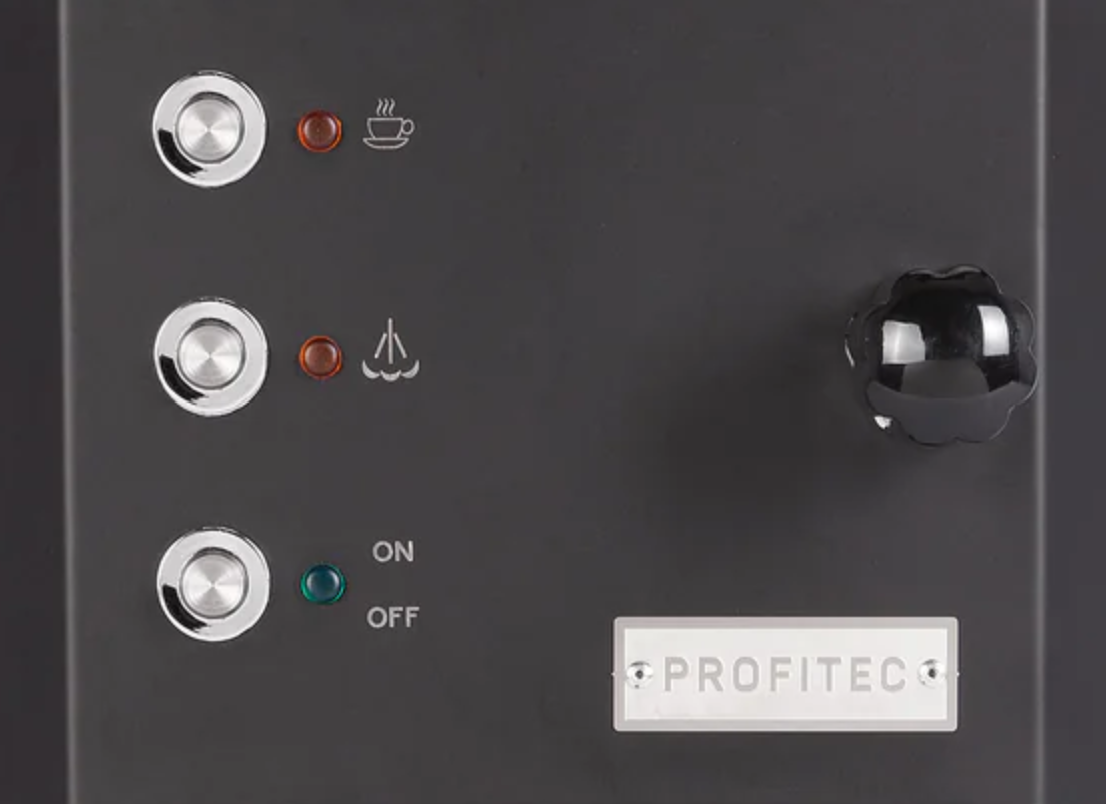 Most will get along with either design. The GO is pure function in a tight, clean package that should fit in to most decors. To my eyes the Steel Uno takes it up a notch with a supremely elegant and sophisticated design, especially with that chromed out brew head featuring the Ascaso logo, and the sloping cabinet, walnut accents and overall symmetry. A+ all around.
Profitec GO vs. Ascaso Steel Uno: Technical Specs
Just some key numbers to highlight with respect to the technical specs.
Profitec GO
Brass boiler: 0.4L
Water tank: 2.8L
Vibration pump
Dimensions (D x H x W inches): 14.5 x 14.9 x 8.25
Weight: 28.4 pounds
Colors: Black, Red, Blue, Yellow
Retail: $999 USD
Availability: Whole Latte Love
Ascaso Steel Uno
Thermoblock: single
Water tank: 2L
Vibration pump
Dimensions (D x H x W inches): 12.5 x 15 x 10.5
Weight: 26.4 pounds
Colors: White, Black, Stainless
Retail: $1,435 USD
Availability: Ascaso Store on Amazon (Seattle Coffee Gear)
Aside from the thermoblock found in the Ascaso there's a few other differences on the technical side.
The GO is about 2-inches narrower. A consideration for tighter spaces. The GO also has a significantly larger water reservoir — though it's only accessible from the top.
Heat up times for both the Profitec Go and Ascaso Steel Uno are about 5 minutes which is excellent. You'll be able to power on and get up to brewing temperature and make your drink before most single boiler heat exchangers are even up to temperature.
Profitec GO: Pros and Cons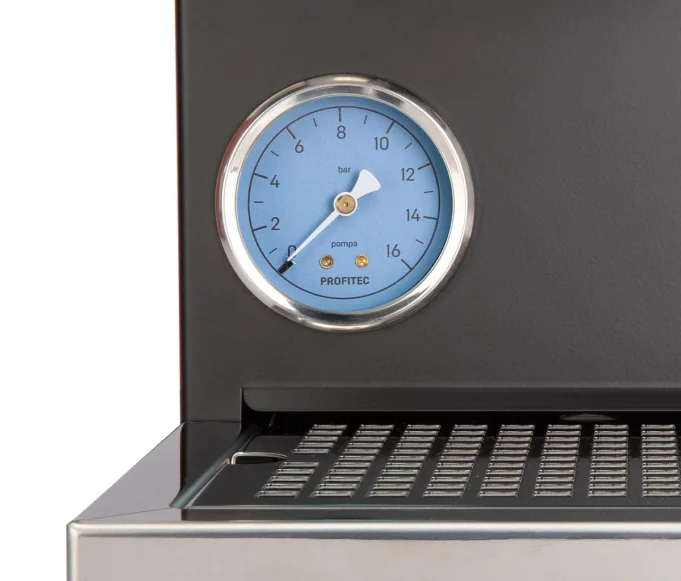 Undeniable value for a PID espresso machine

Excellent build quality from an established and reputable name (ECM sister company)

All the essentials for a great espresso

Quirky steaming prep process can get annoying
All told it's hard to find fault with the Profitec GO. For $999 (black model) you get a PID espresso machine that promises temperature stability with reasonable steam heat up times that should keep most workflows moving along without issue.
The OPV is easily accessible for those interested in tinkering with lower pressure extraction and specialty beans.
Up front the PID controller is intuitive and easy to use, and doubles as a shot timer (like the Uno) which is convenient.
One nit on the GO regarding prepping for steaming. The manual states in order to dispense steam you first need to put a glass under the steam wand and open the steam valve for 5 seconds, wait 10 seconds, and then do it a second time. This is necessary to "to reduce the boiler water capacity and generate a bigger steam volume." A bit of a pain, but maybe not that big a deal if you just make a few milk drinks a day.
Ascaso Steel Uno: Pros and Cons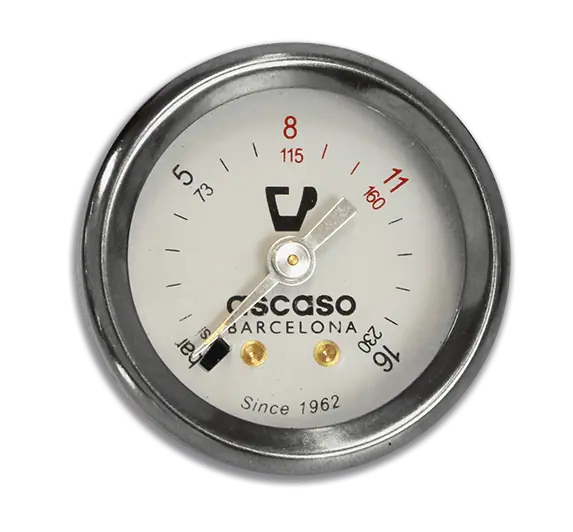 Loaded with features for the price

Thermoblock is energy efficient

Dressed to the nines and ready for an Architectural Digest photoshoot
Here the thermoblock is either going to win you over with its fast heat-up, energy efficiency and stable temperature or turn you off because it's not a traditional boiler design.
Many will scoff at the idea of thermoblocks as they're typically found in consumer appliances such as those made by Breville, Nespresso, Keurig and De'Longhi or on super-automatic (bean-to-cup) machines such as those made by Jura, Philips/Saeco and Gaggia.
Ascaso Steel Uno: Energy Consumption

Here's a thread from Reddit that demonstrates the power efficiency of the Ascaso making a single milk drink. Granted, this is anecdotal and just one user's experience, however, it can demonstrate how the thermoblock design can minimize power consumption. In this case the Uno was on for about 30 minutes or so and consumed a measly 0.1 kWh. Impressive to say the least.

Source: Reddit
I see it differently. I like what Ascaso is doing here, bringing something new and innovative to market. Here in California where electricity is ridiculously expensive I appreciate that the thermoblock uses far less electricity. And there's something appealing about the idea of no water being stored in a boiler. It's simply flash heated as needed. Great stuff.
Maybe I'm being picky but why is the brew pressure sweet spot (8-11 bar) in the manometer above highlighted in red? Most manufacturers use green when in the "zone." Sigh. I'm probably being too picky or OCD about this detail.
Conclusion & Winner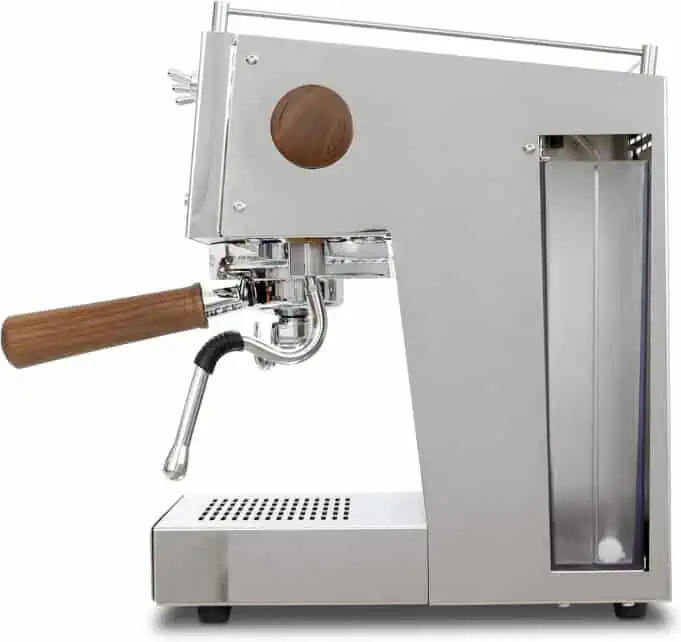 True, it's a bit of a cop out: both of these espresso machines are outstanding. Modern. Slick designs. Well made. Basically, they should offer excellent at-home espresso making for years to come. For aspiring home baristas these are both solid options.
Price-wise this comparison might be a little unfair to be frank.
The GO is $999 in black while the Uno is $1,435 or about 44% higher. A sizeable difference!
However, if you're like me and are considering the GO and spending that kind of money on a machine you're probably willing to seriously considering spending more if the features warrant it. I want this machine to last decades and feel the more I use it and the more it lasts the better the investment. I'm not a serial upgrader.
The bottom line is the Profitec GO is the absolute winner when it comes price-value for a PID-equipped machine. I'd much rather spring for the GO then jury-rig a Gaggia Classic Go or Rancilio Silivia with an aftermarket PID. Just get the GO. It's ready to go, and you can focus on your espresso making skills and latte art and share those special moments with family and friends.
Above and beyond the GO you get pre-infusion, volumetric dosing, walnut finishing, accessible water reservoir from the side, LED barista lighting (great for dark mornings), thermoblock efficiency resulting in lower electricity bills, and a group thermal cover.
For a little over $400 USD more, however, the Ascaso Steel Uno wins me completely over.
Above and beyond the GO you get pre-infusion, volumetric dosing, walnut finishing, accessible water reservoir from the side, LED barista lighting (great for dark mornings), thermoblock efficiency resulting in lower electricity bills, and a group thermal cover.
Then there's the UNO styling. A show stopper. Ascaso really found a modern design language here that still embraces tradition (toggle switches) that works to perfection.
And that's why I'd say splurge and spend the extra $400 and go for the Barcelona beauty that is the Ascaso Steel Uno.