Fans of espresso maker Lelit take heart. Breville's 2022 acquisition of the company looks like it will mean more investment in the famed Italian brand.
Digging through Breville Group's latest annual report and investor presentation (posted yesterday) reveals a few interesting plans regarding not only Lelit, but for the entire coffee and small appliance market. These things are always worth reading if you follow things like coffee and espresso trends, as well as global distribution strategies.
On slides 30 and 31 of of the FY23 investor presentation management points out a few things it's planning to do with Lelit in the near future. Most of those have to do with distribution: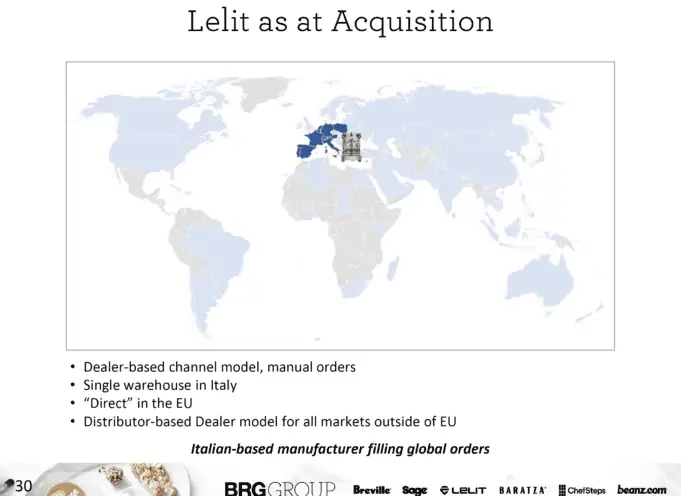 Currently, Lelit utilizes a single warehouse in Italy to sell direct in the EU with a distributor-based dealer model for the rest of the world.
That will shift as Breville begins rolling out a "premium mass channel" in 1H24 with direct sells in not only E.U., but also in the U.S. and Australia: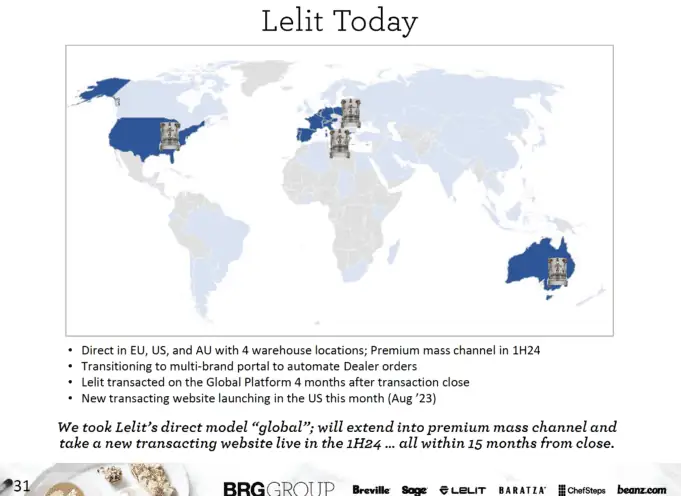 Further it will invest in a multi-brand portal to automate dealer orders.
The plan, as the report notes, is to make all of this happen with "15 months from close" of the Lelit acquisition — which happened in March 2022 (for $124 million USD).
Breville: Impact on Lelit Espresso Machines?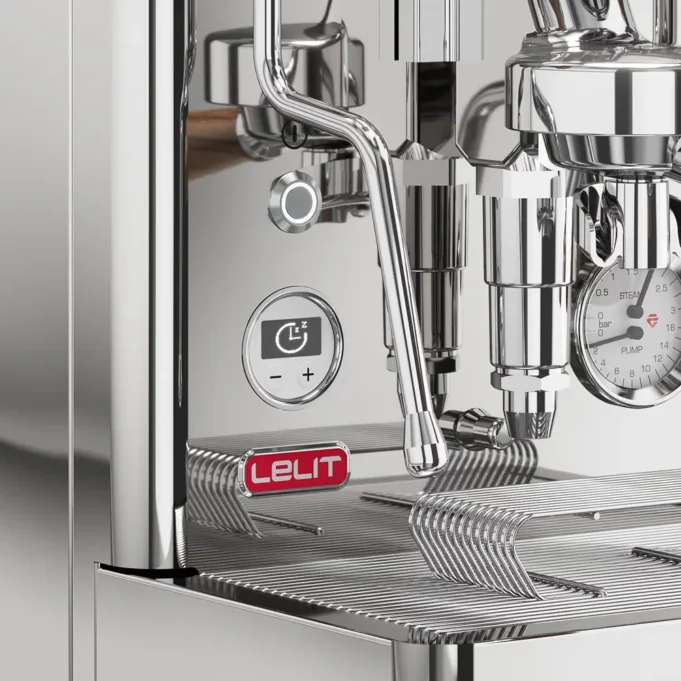 If you're a fan of Lelit and its well-regarded semi-automatic espresso machines this should come as good news.
We should expect to see more of Lelit in more places, and with more availability as more distribution channels open up. (I think Billy Idol once screamed more, more, more?). These moves should help Breville position the brand to better compete against the likes of ECM/Profitec, Rocket Espresso, Rancilio, Gaggia, Bezzera, and a host of other competitors in the global coffee and espresso markets.
Breville Group Major Brands

Breville (small appliances including espresso machines, toaster ovens)

Sage (espresso machines)

Lelit (traditional Italian semi-automatic espresso machines)

Baratza (coffee and espresso grinders)

ChefSteps (recipes and cooking guides/tools)

Beanz.com (specialty coffee)
As it relates to the Lelit product roadmap much less is know. Well, nothing in fact. There's no much in the IR presentation about plans for new models or what might come down the line in terms of espresso machine innovation or updates. I'm sure that's all in the works behind closed doors. For now it seems Breville Group management is bullish on getting the Lelit brand distributed more broadly and onto the Breville "platform" that likely will enable it to successfully scale leveraging as many existing resources as possible.
Omnipresent Nespresso
And what would a coffee/espresso manufacturer analysis be without a mention of Nespresso?
You can find the mention on slide 11 in a strengths (headwinds) and weaknesses (tailwinds) summary that succinctly itemizes things the team is currently focusing on: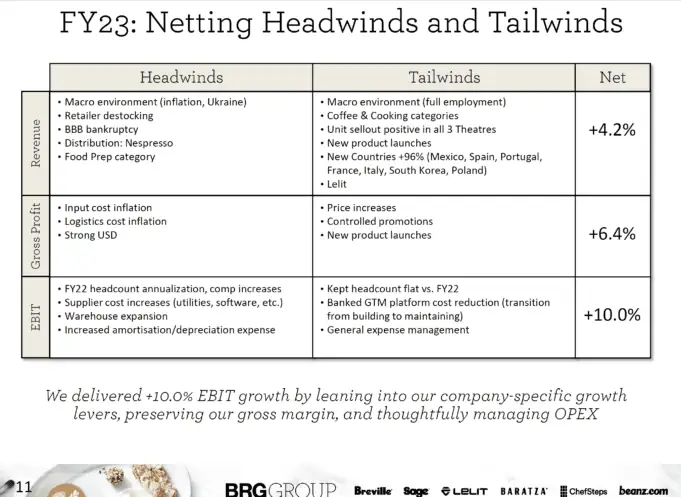 There you'll see Nespresso noted next to distribution. It's hard to say entirely what this means without additional context, but we might guess it has to do with the continued expansion of Nespresso and the pod-based single serve coffee system. These convenient products enable casual consumers and those limited in time (perhaps because of family and jobs) make it easy to get into at-home espresso; without going full-sail into a new hobby. The machines are quite simply easy to use.
I should point out that Breville does make a Nespresso compatible pod-based espresso machine, called the Vertuo Creatista (her brother is Count Dracula).
And What About Super-Automatic Espresso Machines?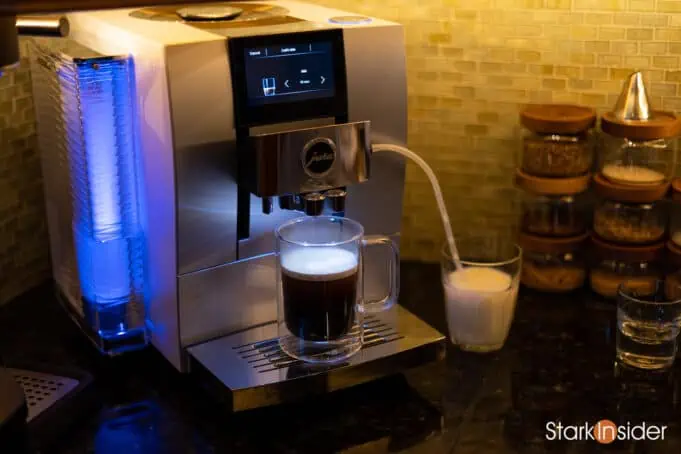 That's one reason why I think there's a slide dedicated to the relatively new Barista Touch Impress. First, it appeals to a new generation of consumer interested in non-dairy milks by automatically adjusting the steam wand and milk frothing system as needed depending on type (almond, oak, etc.). But more importantly, at least in my estimation, is the fact that this machine is the closest Breville has yet come to a fully automatic: it can dose the right amount of coffee, tamp it automatically with the correct amount of pressure, and then brew the shot using pre-programmed times/volumes. Granted the user still needs to move the portafilter and tap the screen to manage the workflow, but the idea is the machine is guiding the user along what would otherwise be an intimidating workflow for a first timer.
The Touch Impress isn't quite a "super-automatic" machine, such as those made by Jura, Saeco/Philips and Miele among others. However, it could effectively bridge the gap between those all-in-ones and the traditional semi-automatic espresso machines that require the user to do just about everything manually.
Now that Breville has these bridge machines in the Barista Touch Impress and a traditional Italian machine in the Lelit it might not be surprising to see them eventually launch a super-automatic. That would give the company access to more total addressable market, and surely they have the technology in-house.
Breville+ and that Beautiful Brown Box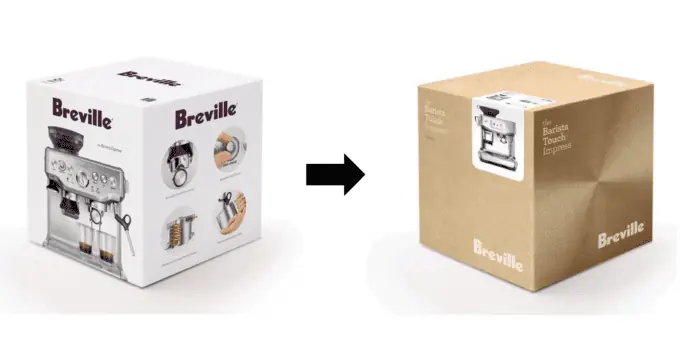 In addition to financials, of course, skimming through the presentation you'll glean additional tidbits about Breville Group.
For instance there's a push for something called "Breville+" which appears to be the integration of a smartphone app with the company's various Smart Oven models. The "Culinary Co-Pilot" provides guided recipes, cooking guides and live and on-demand expert masterclasses (who doesn't offer a masterclass these days?!).
In terms of environmental programs, like a lot of companies Breville (and sister brand Sage) is committed to expanding the "Beautiful Brown Box" which features more recycled materials and a decidedly non-glossy appearance. Great to see.