Today we take a first look and share impressions of the new Jura ENA 8 super-automatic espresso machine.
When you think of fancy all-in-one coffee machines chances are you might think of Jura. The Swiss brand has established itself as a major player in the market for super-automatic espresso machines and you may have even spotted one in your doctor's office, or maybe a car dealership, or in an office environment.
But, Jura has also been making machines for the home. For quite some time in fact. Since the 1980s Jura has been refining the formula and offering machines direct to consumers. Today, places like Costco, Williams-Sonoma, and Amazon carry them.
Given Jura's premium pricing often the first question we get is: are they worth it? Should I pay more for a Jura or save a bit (or a lot!) and get a Philips (Saeco), Breville or DeLonghi or even one of the increasing number of lower priced entrants found on Amazon?
That's a tough call, and will, of course, depend on your budget and preferences.
Hopefully we can help demystify that decision, if a little, with a first look at a machine that sort of slots in the entry-to-mid range of Jura's (often confusing) line-up of espresso machines.
At $1,699 USD no one would call the Jura ENA 8 cheap. Yet, when it comes to Jura it does, surprisingly, slot in around the mid point. It's positioned well under the flagship Jura Z10 ($3,999) we previously tested and reviewed here on Stark Insider, but is a step up from entry, espresso-only models such as the Jura ENA 4.
The nice thing about the Jura ENA 8 is that it was refreshed just last year, in 2022. So if you see an ENA 8 online be sure to verify if it's the newer model. One tell is the display. On the 2018 version it had buttons on the sides, whereas the newer one is a touchscreen with no buttons at all. There's other enhancements too — including a longer drink menu (Cortado for instance), improved grinder, and various bits that almost feel like a trickle down effect of what Jura's learned from the innovations found on the Z10.
In any case this is just a first look with some initial impressions. Look for the full review soon on Stark Insider.
Jura ENA 8: First Impressions
Out of the Box, Build Quality
Cute and compact.
Out of the box that's my first impression handling the Jura ENA 8. After spending time with the Z10 this thing is much lighter and easier to move around. I think many will prefer this form factor when dealing with small condo kitchens, dorms and studio apartments. Shrinking everything down does result in a few compromises which I'll dig into after spending a few weeks with the machine and writing up the full review.
Also, like the Z10, the ENA 8 feels really well made. True there's mostly plastics here. But they're premium plastics with clean fitting lines and a robust quality to the construction throughout. The Jura DNA is evident.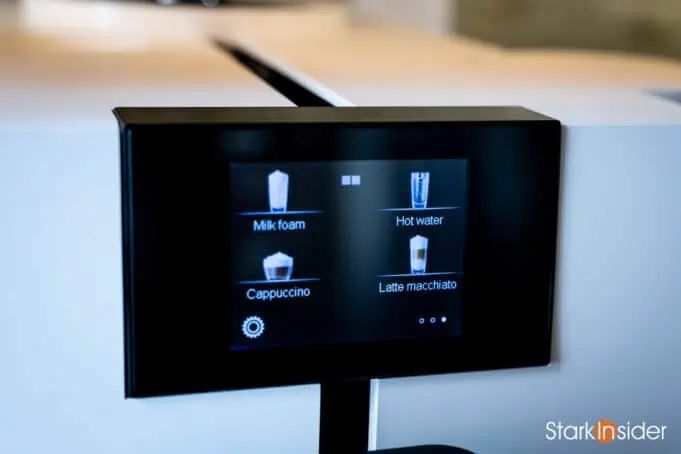 Display and User Interface
Everything on the Jura ENA 8 is controlled through a 2.8-inch touchscreen. It's colorful and well laid out, with enticing icons showcasing the various drinks available — both straight espresso and coffee alongside milk-based favorites such as Cappuccino and Latte Macchiato.
Though the display is smaller than higher end models such as the S8 and Z10 I found no problem tapping various items to get things done quickly. The screen is responsive and easy to use and I think will please most people in every day use.
Water Tank and Filter
Now here's one example of a compromise I mentioned earlier. Given the machine's relatively petite dimensions (10.7″ W x 12.7″ H x 17.5″ D) there were bound to be design concessions.
One is the size of the water tank. Above you can see it featuring quite a pretty, jewel-like cylindrical motif. At only 37.2 ounces (1.1 liters), it's far smaller than other larger models including the Z10 which has, by comparison a massive, 81 ounce (2.4 liters) water tank. This means you'll be refilling it more often. How much depends on the number of people in your family and the number of daily drinks you'll be making. I should note there is a trick with the ENA 8 that differs from machines such as the Z10 when it comes to milk rinsing that means less water is actually used internally. More on that in the full review!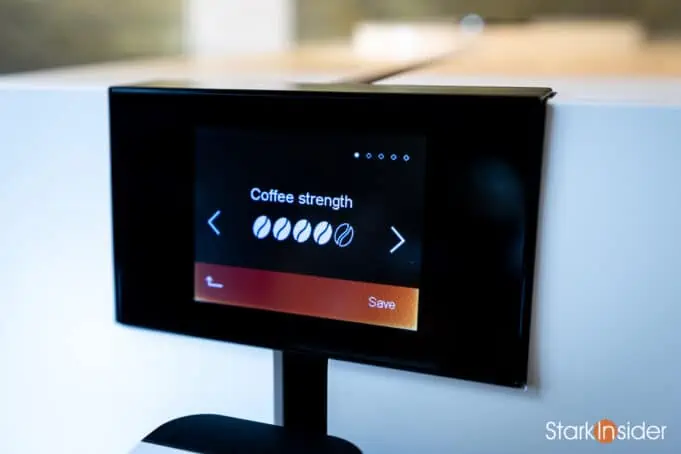 Drink Personalization
Jura does a great job providing enough customization without overwhelming the user. You can touch a button and simply make a coffee or Cappuccino and come back a minute later to fetch it when finished. Or, you can tweak the formula as the drink is being made.
At each phase the screen will provide a timely parameter which you can adjust using the touchscreen if you like, or leave as is. When the drink is finished you have the option to "save" your changes so you can get the exact same thing next time without fussing around with the screen. Also, you can do all of this and personalize your drinks when the machine is sitting idle by using the various icons — all of it is intuitive and really well designed.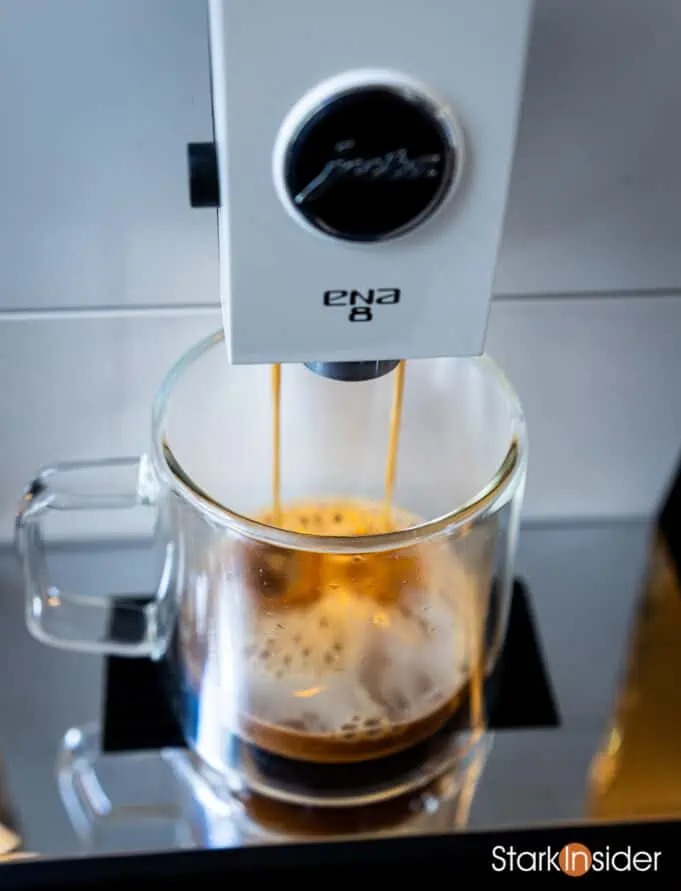 Drink Selection and Quality
All told the Jura ENA 8 has a total of 15 types of drinks — or specialties as Jura likes to call them.
You'll find everything from classics such as an espresso or espresso doppio all the way up to fancy milk-based drinks such as the Flat White, Latte Macchiato and Cappuccino. In addition, you can also have the machine dispense hot water and a portion of milk foam.
As for the drink quality: superb.
I really think Jura is best-in-class when it comes to espresso shots. Extractions are rich, smooth, and have just enough crema on top to finish things off in style.
Also, I should point out that the coffees are quite good too. When you choose a coffee Jura switches off its nifty Pulse Extraction Process (P.E.P.) and instead uses a standard brew process better suited for a regular coffee. Above you can see a 6.5 ounce coffee being brewed on a Jura ENA 8.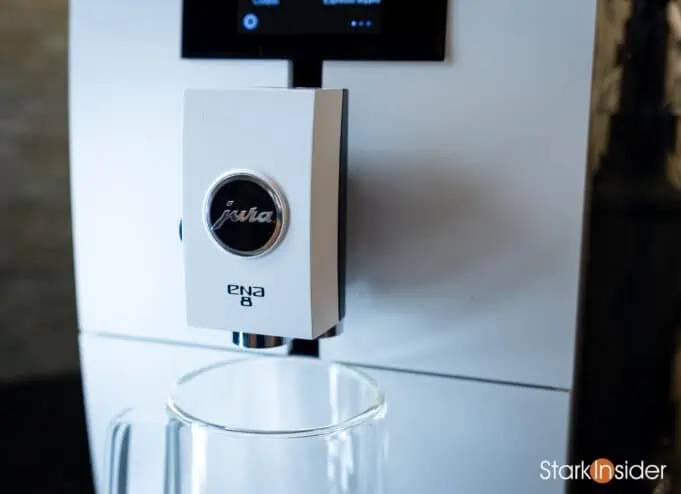 Jura ENA 8: First Impressions and Thoughts
Overall, I'm once again impressed with Jura.
There's a lot to like here with the Jura ENA 8, first and foremost probably being its compact footprint. Though there are some trade-offs for the smaller size, you still get a feature rich machine with a sizable drink menu.
If you're considering switching from Starbucks to an at-home coffee and espresso experience the ENA 8 might be worth a look with daily savings adding up faster than you might otherwise suspect.
RELATED IN ESPRESSO
Same too if you're looking to switch from pod-based systems such as those by Nespresso and Keurig and Illy. With the Jura you still have that same one-button, no fuss convivence in the morning, but you avoid the expense of pricey pods and instead can use much more economical bags of whole beans. Do keep in mind that there is an element of maintenance to keep in mind — you will need to empty the drip tray and dregs box from time to time, and, of course, refill the bean hopper.
The Jura ENA 8 makes a striking first impression. So far, the machine has followed through with performance to match, making it a solid addition to the line-up of super-automatic espresso machines manufactured by Jura. I do have a few quirks and things to watch out for that I'll dive into in the full review coming soon to Stark Insider.