Global internet user growth is still growing, but slower than before. Per Bond Capital partner Mary Meeker, year-over-year growth slowed to +6% versus +7% the year earlier.
In addition, another — not so surprising headline — is also the slowing of smartphone shipments. Android and iOS handsets both saw y/y declines across the board. We've seen this coming for a while. Apple is struggling to move $1,000 iPhones, for example, and has started to emphasize value models in addition to trade-in programs (Google too).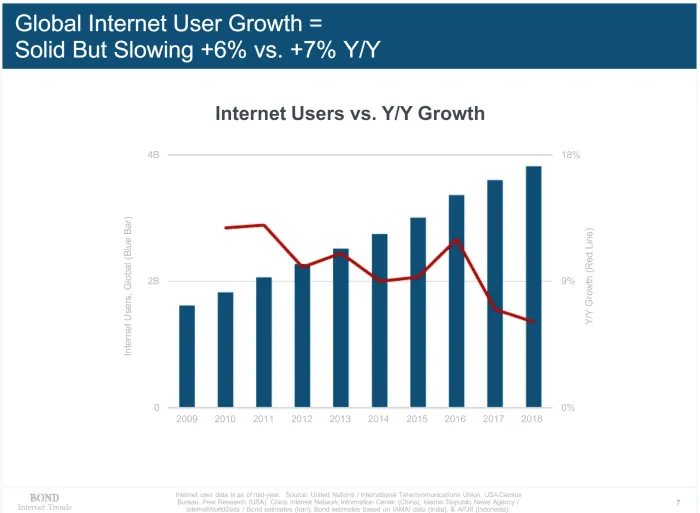 China, India and the United States remain the top three countries for internet users in 2018.
The "Queen of the Internet" delivered her much lauded annual update this morning at the Recode conference in Arizona. Once again Meeker's presentation was accompanied by a comprehensive PowerPoint slide-deck (view here on Scribd).
Other key and/or interesting takeaways:
Top 10 tech companies by market cap: Microsoft, Amazon, Apple, Alphabet (Google), Facebook, Alibaba, Tencent, Netflix, Adobe and PayPal
E-commerce growth is "solid" at +12.4% y/y
Internet ad spending "accelerated" +22% y/y (Google and Facebook lead)
The average adult user spends 6.3 hours daily with digital media
Amazon Echo growth is a rocket ship
Stories are increasingly told using edited images and videos
Freemium remains an important business model
Online platforms: YouTube and Instagram gaining the most
In addition the report dives deep into concerns around the internet including privacy and the impact of bad actors. Healthcare innovation, the economy, online learning, the cloud and larger players such as China and the U.S. also receive attention in the 2019 Internet Trends report.
Tech companies getting significant mentions this year include Facebook, YouTube, Instagram, WeChat, WhatsApp, Twitter, Snapchat, Pinterest, Dropbox, Uber, Twitch, Fortnite, Google and Apple among many others.
You can read (and download) the Internet Trends 2019 report on Scribd.
Internet Trends 2019
Mary Meeker
Internet Trends 2019 by on Scribd