"California. How I love. California. California…"
How appropriate that the new Apple Watch would be unveiled this morning in Cupertino at the Steve Jobs Theater.
With a Mission Impossible style opening sequence featuring employees running across the stunning Apple campus and a little bit of help from Siri ("Hey Siri, what is the fastest way to the Steve Jobs Theater.") today's hardware event kicked off in thrilling fashion. These things are quickly becoming an exercise in celebrating geek culture. Predominantly, between Apple and Google. Who can throw the best, over-the-top, most-memorable unveil? (remember Project Glass — aka Google Glass — and the parachuting demo in San Francisco way back when…?)
So, how about that Apple Watch 4?
It's killer. And beautiful.
CEO Tim Cook and team have refined the wearable formula, and as he said during the opening remarks, "take Apple Watch to the next level." Next level, indeed.
Even though most will be holding their breath for the new iPhones (there are 3), it's the Apple Watch that continues to most draw my attention.
Apple Watch 4: What's New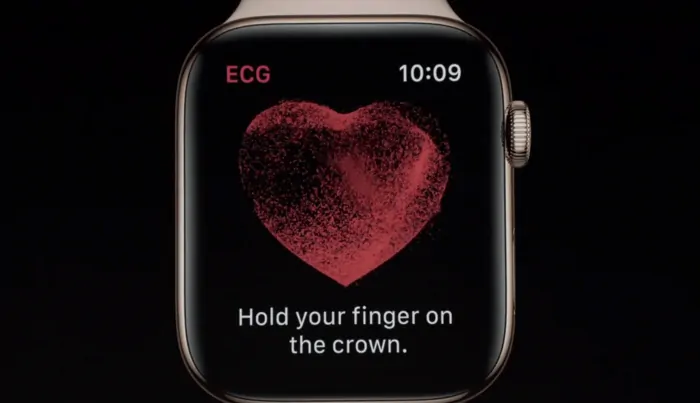 Here's the quick list of what's new with Watch 4:
New, 30% larger display with curved corners and minimized bezels.
Digital Crown now includes haptic feedback (non-mechanical design, like the trackpad on the latest MacBooks).
S4 Silicon in Package (SiP) chipset — up to 2x faster performance.
50% louder speaker.
Upgraded accelerometer sensor.
Microphone re-located to right side — as far away from the speaker as possible to minimize echo
Every part of the UI has been redesigned — you'll see more in maps, and calendar for instance.
New watch face (the one we saw in the leaks) with up to 8 complications.
Resigned Modular watch face, including support for richer content from third party complications.
Breathe app is now more dreamy — graphics have been upgraded.
Background heart-rate monitoring with alerts when abnormal conditions are detected.
ECG app and fall detection.
Fitness continues to be a focus for Apple. Closing rings is still here. And there's heart-rate monitoring and health tracking.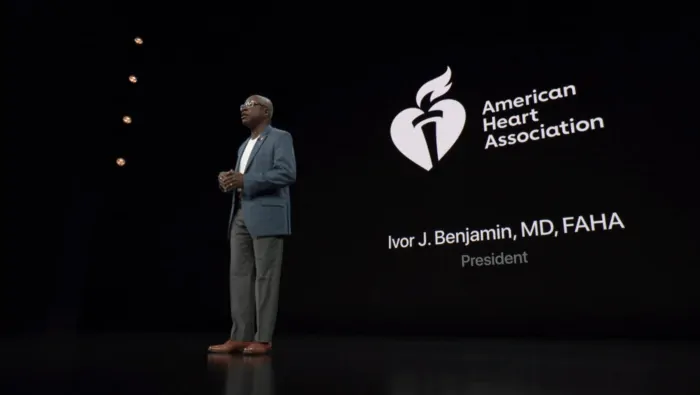 Apple Watch 4: Verdict
Based on what we saw on stage this morning at the Steve Jobs Theater, Apple has delivered exactly what consumers want in a modern smartwatch: ease-of-use, practical functionality, and enough elegance and personalization in the form of watch bands to cement its lead in the wearables race.
Long-time Apple Watch users won't see anything earth-shattering here. But, thanks to the larger display, refined UI and improvements in just about all the tech underneath, Watch 4 is probably enough for most to upgrade — especially those still on an older Series 0, 1 or 2.
Google is rumored to be bringing out some new Wear devices this Fall. With the new Qualcomm 3100 chip, the updated internals have already arrived, now we are awaiting updated watches running the new Wear OS (a new chip alone as we know does not make a great smartwatch). Given what I've seen over the past few years, I'm skeptical Google has the wherewithal to successfully put a significant dent in Apple's lead. Whereas Apple has focused on practical everyday use cases — closing rings is a marquee example of simplicity and elegance in design — Google has turned its attention to turning the smartwatch into a miniature smartphone, Dick Tracy style. I think Google needs to get back to basics, listen less to engineers and developers, and more to end customers and average Joes who just wants their watch to "do stuff."
And do stuff the Apple Watch 4 does.
The only area where I was disappointed in today's announcement is battery life. Apple says Watch 4 will get the same 18-hour rated battery life as the Series 4. Many of us were hoping for more (aren't we always?).
Still, for those accustomed to charging overnight this won't be a big deal. Competitors, however, like the decent Fitbit Versa smartwatch have much longer endurance — going 3-4 days before needing a charge. With all the new sensors, and real-time monitoring it's a trade-off buyers will need to make. Do you want all the latest whizbang smartwatch features? Or would you prefer giving up some of those goodies in exchange for longer battery life?
As for me it's upgrade time.
While my Series 1 is still going strong, I do notice occasional lag (when starting a workout for example), and battery life isn't as good as when I first bought it a few years ago. There's enough to like about the 4 — especially that larger screen with petite bezels — that I think it should last me a while yet. Plus, I'm a sucker for info-laden watch faces. Apple's new 8 complication face looks beautifully executed, with lots of information, yet still aesthetically pleasing thanks to attention to detail. Given that I don't see Google doing much with Wear OS to sway me back to Android, it looks like I'm sticking iOS for the foreseeable future.
Series 4 will be available in aluminum and stainless finishes. Existing watch bands are compatible, so our investments there are safe thankfully.
Pricing starts at $399 (USD) with GPS, and $499 with cellular.
Series 3 remains in the line-up, starting at $279.
Apple will start taking orders on September 14, with shipping starting the following week on September 21, 2018.
Parting thought: I could really do without the Jon Ive narrated marketing videos. They're beginning to feel very camp. Very 2014. And just a bit silly.