"Gather round." An Apple event is incoming.
That means, of course, new phones, new laptops and app updates and the like. Most importantly, on my radar at least, is the re-designed Apple Watch. It's the primary reason why I switched from Android to an iPhone 7 Plus — WatchOS is flat out better in just about every way possible than the clumsy and dated WearOS by Google. In fact, on a recent investor call CEO Tim Cook said "our wearables revenue exceeded $10 billion over the last four quarters." That's quite a feat given the product line was introduced merely three years prior.
Based on leaked images (again, there's no secrets in consumer tech anymore) thanks to 9to5Mac, the upcoming Apple Watch Series 4 looks mighty impressive. To my eyes, stunning.
First, Apple has gone to war, once again, on the bezels. If the early reports are true, that could mean the screen real estate will enlarge by about 15%. That's not insignificant. People who enjoy getting notifications and tracking fitness and controlling music will certainly benefit from this design improvement.
Because of the larger display, we can expect Apple's already excellent watch faces to get even more useful. In this leaked image you can see just how much (colorful) information the design team were able to cram in there: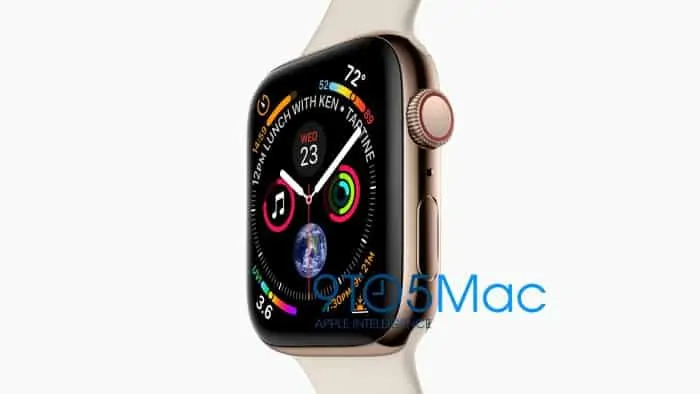 There's a lot there, but it's legible and smartly designed.
I especially like that Apple's faces are a closed system. Sure, it would be nice to have a wider selection. But then you get a far lower signal-to-noise ratio. Surf through Google Play for WearOS faces, or the Fitbit App store and you quickly realize that there's a lot of not-so-talented designers who really aren't into aesthetics. Not so at Apple. That face above is busy (8 complications!), but nevertheless it's elegant and useful and pretty, all at the same time. I think Google and Samsung could learn here. Apple leads the smartwatch market for a reason, and this is but one small example of getting the important details that consumers care about right.
[Note: weather junkies, checkout that awesome weather complication in top right corner in the above photo. Beautiful at-a-glance design.]
Also I'm expecting Apple to make the buttons on the right side of the watch solid state, just as you find on the iPhone 7/8 home buttons and MacBook trackpads. Instead of mechanical mechanisms they'd use Apple's haptic feedback system. Not only does this mean less possibility of component failure, it also improves the cases's ability to repel water and dust.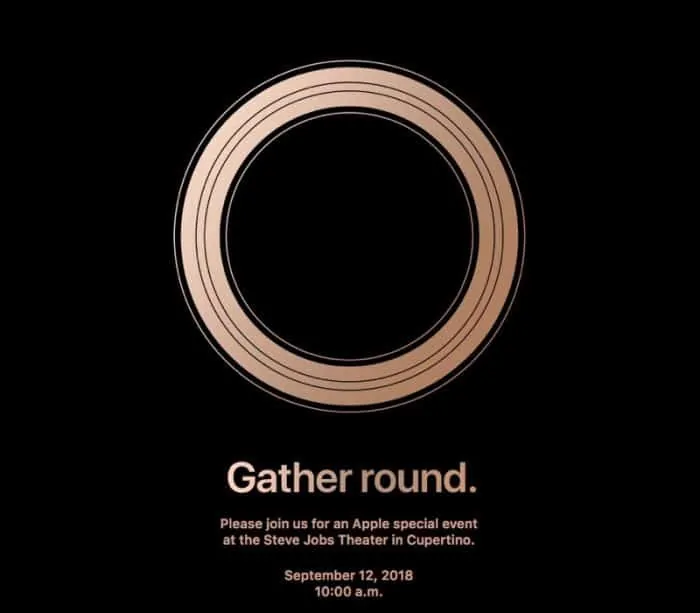 Other random observations based on that AW Series 4 photo:
Case looks slightly thinner
The rotating crown looks like it's recessed ever so slightly
I'm guessing existing Watch bands (S0, 1, 2 and 3) will be compatible with Series 4
Small hole in the middle of the right side, presumably a microphone?
Meanwhile, this Fall expect Google to unveil the much discussed Pixel Watch. It had better be a smash hit, because Apple is running away with the smartwatch market.
I'll probably hold out on an iPhone upgrade. After all, the 7 Plus just keeps chugging along, and I find it still fast enough for all the day to day stuff: email, Twitter, Facebook, web browsing, Hangouts, etc.
But Apple Watch Series 4?
It's looking like a 100% possibility that my S1 will finally head for retirement. I'm a sucker for a good smartwatch. And Apple makes good — very good — smartwatches.
Apple's big event and hardware unveil is scheduled for September 12 at the Steve Jobs Theater in Cupertino, California.