UPDATE 02.24.2018: This GH5 bundle from Focus Camera is a sweetheart and definitely worth considering. It's the same price as body deal below, but you get a bunch of useful goodies: extra batteries, a durable hard case for lugging it around, and a 64GB SD card. Nice deal! Click here to check it out. This setup should last any enthusiast, serious videographer or burgeoning filmmaker for years to come. Just don't forget you'll also need to budget for a lens or two, a tripod/gimbal and other accessories.
Apparently good things do come to those who wait.
And if you've been waiting to dive into the mirrorless video god that is the GH5 then now may be the time to pull the proverbial trigger.
Panasonic's fantastic flagship mirrorless camera can now be had for the very respectable price.
You can find the GH5 (body only) for that price at several online retailers including Adorama, B&H Photo, and, my favorite due to their liberal and fast return policy, Amazon.
The Panasonic GH5 launched about this time last year. From that point forward the market for 4K video hybrids has forever changed.
Not only did the GH5 bring expected stuff like 4K internal, pro-level focus and exposure assist tools, and dual image stabilization (in-lens and in-body), but Panasonic doled out plenty of "above and beyond" goodies including: dual SD card slots; 4K/60fps internal (!); 4:2:2 10-bit color; long battery life (for a mirrorless 4K camera that is); lots of customizable buttons; an option VLog picture profile for flat images that provide color grading flexibility in post; and even the vaunted 6K still photos mode. Plus, if your an anamorphic shooter there's plenty of options built-in to the GH5 to support those as well.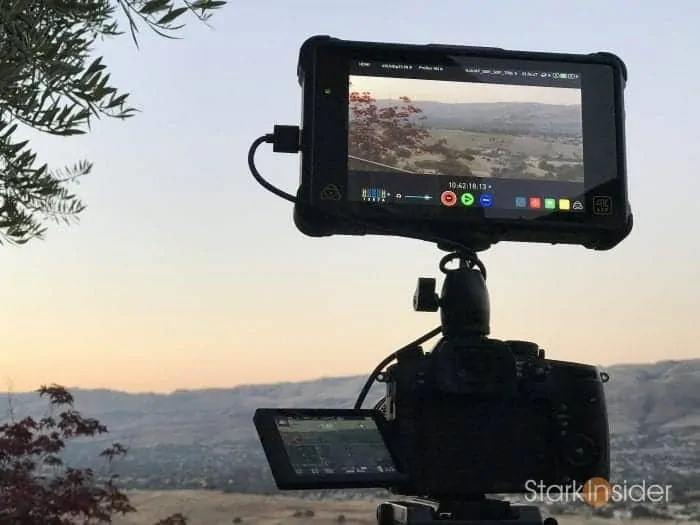 I've been shooting with the GH5 here on Stark Insider for almost a year now — basically as soon as I got the GH5 in my hands, I never again returned to the Canon EOS 80D for shooting videos.
Here's some sample videos shot on the Panasonic GH5.
Videos Shot on Panasonic GH5
Edvard. Munch.
Location: San Francisco Museum of Modern Art
Gear: Panasonic GH5 with Panasonic 12-35mm lens
Pebble Beach Food & Wine X
Location: Pebble Beach, California
Gear: Panasonic GH5, Panasonic 12-35mm, Sigma 18-35mm, Metabones Speedbooster Ultra (0.71), and Zoom H1 field recorders with Countryman lavs.
Crazy or Die
Location: Studio
Gear: Panasonic GH5, Sigma 18-35mm, Metabones Speedbooster Ultra (0.71), Rokinon Cine 35mm
Now the GH5 finds itself in regular rotation for SI video projects alongside the Canon EOS Cinema C100 II (outstanding for doc work) and the RED Scarlet-W (ooooh, that Redcode RAW!).
When I travel, the GH5 is perfect!
Given its discrete body style which looks like an inconspicuous DSLR camera, no one gives me second notice. So, I can shoot in coffee shops, restaurants and other locations — including museums — onto nice 4K 4:2:2 without worrying about security or getting kicked out.
Panasonic GH5 Articles
by Clinton Stark
I paid full retail for my GH5 and would do it again in a heartbeat.
At such a discount ths Panasonic GH5 is hands down, in my estimation, a phenomenal deal. For most projects the GH5 should be a more than willing camera, and given its impressive spec list should last many, many years.
Happy shooting!