Researching or shopping for a zoom lens? Here's 5 strong choices for DSLR and mirrorless video shooters.
If you're shooting video and want to keep things simple, there's nothing better than a versatile, all-in-one zoom lens.
Since a zoom lens, by its nature, can typically take wide shots and also provide you with the ability to get tighter, they're a natural for run-and-gun videography, events, travel, special occasions, and even just general use around town.
Want to take one lens with you on your next trip or project?
A zoom lens is a pretty good choice.
Yes, prime lenses — ones with fixed focal lengths — are generally (but not always) sharper, and let in more light. You're limited, though, in how you can frame shots. I still recommend them for filmmaking. And, for street photography, it's hard to beat a good old 50mm (or "nifty fifty" such as this outstanding deal for a Canon 50MM STM). For video, zoom lenses are handy. Even big budget Hollywood productions use them in certain situations.
I've been shooting video here on Stark Insider for about 12 years now. Here's a recent video I shot on the RED Scarlet-W cinema camera:
Fish. In. Fridge.
A short film by Clinton and Loni Stark
Gear: RED Scarlet-W, Sigma 18-35mm 1.8 ART zoom lens, Genaray LED light panels, a mask and a very willing spouse.
On that short film Fish. In. Fridge., I used a Sigma 18-35mm f1.8 ART zoom lens. It's one of my recommendations on the below list.
I've also shot BTS shorts with Cirque du Soleil and interviews in and around the San Francisco Bay Area. For those I tend to use Canon DSLR bodies (EOS 80D for example) and Canon EF lenses.
With that, if you're looking for an all-in-one lens, or looking to upgrade, or gift someone else, here's my picks for best telephoto zoom lenses.
Top 5: Best all-in-one DSLR lenses for shooting videos
All prices in USD. In no particular order.
Best All-Rounder:
Canon 24-105mm f4 IS II USM (EF mount)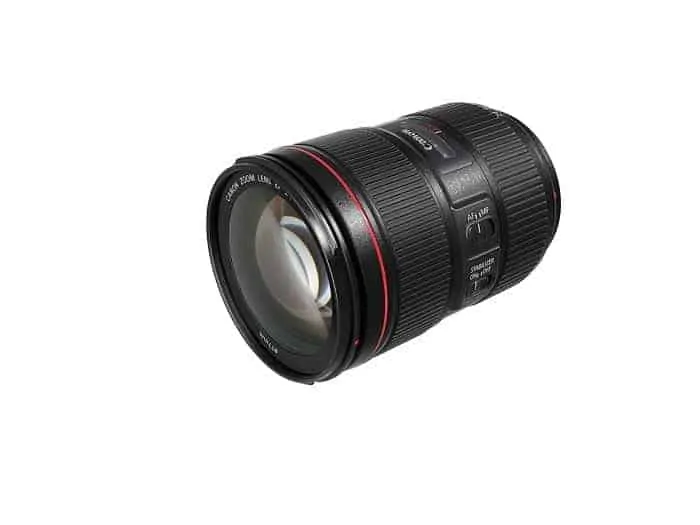 Lens: Canon EF 24–105mm f4L IS II USM Lens
Buy: Amazon
Strengths: High performance optical IS, decent for zoom in low light, convenient range.
This L lens (easily identified by the red ring) from Canon is absolutely wonderful. At f/4 it performs reasonable well in low light, produces a sharp image across the zoom range fairly well, and has a flexible zoom range. You can use this on a Canon DSLR or use this Speedbooster by Metabones to adapt it for a Sony (E mount) or Nikon or Panasonic/Olympus mirrorless (MFT) camera.
Zoom on a Budget:
Canon EF-S 18-135mm f3.5-5.6 Image Stabilization USM Lens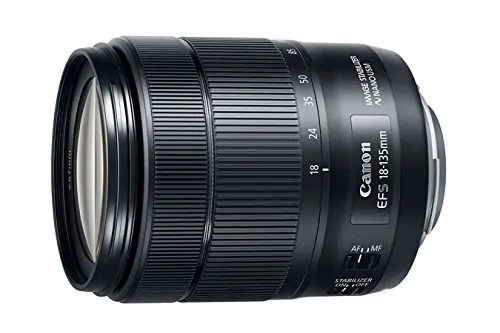 Lens: Canon EF-S 18-135mm f/3.5-5.6 Image Stabilization USM Lens (Mount: Canon EF)
Buy: Amazon
Strengths: The price is right, big ring controls for focus and zoom, near silent zoom focusing thanks to Canon's "NANO USM" technology.
Not looking to break the bank? Try this Canon 18-135mm. I've used it for years on Canon EF-mount cameras and every time have come away very impressed. Here's a video I produced useing this lens (on a Canon C100 Mark II) with Cirque du Soleil for their new touring show Luzia:
One thing to keep in mind with the 18-135mm is its aperture is variable. So, as you zoom in, the image will get darker. That's not the case with the more expensive L zoom mentioned above. You can work around it, but perhaps something to keep that in mind when making a buying decision. Otherwise: bang for the buck.
Best High Performance Zoom for Film, Music Videos, Events, Weddings:
Sigma 18-35mm F1.8 Art DC HSM Lens 
Lens: Sigma 18-35mm F1.8 Art DC HSM Lens (Canon/Nikon/Pentax/Sigma/Sony)
Buy: Amazon
Strengths: Beautiful image, beautiful build, beautiful bokeh.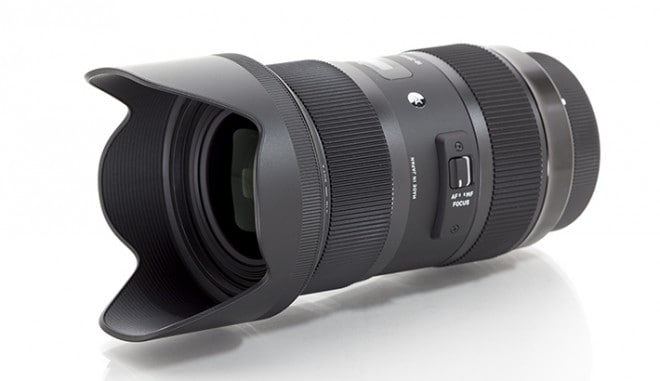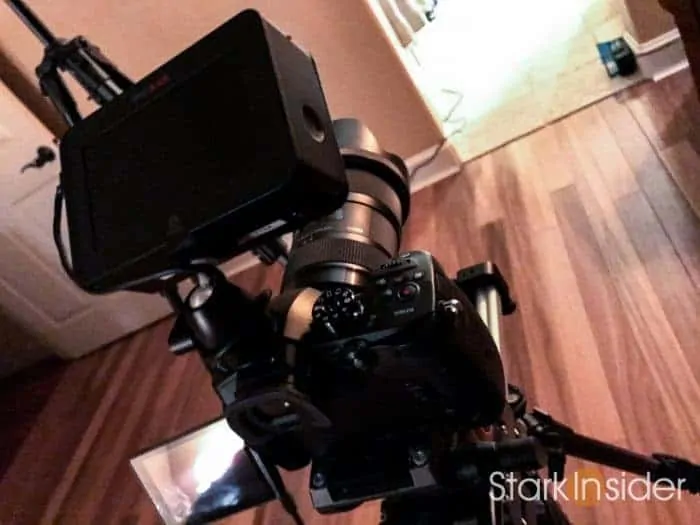 The Sigma 18-35mm. A modern classic if there ever was one. Google the camera forums a bit — RED, Panasonic, Sony… all of them! — and you'll soon discover everyone raves about this lens. There's praise in general for Sigma's ART series, whether it be this zoom or one of their stellar primes. I like this one because you get some zoom range, and can re-frame a shot without having to change lenses. Yet, it is so, so, sharp! You can think of this one as 3 primes in 1: 18mm/24mm/35mm. And, bonus: it does very well in low light. Absolutely my favorite lens. Buy the EF mount version and keep it 'til the day you die.
Best for Sony Video Shooters:
Sony SELP18105G E PZ 18-105mm F4 G OSS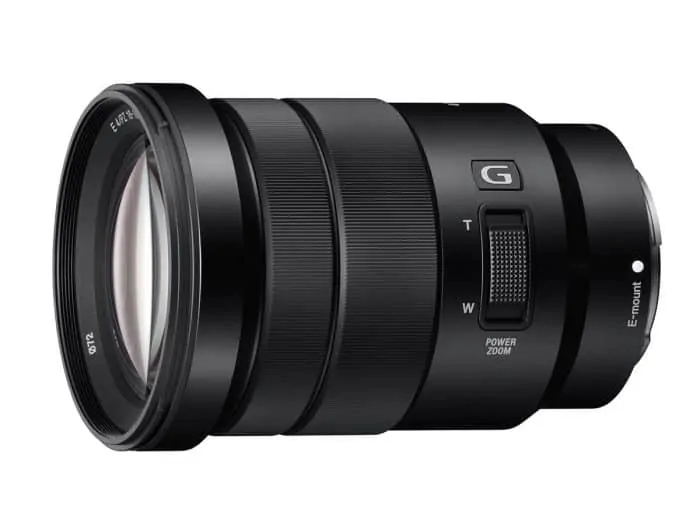 Lens: Sony SELP18105G E PZ 18-105mm F4 G OSS (Sony E-mount)
Buy: Amazon
Strengths: Well engineered, sharp image, power zoom rocker.
I really like this lens. Earlier this year I traveled to Paris and Iceland for some video shoots. I took a tiny Sony a6500 APS-C camera and this 18-105mm zoom by Sony. I also took a Rokinon prime. But this one stayed on the a6500 99% of the time as I shot everywhere from the Arc du Triomphe and Eiffel Tower to the frozen tundras and vast landscapes of Iceland. On more than one occasion the lens was caked in ice. No problems. I also like the zoom rocker. If you want you can use it to get smooth zooms. It works well, and is a nice option to have available.
Best for Mirrorless Video Shooters (Panasonic, Olympus):
Panasonic Lumix G Vario II 12-35mm F2.8 (Micro Four Thirds)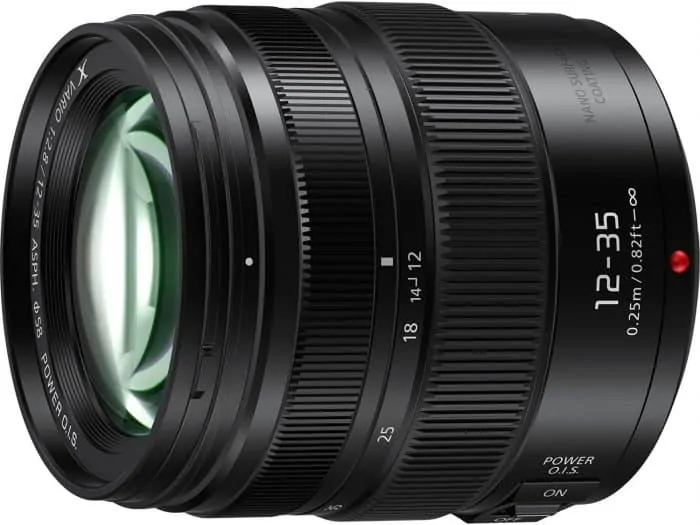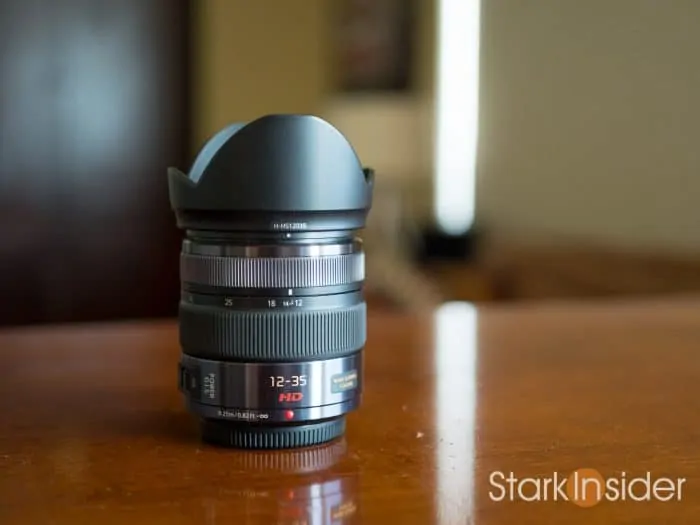 Lens: Panasonic Lumix G Vario II 12-35mm F2.8 (Micro Four Thirds)
Buy: Amazon
Strengths: Compact, stellar optics, clean — if slightly clinical — image.
Another superb choice is the well-regarded Panasonic 12-35mm with a constant aperture of F2.8. I own the original, but there's now a Mark II which improves upon it in almost every way. In particular, this lens is a great choice for GH5 owners. I shot this short film at SFMOMA with the 12-35mm on a GH5, all handheld:
Pair it with Panasonic's utterly phenomenal flagship GH5 mirrorless camera and you can benefit from dual I.S. — inside the lens and the camera body. There's some real voodoo stuff going on here. All of a sudden, with the combined stabilization you can get some rock steady handheld shots; to the point where you can even do fairly reasonable approximations of a gimbal or slider move without lugging around all the cumbersome gear. Aside from that, the 12-35mm produces a nice, clean image. Like most MFT lenses, it's also compact, and very convenient to bring on a trip. Highly recommended.