A new GH5 camera bundle gives you everything you need to get started shooting high quality videos. Here's a closer look at what's included.
If you're looking to buy a Panasonic GH5 and are interested in filmmaking (wedding, narrative, doc, music videos, etc.) I stumbled upon a good bundle that you may want to check out.
The kit includes the GH5 body itself, of course, and a bunch of useful accessories — mostly things you'd need to buy anyways to get properly up and running.
And, best of all, this kit includes 3 really superb Rokinon cine lenses.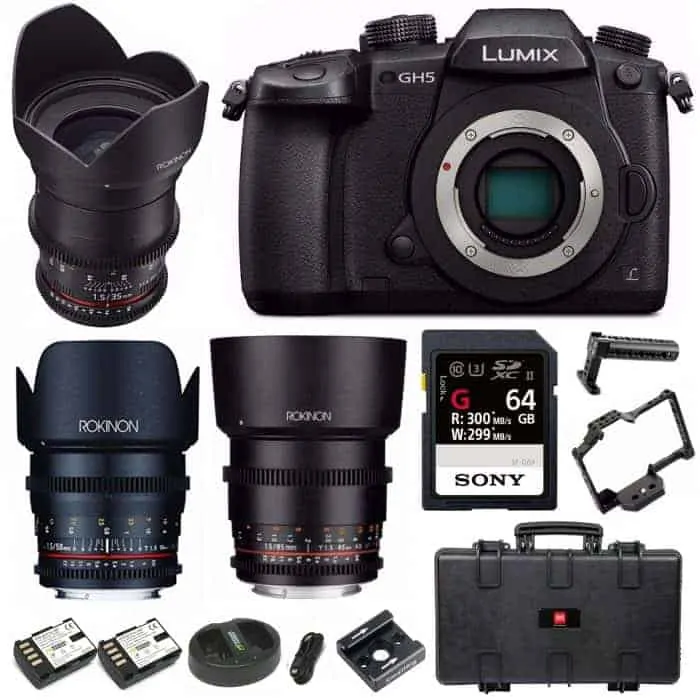 Here's what you get in this particular GH5 filmmaking bundle:
Panasonic Lumix GH5 4K Mirrorless Camera (Body) w/ Rokinon 3-Lens Cine Kit

Panasonic Lumix GH5 camera body
Rokinon Full Frame Cine DS T1.5 Lens 35mm
Rokinon Full Frame Cine DS T1.5 Lens 50mm
Rokinon Full Frame Cine DS T1.5 Lens 85mm
SmallRig stabilizer cage for GH5 with top handle and cold shoe mount adapter
Sony 64GB SD card
Weatherproof hard case
2 extra batteries
Dual USB battery charger
Package price: $3,499 (USD) via Amazon
Finally, a useful kit!
Normally I don't like these sorts of all-you-can-eat bundles. I find that most retailers just take junk accessories that cost them very little and toss them in to make it look like you're getting the motherload of gadget overload (swabs! wrist strap! camera case from the '80s!). In reality, most of it is usually crappity crappy crap. But not this time thankfully.
Rokinons are my favorite budget cinema lenses.
Rokinons are my favorite budget cinema lenses. Their performance is so good that you'd have to nitpick and pixel peep to the n-th degree to notice much of a difference between them and, say, something from Zeiss or Canon. So its nice to see a kit include them with the GH5.
I routinely use Rokinon cinema lenses for Stark Insider videos. In particular, the 35mm for medium/close shots and the 85mm from a distance when I want to get good separation from the subject and the background, and enjoy some of its outstanding bokeh rendition. Outstanding.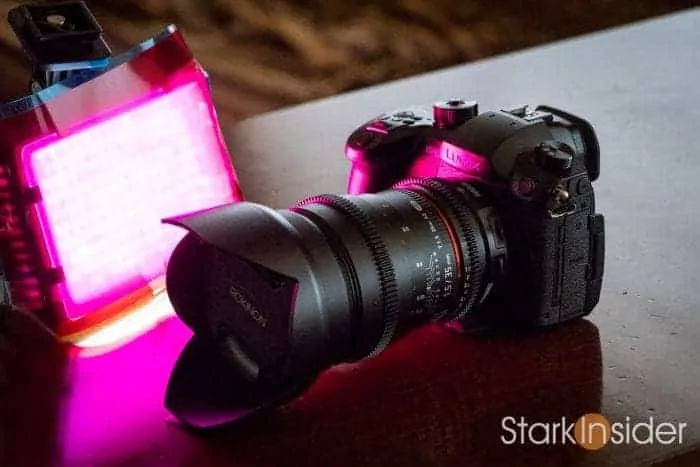 Note that these Rokinon lenses are MFT mount, so they natively attach to the GH5. Another option is to consider getting the EF version and use something like a Metabones Speedbooster Ultra adapter. You'll gain an extra stop of light, and also a slightly wider FOV. Something to consider — especially if you already own other EF-compatible camera bodies. Then again, the four thirds lenses are smaller and lighter, so keep that in mind too.
The included 64GB memory card is marginally useful. Shooting 4K (150Mbps) on the GH5 will eat that up quickly. Plus, you'll likely want to have 2 cards in there anyways since the GH5 has (very welcome) dual SD card slots. I'd recommend 128GB minimum, stretch to 256GB if you can — you'll be able to shoot for long periods, which might come in handy on long trips or interviews, etc.
Will Panasonic soon unveil a Panasonic GH5S?
One final point: there's rumors making the rounds that Panasonic will soon unveil a GH5S model, and ship it in early 2018. The expectation is that it will be a special model designed for low light shooting. Early estimates suggest it will cost $500+ more than the standard GH5. If this all turns out to be true you may want to wait to find out what gets released, and if it will be worth the extra cost to you over the standard model.
For me, I've found the GH5 performance in low light not too bad — then again, I use LEDs in most situations to light scenes.
Short Film Shot on Panasonic Lumix GH5
I shot short film CRAZY OR DIE on a GH5 with Rokinons (and the superb Sigma 18-35mm) and came away really impressed. The slow-mo VFR modes on the GH5 are very nice too:
What is essential is invisible to the eye.
A short film by Clinton and Loni Stark.
Gear: Panasonic GH5, Edelkrone slider and pocket skater, Manfrotto carbon tripod with fluid video head, Genaray LED light panels, Rokinon 35mm Cine T1.5 (EF), Sigma 18-35mm  f1.8 ART (EF), Canon 24-105mm L (EF), Metabones Speedbooster Ultra (0.71), and a cheap wig and neon rope from Amazon.
You can buy this useful GH5 bundle from Focus camera for $3,499 or you can also get it via Amazon. Not a bad way to bootstrap a filmmaking or videography career.
Happy shooting!