Some pros and cons of shooting a short film with the new Panasonic GH5. Plus final V-Log L footage in new short psychological drama 'Crazy or Die' by Clint Stark.
The biggest camera news for 2017, at least in the sub $2,000 market, is probably the new Panasonic Lumix GH5. It seems like everyone is talking about it. Based on stock outs, it also seems everyone who is into videography and filmmaking is buying one. Some, like those involved in wedding productions and rental houses, even buy multiple bodies.
Not surprising really. Following in the footsteps of the much-loved GH4, the GH5 sports upgrades and specs befitting a three year development cycle: 10-bit color (4:2:2), 4K up to 60fps, IBIS (in-body image stabilization), dual SD card slots, an optional XLR audio adapter, anamorphic mode, among so many other clever and useful features.
I've been shooting — mostly video — with the GH5 ($1,995 USD when in stock on Amazon and B&H Photo Video) since I got it a few weeks. So far: wow.
I didn't expect this to be the case, but it seems I may never again pick up my beloved Canon EOS 80D. I will occasionally miss the stellar Dual Pixel AF on the 80D, but aside from that there's just so much more useful stuff in the GH5.
Panasonic GH5: My favorite feature
The most notable GH5 feature for me, among so many, is the ability to shoot handheld with a non-stabilized cinema lens (the Rokinon 35mm cine, for example) and have a (very) usable image thanks to the stellar IBIS. Panasonic must employ pixel fairies. There's some wild magic going on here it would seem. By comparison, when I shot recently with the Sony a6500 in Paris and Iceland with IBIS, the images turned to jello easily. Unfortunately I lost a lot of footage because of that. With the GH5 and IBIS turned on it seems not to be a worry. No warpy, jelly ugliness to be seen.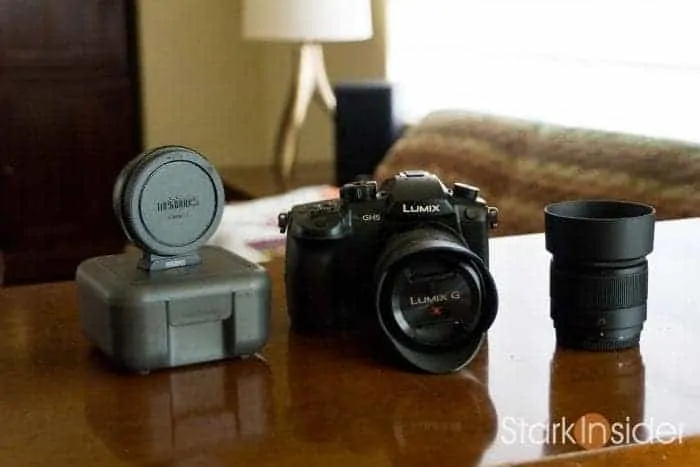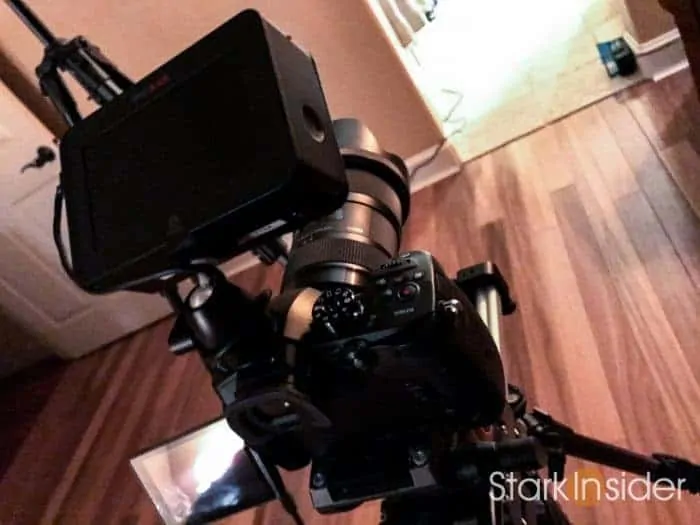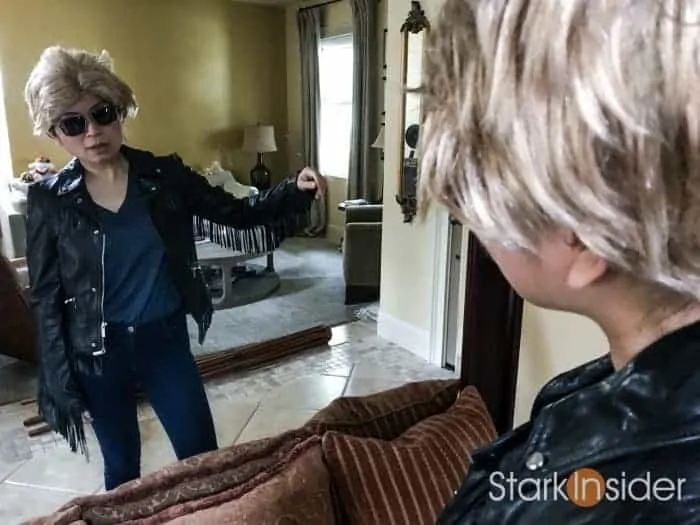 Image-wise I'm also surprised.
The GH5 produces quite an organic, pretty image. For some reason, perhaps based on pixel peepers in the forums, I expected it to be too digital. No doubt I've seen digital looking results from the GH5. Typically, though, that's a style choice. Shoot at 60fps (on a 60p timeline) and you'll get that Peter Jackson-like digital, glossy look, especially if you use native Panasonic glass. That's all well and good for travel, wildlife and modern city docs, but for me… nah, I prefer the look of film. So I was pleasantly surprised with the look of the footage on the Premiere Pro timeline.
Once again, I had to shoot a video to test the new camera. If you've dropped in from time to time on Stark Insider you may know I've done so in the past for the Canon C100 II (Harley Quinn: Revenge at Union Square) and Canon EOS 80D (Beat's So Lonely – Nightwalk San Francisco) among other "camera tests."
So, I convinced Loni Stark, yet again, to get into character. Where's the wig? Hey, read this story to these stuffed animals! Drink this Stella!
The result is a "short film" or, what I like to call it, another camera test starring the most supportive spouse ever.
It's called Crazy or Die. And it was shot on the Panasonic GH5.
SHOT ON PANASONIC GH5:
'Crazy or Die'
A woman struggles with perception, reality and acceptance. What is essential is invisible to the eye.
Panasonic GH5. Rokinon 35mm. Sigma ART 18-35mm. Edelkrone slider and pocket skater. Strobes. Neon rope light. A wig. A beer. A woman (i.e. Loni Stark).
After spending a few weekends shooting and editing Crazy or Die, I came away really, really liking the GH5. It's easy to handle, has tonnes of incredibly powerful features for its price point, and captures nice imagery. At first I though $2K was kind of pricey for a MFT camera. But now I'm thinking it's priced well… consider that one of its closest competitors, the Sony a7S II, sells for over a thousand dollars more.
Shooting Video with the GH5: Pros
IBIS works amazingly well (in my experience, far better than on something like the Sony a6500).
V-log produces nice flat image, with 10-bit makes for lots of creative possibility in post.
Battery life is decent — not as good as the 80D, but then again you get so much more power.
Ergonomics and handling are pretty good — I don't like the DISP button location and accidentally press it a lot, but I do like the Custom modes (I assign VFR modes to them so I use creative movie mode for 23.98 and C1 for 4K/60, C2 HD/120, C3 HD/180).
Focus peaking is easy to see and, from what I can tell so far, accurate.
Waveform! (I assign it to the custom button on front of the GH5 to quickly toggle on/off).
Dual SD cards = peace of mind.
Can record in V-log L, but monitor with LUT (gives you accurate preview of final image).
Punch-in focus assist using joystick works incredibly well.
Shooting Video with the GH5: Cons
DISP button location is… silly.
AF is pretty bad, nowhere near the 80D (if you vlog get the 80D or a Sony). No big deal for me as I use manual all the time on these creative type projects.
Menus take some time to learn and could benefit from minor re-organization. Part of the density though has to do with the fact that the GH5 is crammed to the rafters with features.
I do miss an LCD display on the top of the body. When shooting on the 80D it's convenient to quickly see things like battery life and ISO without having to hunt for the info on the LCD.
I can't think of any other negatives…
Next up I'm finally looking into anamorphic options. I'll probably go with a SLR Magic adapter. That way I can also use it on my C100 and RED. I wish I already had the stretch mode for shooting Crazy or Die. Seems odd to consider it a short film, when (among many reasons, including employing stuffed animals as supporting actors) it's shot in HDTV 16:9 aspect ratio — then again, most probably watch YouTube and Vimeo videos on smartphones and tablets, so maybe this isn't as big a deal?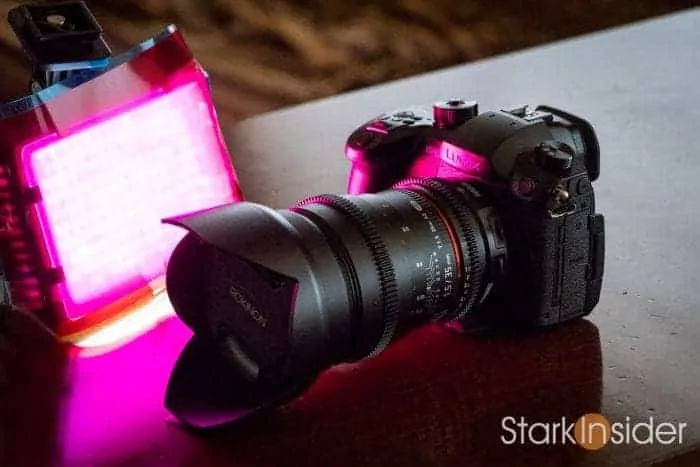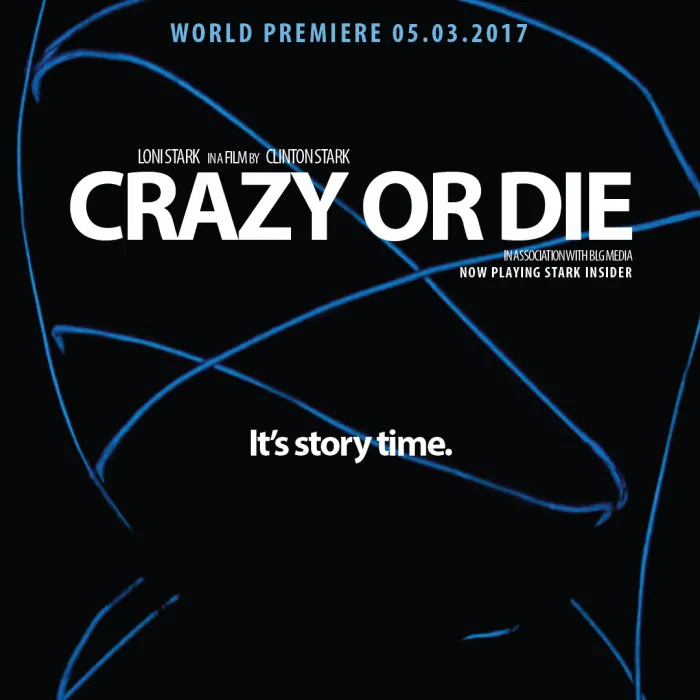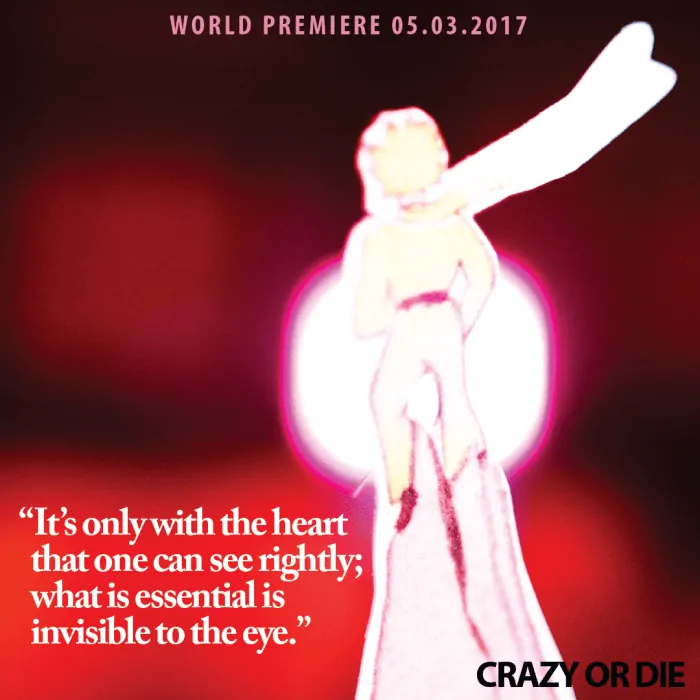 Panasonic GH5 on
Stark Insider
Like the rest of the world, I'll be using the GH5 to produce more content. I expect it to be a workhorse for Stark Insider. I've already shot an interview or two with it, and an event at the gorgeous grounds of Pebble Beach in California.
Now, if I could only learn to color grade properly… and write… and light…
Sigh. Videography and filmmaking, a lifelong journey. There's a lot to learn. But it is a lot of fun.
Happy Shooting!